Like many others, I was disappointed when Zaxby's discontinued its popular Zaxby's Fried Mushrooms in 2021. It was a delicious work of art that made everyone's taste buds dance with flavor and spiciness.
A few months ago, I felt like I wanted to recreate that amazing Zaxby's Fried Mushrooms Recipe because, unlike me, many people miss that snack. So for a few weeks, after many attempts and trials of many batches of fried mushrooms, I made a close copycat version of Zaxby's Fried Mushrooms.
For the recipe to work, you need to pay attention to every detail, from the right amount of ingredients to the right way to cook them. In the end, the work will be well worth it.
Gather your ingredients, set the scene, and go on a culinary journey with Zaxby's Fried Mushrooms, as it promises a delightful mix of tastes, textures, and smells that will leave you and your guests wanting more. So let's get frying and make this easy and delicious dish!
Why Doesn't Zaxby's Have Fried Mushrooms Anymore?
Officially, they didn't announce anything clearly, but we got information from different resources, and we found out that Zaxby's discontinued their fried mushrooms in 2021 due to some supply issues, as per their tweet.
Fried mushrooms are not discontinued, there are just some supply issues so some stores may not always have them in.

— Zaxby's (@Zaxbys) October 21, 2021
How to Clean the Mushrooms for Zaxby's Fried Mushrooms
Cleaning mushrooms can be difficult, but it doesn't have to be. The fastest way to clean a lot of mushrooms is to use a damp sponge to remove any visible dirt from the mushrooms.
If you do not have a sponge, you can use paper towels instead. First, soak the paper towels in a small bowl of water, and then rub each mushroom thoroughly to remove any dirt.
Ingredients and Equipment needed for Zaxby's Fried Mushrooms
Ingredients
Mushrooms:
1 pound or 30 whole medium mushrooms (white or cremini)
Dry Ingredients:
1 cup all-purpose flour
1/2 teaspoon paprika
1/2 teaspoon garlic powder
1/2 teaspoon dried oregano
1/4 teaspoon dried thyme
1/4 teaspoon ground black pepper
1/2 teaspoon salt
2 tablespoon cornstarch
1 teaspoon baking powder
Wet Ingredients:
Coating:
Other:
Equipment
Large, heavy-bottomed skillet
Large bowl
Measuring spoons
Measuring cup
Whisk
Wooden skewer
Tray or plate
Paper towels
How to Prepare Zaxby's Fried Mushrooms
Step 1: Wash the mushrooms
First, clean about thirty fresh cremini or white mushrooms for the recipe. Make sure to clean them nicely, but you can keep the stems on them.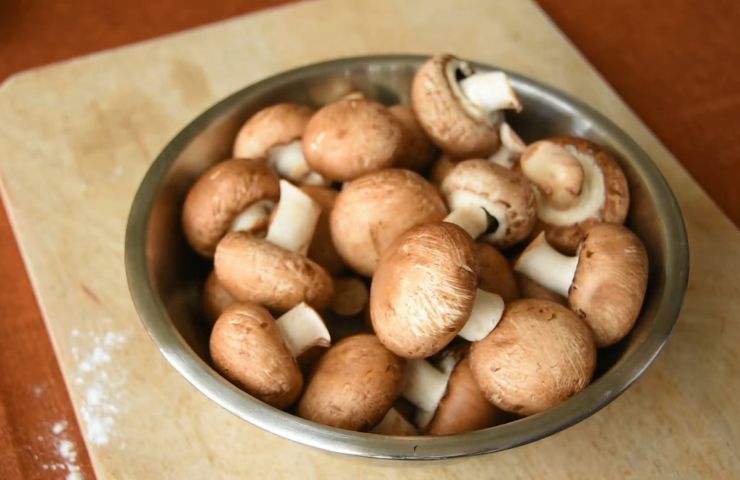 Step 2: Combine the spices with flour
Add paprika, garlic powder, dried oregano, dried thyme, ground black pepper, and salt with the flour in a large bowl. Whisk them together until well mixed.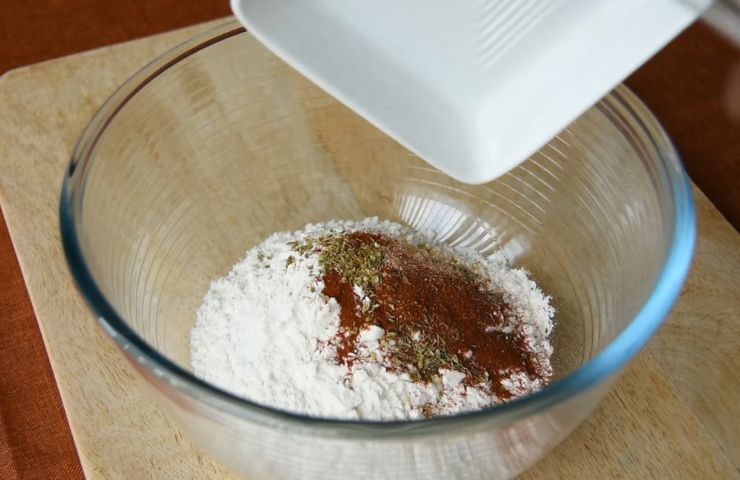 Step 3: Cornstarch and baking powder
Add cornstarch and baking powder to the bowl. Continue whisking to incorporate them into the mixture.
Step 4: Pour water and stir
Slowly pour in the water while stirring. Mix everything until you have a smooth batter. If the batter seems too thick, add a little more water until it reaches the right consistency.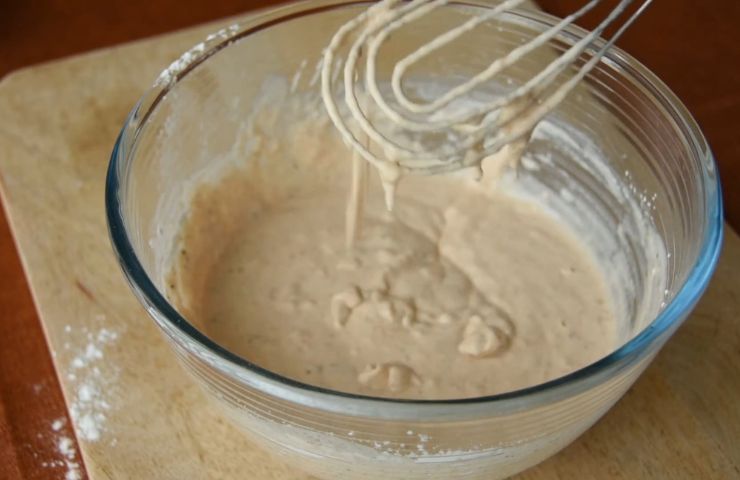 Step 5: Dip the mushrooms in the batter
Next, use a wooden skewer to pierce the mushroom. Then, dip the mushroom into the batter, making sure to coat all sides. Allow any extra batter to drip back into the bowl.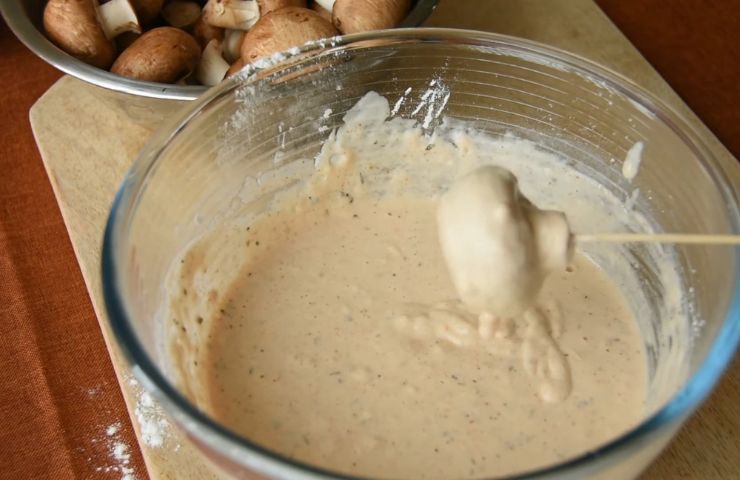 Step 6: Coat the mushrooms in breadcrumbs
Once the mushroom is coated in the batter, roll it in the panko breadcrumbs until it gets fully covered. Repeat this process for all the mushrooms. Then, place them on a tray or plate until ready to fry.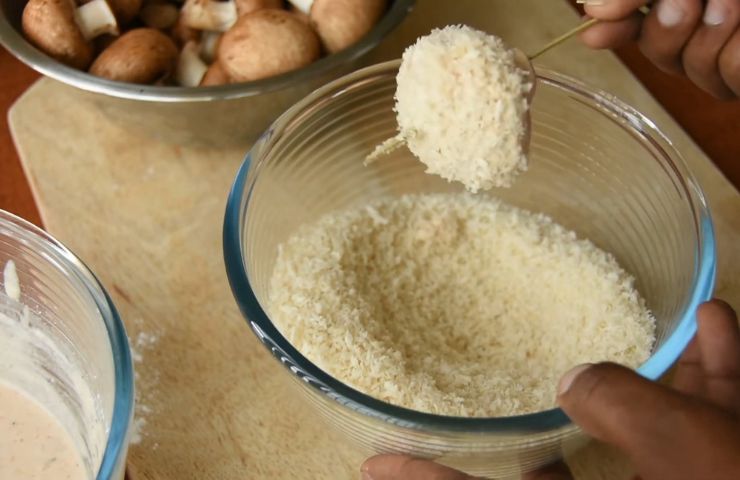 Step 7: Heat up the oil
In the meantime, bring a large, heavy-bottomed skillet to medium heat. Add enough oil for shallow-frying the mushrooms, around 1-2 centimeters deep. Alternatively, you can deep fry them if preferred.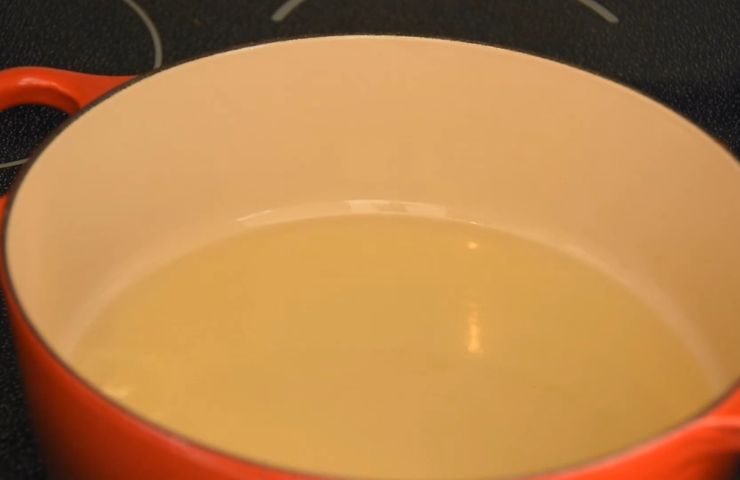 Note: Make sure the oil is around 350°F (175°C) for the mushrooms to fry perfectly.
Step 8: Fry the mushrooms
Now, fry mushrooms in the pan. Depending on how big your pan is, you might be able to fry more or less mushrooms at the same time.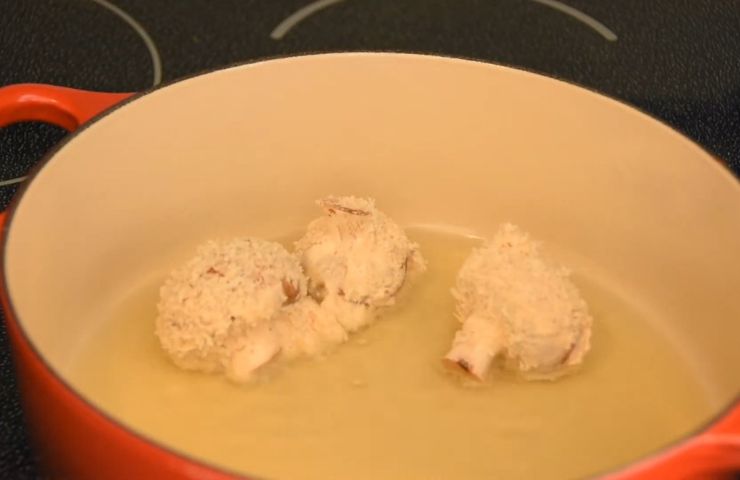 Step 9: Flip the mushrooms
Carefully turn the mushrooms over after a minute or so, ensuring all sides turn golden brown.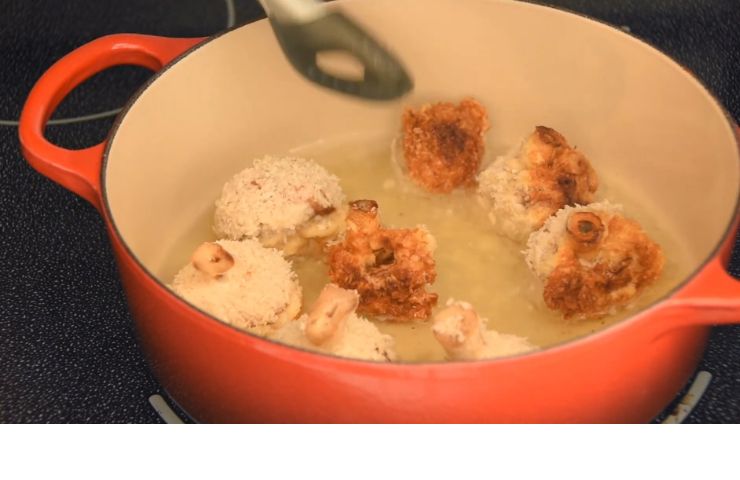 Step 10: Remove the excess oil
Once the mushrooms are evenly fried, remove them from the skillet and place them on a plate with paper towels to soak up any excess oil.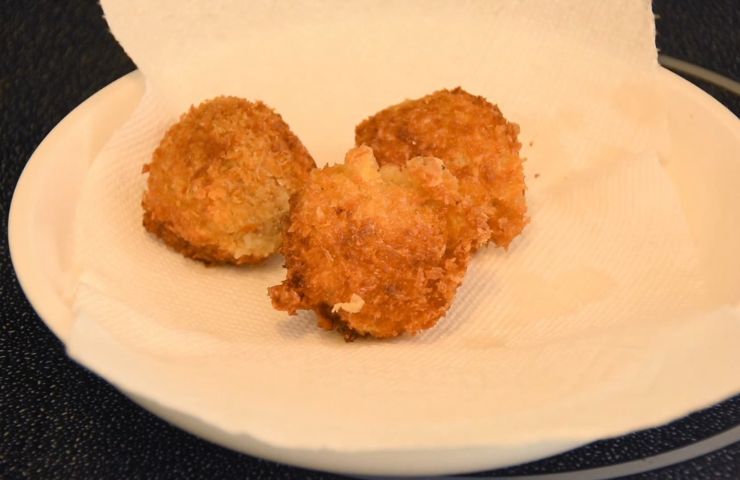 Step 11: Serve
After getting rid of the excess oil now, serve them in a serving plate or bowl with any dip and enjoy this right away while its hot.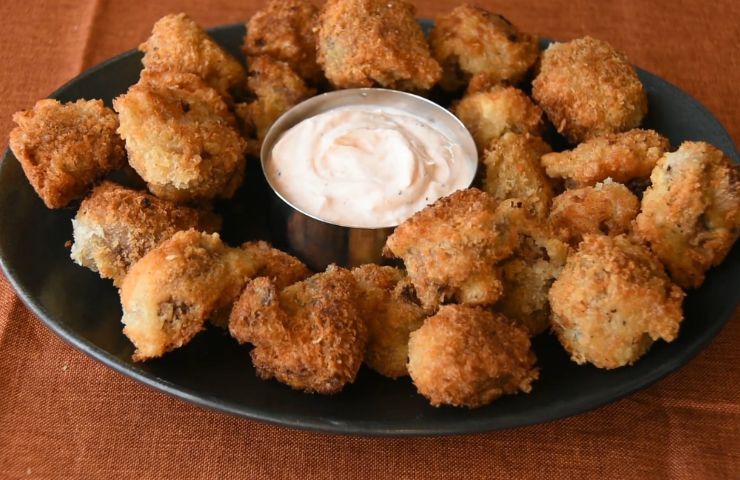 Special Tips from the Chef to Make the Perfect Zaxby's Fried Mushrooms
Look for the smallest mushrooms you can find for the best ratio of mushrooms to batter. If you have too big mushrooms, you can cut them in half.
If you don't have panko breadcrumbs, you can use regular breadcrumbs.
Add some cayenne pepper to the batter to increase the spiciness to make it spicy.
To ensure even cooking, stir the mushrooms occasionally while they are in the oil, as they will float.
To get the best taste from fried mushrooms, they should be served right after they are cooked while they are still warm.
It's important to remember that even small changes to the ingredients can have a big effect on the dish's taste, so it's best to follow the exact recipe.
What Dipping or Sauce Goes well with These Fried Mushrooms
You can serve these fried mushrooms with many different sauces to dip them in. Some of the most popular choices are:
Ranch dressing: A tangy and creamy dressing made with mayonnaise, buttermilk, and herbs. It is also the most popular one, and it's my favorite too.
Blue cheese dressing: A tangy and creamy dressing made by mixing blue cheese, mayonnaise, and sour cream. Simple but very tasty
Tartar sauce: Tartar sauce is a sour and creamy dressing that is made by combining mayonnaise, pickles, capers, and various herbs.
Honey mustard sauce: A sweet and tangy dressing, honey mustard sauce is made by mixing honey, mustard, and mayonnaise all together. It is considered very simple and also fan favorited.
Ketchup: Ketchup is a tomato-based sauce that has both a sweet and sour flavor. 
Sriracha mayo: Sriracha mayonnaise is a tangy and smooth mayonnaise that is made with Sriracha chili sauce.
How to Store and Reheat Zaxby's Fried Mushrooms
Storing the leftovers:
After the fried mushrooms have completely cooled down, put them in an airtight container and place them in the fridge.
The fried mushrooms will stay fresh for up to 5 days in the fridge.
Reheating fried mushrooms:
First, set the oven to 375 degrees Fahrenheit (190 degrees Celsius).
Then, put the fried mushrooms on a baking sheet and then heat them in the oven for 6 to 8 minutes or until they are warm.
You can also reheat the fried mushrooms in an air fryer or convection oven at 375 degrees F (190 degrees C) for 4-6 minutes.
You can also reheat it in the microwave, but we recommend not to reheat it in the microwave because that way, it will not be crispy.
FAQs
Why my mushroom getting rubbery after frying?
It's hard to say exactly what happened to your mushrooms after you fried them, but it usually happened when you cooked them on too low of a heat, stirred them too much, or didn't dry them before you cooked them.
What kind of mushrooms should I use?
You can use any type of mushroom for this recipe, but cremini or white mushrooms are the most common. You can also use portobello mushrooms, but they will be larger and require a longer cooking time.
How many calories are in Zaxby's Fried Mushrooms?
You will gain about 155 calories if you eat 5 fried mushroom. This is the equivalent of one serving.
Is it better to fry mushrooms in butter or oil?
Both are the same, but oil has a higher smoking point than butter, so frying mushrooms in oil will make them crispier and taste better.
Can I use other types of breadcrumbs?
Yes, you can use any types of breadcrumbs, such as plain bread crumbs or Japanese panko breadcrumbs. Panko breadcrumbs will give the mushrooms a more crispy texture.
Can I make these mushrooms ahead of time?
Yes, you can make these mushrooms ahead of time and fry them later. Simply coat the mushrooms in the batter and breadcrumbs, then place them on a baking sheet lined with parchment paper.
Lindsay G. Cabral is a recipe blogger who specializes in vegan and gluten-free recipes. Lindsay has been blogging since 2012, and her recipes have been featured on popular websites such as Huffington Post, Mind Body Green, and The Kitchn. In addition to her blog, Lindsay is also the author of two cookbooks, Vegan Yum Yum and Vegan Yum Yum for All Occasions. When she's not in the kitchen, Lindsay enjoys spending time with her husband and two young daughters.