People have been enthusiastic about Brenda Gantt Fried Green Tomatoes Recipe, a classic Southern dish for many years. Fried green tomatoes are usually considered a Southern staple because of their signature crunch and tang. Without a doubt, this is a true Southern gem. It's the easiest and quickest recipe, and the whole family will love the taste and flavor.
Brenda Gantt has always made it clear that most of her family's beloved dishes are the ones that have been passed down from her mother and grandmother. And when it comes to this particular dish, it's hard to resist the delectable combination of the crispy coating made from a blend of cornmeal and flour, paired with the tartness of green tomatoes.
Once you've tried Brenda Gantt's fried green tomatoes, they'll become a regular in your kitchen. This guide is for you if you've ever wanted to make a dish like this at home but weren't sure where to begin. This detailed recipe will show you how to replicate Brenda Gantt's famous fried green tomatoes at home.
This traditional Southern dish has few expensive ingredients and is easy to make, so it's excellent for a weeknight dinner. With Brenda Gantt's easy method, it's time to get down to business and learn how to make the best fried green tomatoes in the Southern style.
Ingredients
1 Large Green Tomato
A scoop or 1 tbsp of white lily flour
1 tbsp of cornmeal, it doesn't matter if it's plain or self-rising cornmeal
Salt and pepper, a little to taste
2-3 tablespoons of buttermilk
Cooking oil, vegetable oil for cooking
Green Tomato: Green tomatoes, also known as unripe tomatoes, have a sour, acidic flavor and a crisp, almost crunchy texture. It is mainly eaten as fried or otherwise prepared in a variety of Southern dishes. In this recipe, this is one of the main ingredients.
Cooking oil: To fry something, or in nearly all other recipes, cooking oil is an absolute must.; To fry those tomato pieces, we used vegetable oil.
Flour and Cornmeal: We used flour and cornmeal to coat the tomato pieces nicely so that they will have a nice crispy flavor when you fry them, making the tomato fries more delicious.
Salt and pepper: We have used this to give a little seasoning to the freshly chopped green tomatoes, and this salt and pepper are needed for the recipe to increase the overall taste.
Buttermilk: Buttermilk is used to give an extra flavor, and at the same time, when we mix the chopped green tomato pieces with the buttermilk, it will help you to coat them nicely with the flour and cornmeal and to achieve a nice and crispy flavor.
Tools
Cutting board
Knife
Heat stove
A large skillet
Mixing bowl
Measuring spoon
A large spoon
How to Prepare Brenda Gantt Fried Green Tomatoes
Step 1: Washing the tomato
First, we'll give those green tomatoes a good wash with water, and then we'll use some paper towels to soak up any extra water.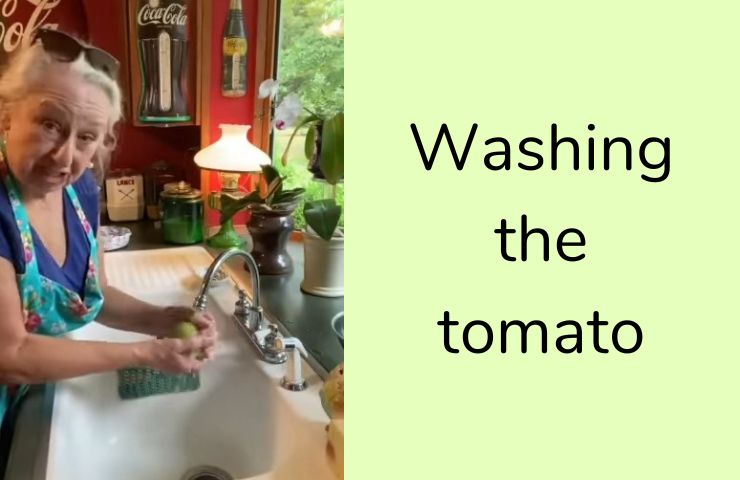 Step 2: Cutting it into cubes
Now, we'll cut the large green tomato into small cubes instead of circles, which is Brenda Gantt's style and what she says is best because it soaks up less grease. Also, it takes less time to fry and is better for you.
So just cut your tomato in half and then cut it a little cross sideways, and we're going to cut it into some cubes.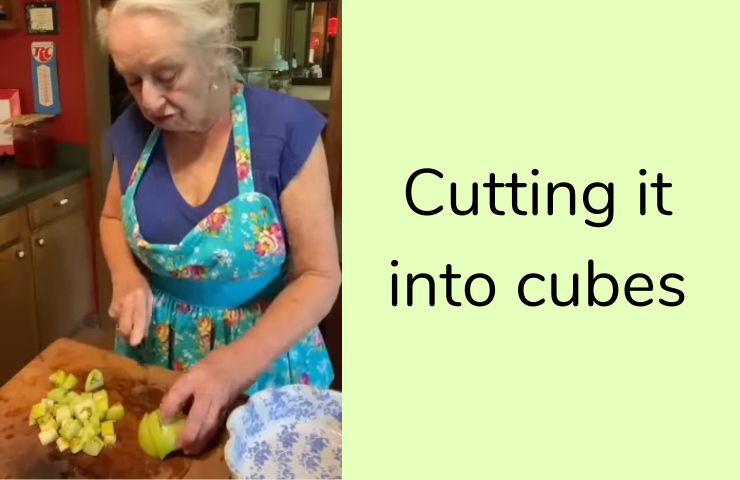 Step 3: Season with salt and pepper
In this step, we will add salt and pepper all over the chopped tomato pieces and remember to a little salt and pepper to your taste and don't overdo it.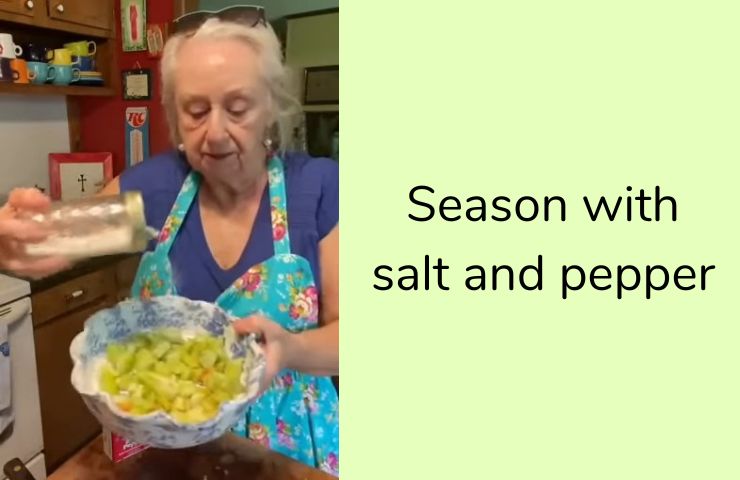 Step 4: Add buttermilk
Then we'll add 3 tablespoons of buttermilk and mix well with a large spoon.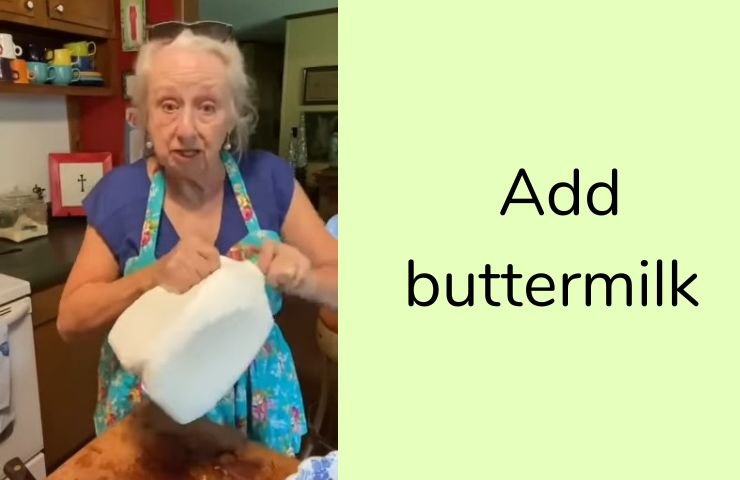 Step 5: Add flour, and cornmeal, and mix
Next, we'll add 1 tablespoon of flour and cornmeal. We'll mix the flour and cornmeal together by tossing them with a spoon.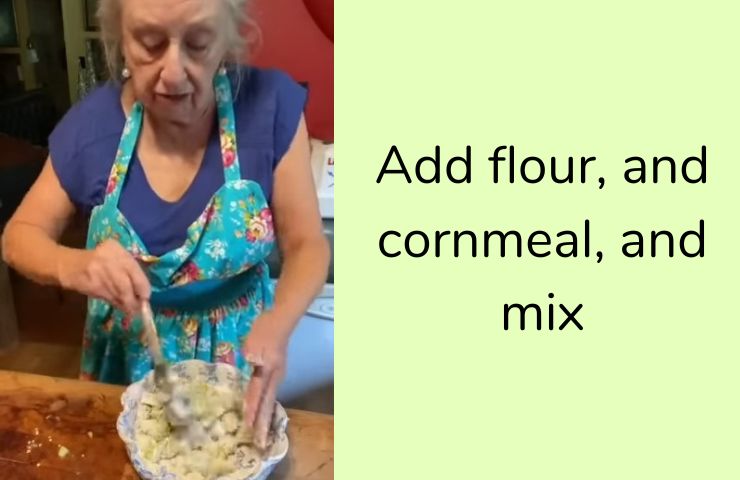 Step 6: Heat the oil
Now fill the skillet halfway deep with cooking oil and let it heat over medium heat.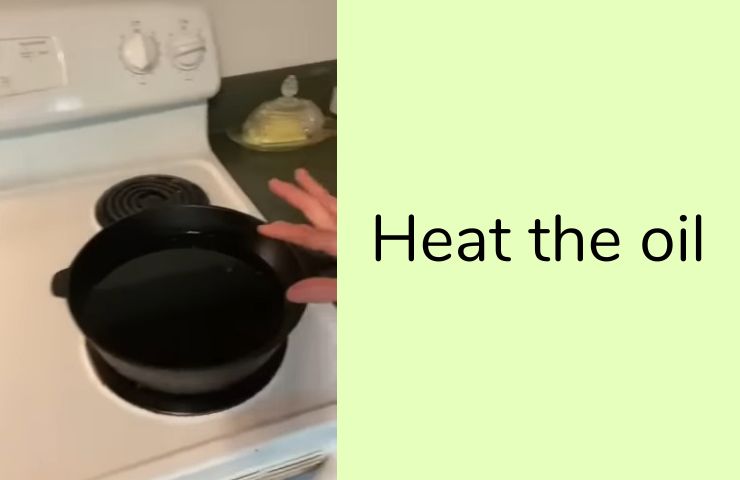 Step 7: Start frying
When the oils get to a nice heat then drop those tomato pieces coated in the mixture slowly into the heated oil, and you will see that they will start to fry.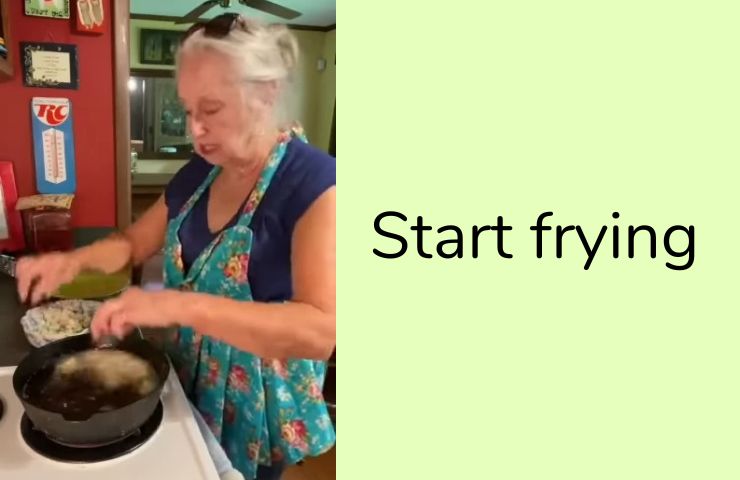 Step 8: Flip and fry nicely
So, while you're frying the coated tomato cube pieces in hot oil, try to turn them over so that they cook evenly on all sides.
Step 9: Serve
Now when they are crispy and have a brown, golden texture, remove them on a serving plate, and there you go; it's ready to serve, and you can eat it right away.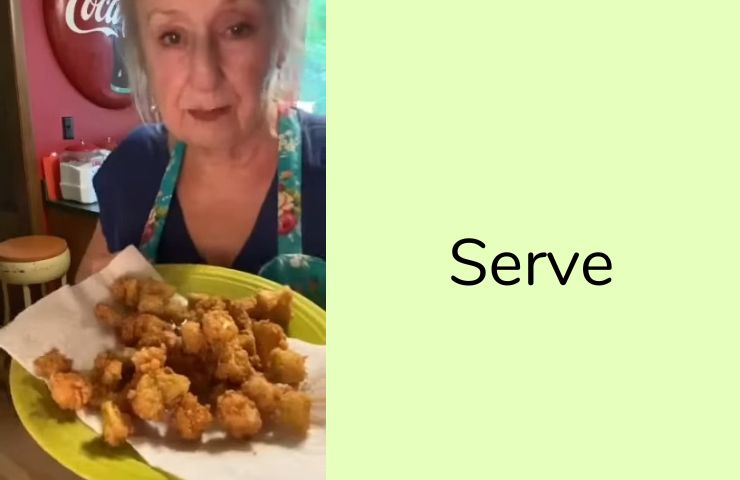 Tips
If you see the coating all over the chopped green tomato pieces is a bit wet, then add more flour or cornmeal to make the coating nice so that when you fry them, you will get a nice crisp.
Ensure the oil is hot enough before putting the coated green tomato pieces in the hot skillet. If you are in a hurry and put the tomato pieces in the oil before it is hot enough, it will taste chewy and unpleasant, and you will miss the original flavor and crispness. It will also taste more oily.
Use paper towels or tissue paper to absorb the after-cooked extra oil from the fried green tomatoes.
Try a Dipping sauce with Brenda Gantt Fried Green Tomatoes
If you want to try these fried green tomatoes, then we suggest you should try this with a sauce. We are giving a sauce recipe that you can make fast; try this with Brenda Gantt Fried Green Tomatoes and enjoy.
Dipping Sauce Ingredients
3 tbsp Mayo
2 tsp Sweet Relish
1 tsp Yellow Mustard
Salt and pepper to taste
Make this simple dipping sauce and try it out with the fried green tomatoes in just 4 or 5 minutes by combining all the ingredients in a small bowl and stirring them together with a spoon for 1 to 2 minutes, and your dipping sauce is ready to try it with Brenda Gantt Fried Green Tomatoes.
FAQ
What are the best tomatoes for a Fried Green tomatoes recipe?
Heirloom and green zebra tomatoes are best for the Fried Green Tomatoes recipe because they taste good and are very tender. But for frying, you can use any green tomato.
Why do we fry green tomatoes and not red?
Unripe tomatoes tend to be firmer and drier than ripe ones. This makes them less likely to fall apart when put in hot oil, which is why green tomatoes are used instead of red ones.
Can we use refrigerated green tomatoes for this recipe?
No, because you won't get good fried green tomatoes that way. Instead, use fresh green tomatoes every time.
What oil is best for cooking fried green tomatoes?
We suggest that you use vegetable oil for frying green tomatoes, and it is best to be used it in this recipe.
How many calories are in Brenda Gantt Fried Green Tomatoes?
Each serving of Brenda Gantt Fried Green Tomatoes you eat will add about 165 calories to your body. So these snacks are very healthy and low in calories.
Conclusion
We can say that the Brenda Gantt Fried Green Tomatoes recipe is simple and easy to make and that you only need a few ingredients and a few minutes to make it. It also tastes great and is a great way to make a healthy snack whenever you want to eat something tasty. That's why we think you should try this recipe. It's a little different from other recipes for fried green tomatoes, and I ensure you won't be disappointed whenever you try it.
I'm Zoey, and I love to cook.
I make all my meals at home, which means that every day is a new adventure. I have no idea what I'll be cooking that day—it could be anything from pancakes to lasagna to kabobs to chicken soup—but it always turns out delicious.