After you went to Texas Roadhouse and tried their steaks, ribs, grilled salmon, and salads, you might also have had their Italian dressing. It made the food taste even better. If you want to make it at home, don't worry! After all, in today's recipe, we will share the exact Texas Roadhouse Italian Dressing Recipe.
We have got you covered because you can make this recipe with an ease and at the same time the end result will be far better than any bottled-packed Italian dressing.
Why Is This Texas Roadhouse Italian Dressing Recipe so popular?
The Texas Roadhouse Italian Dressing is originally crafted in the heart of Texas. It was specifically created to complement their signature Texas toast. However, as its popularity grew, this dressing quickly became a fan-favorite and began gracing everything from steaks to salads, seafood to sandwiches, and more!
This all-time favorite dressing is made with only the finest ingredients, including premium-quality oil, fresh garlic, and mouthwatering apple cider vinegar. These ingredients are combined in just the right proportions to create an irresistible flavor that will leave you wanting more.
This dressing is the ideal complement to any meal, whether you want to add extra oomph to your salad or give your steak a little more rush of flavor. So go ahead and indulge your taste buds with Texas Roadhouse Italian Dressing.
Ingredients
¾ cup Apple cider vinegar
¼ cup Sugar
1 tsp or a pinch of Salt
1 tsp Garlic powder
1 tsp White pepper
1 tsp Black pepper
1 tsp Onion powder
1 tsp Garlic salt
½ tsp Ground basil
½ tsp Oregano
½ tsp Diced garlic
⅓ cup or 100g of Honey
¼ cup or 60g of Mustard
1.5 cups Soybean oil
Know Your ingredients
Apple Cider Vinegar: You can use any Apple Cider Vinegar brand you like or prefer for this Italian dressing.
Sugar: Sugar usually adds sweetness to whatever recipe it is used in; it is also a must to add an ingredient to this recipe.
Salt: Salt is always crucial in most recipes, and a pinch of salt can enhance flavors in any recipe.
Garlic powder: It can be used in any recipe that calls for dried or fresh garlic, and this ingredient must to add in the recipe, like in Texas Roadhouse.
Black pepper: Black pepper is renowned as the "King of Spices" because of its strong aroma and is frequently utilized in all major cuisines worldwide. It's also a necessary ingredient in the dressing recipe.
White pepper: White pepper is mainly used to make any dressing, ranch, or sauce. It has an intense flavor, so use less than you would use the black pepper.
Onion powder: It adds an extra benefit that makes it handy in cooking. It distributes evenly throughout the meal, giving a deep and robust onion flavor.
Garlic salt: It gives flavor to a bland sauce, dressing, meat, or fish entrée that needs a little extra kick.
Ground basil: It is the most common harb used for making any sauce, dressing, or salad.
Oregano: With its hint of sweetness, oregano is typically used to balance an acidic or salty meal or a dressing and sauce.
Diced garlic: It is mainly used to add an extra fresh flavor to any recipe.
Honey: Honey is a must in this Italian dressing recipe because it makes unique from other Italian dressings than the Texas Roadhouse. We have used Kirkland raw, unfiltered honey in this recipe.
Mustard: Use the Freedom choice yellow mustard, or you can use any brand you prefer, but it's a must item to add, and remember to add this ingredient.
Soybean Oil: Use Nutrioli Pure Soybean Oil brand in this recipe because this is the best soybean oil, and you can use any other brand you prefer. Also, we use soybean oil because it ensures the dressing is nice and juicy.
Tools
Mixing bowl
Measuring cup
Measuring spoons
Whisk
Glass Jar
How To Prepare Texas Roadhouse Italian Dressing
Step 1: Start with apple cider vinegar
First, add ¾ cup apple cider vinegar, ¼ cup sugar, 1 tsp, or a pinch of salt into the bowl.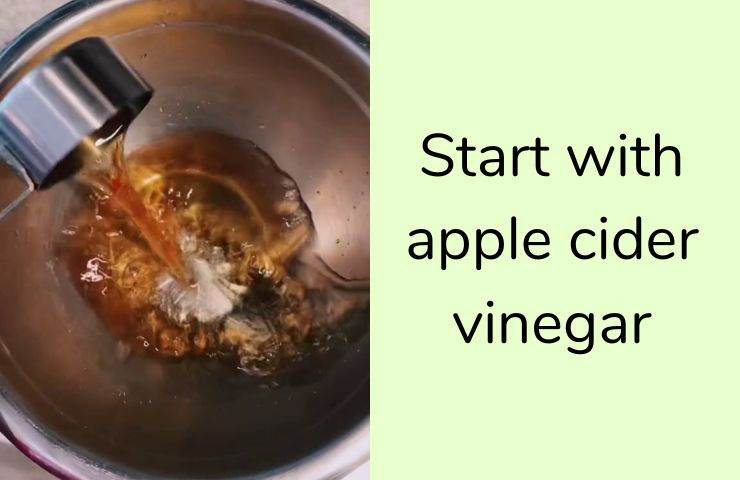 Step 2: Add some ingredients
Next, we'll add some ingredients – just one teaspoon of each! We'll need garlic powder, white pepper, black pepper, onion powder, and garlic salt.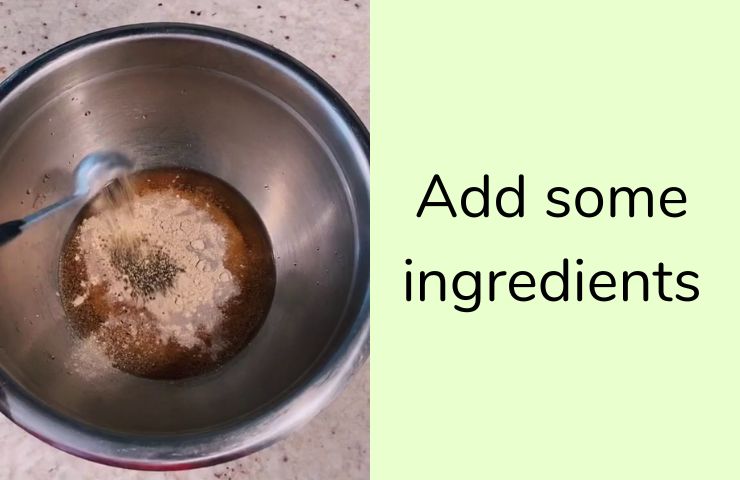 Step 3: Stir with a whisk
Before adding more ingredients, take a whisk and stir nicely so that all the ingredients mix well.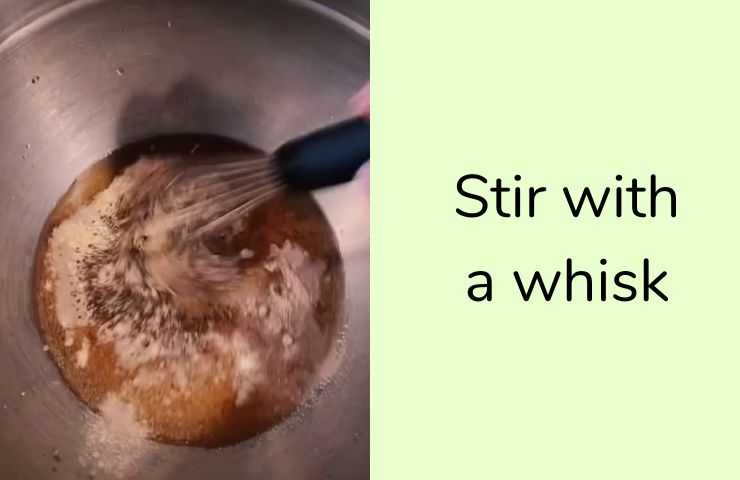 Step 4: Add more ingredients
Once you're done stirring, it's time to add more ingredients. Start with half a teaspoon of ground basil, half a teaspoon of oregano, and half a teaspoon of diced garlic in the bowl. And mix those up with a whisk.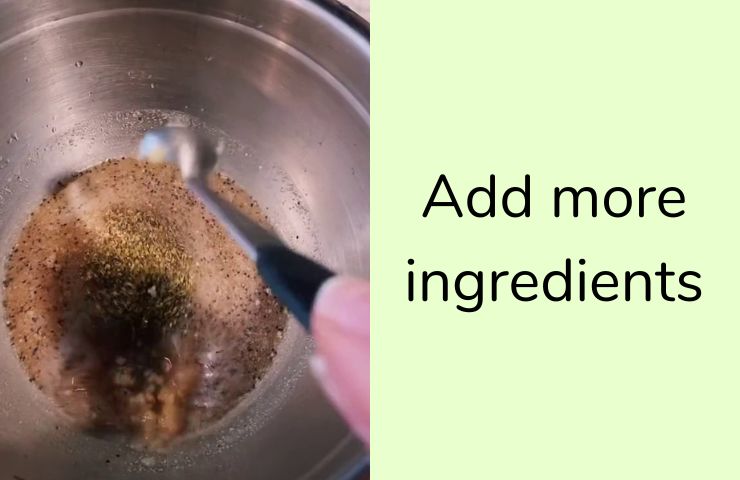 Step 5: Add honey, mustard, and oil
Next, we will add ⅓ cup or 100g of honey, ¼ cup or 60g of mustard, and 1.5 cup soybean oil into the mixing bowl. And give all the ingredients a good stir with a whisk.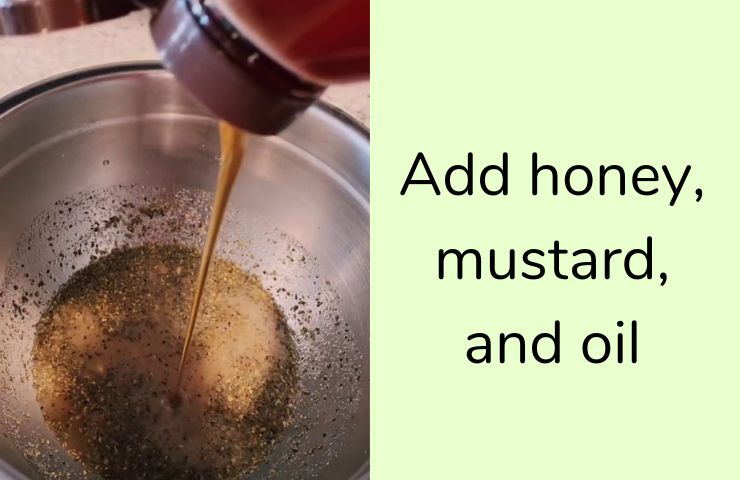 Step 6: Final touch and Serve
Stop and pour the dressing into a jar when you have finished combining and observe that all the dressing ingredients mix well nicely.
And you are ready to pour in any dish, meat, or salad you want to test this on and enjoy the meal with extra flavor.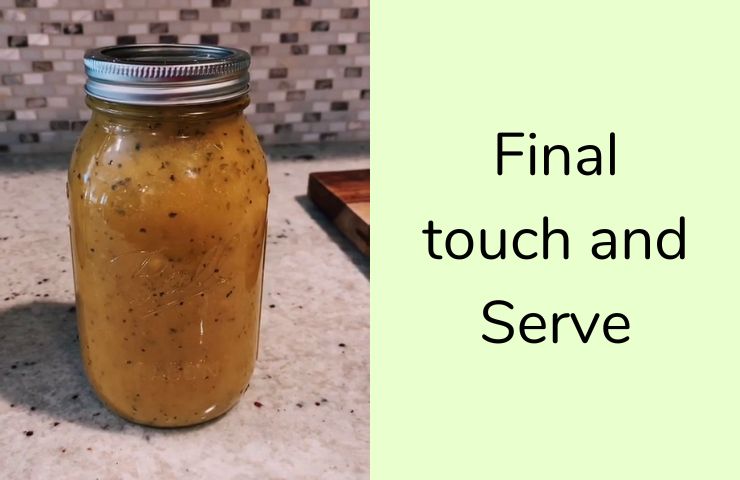 Recipes That You Can Make with Texas Roadhouse Italian Dressing
There are many Italian dishes cooked at Texas Roadhouse, as well as many homemade Italian dishes that use this Texas Roadhouse Italian Dressing. So with this dressing, you can make many dishes, and those are below:
Zesty Italian Pork Chops with Cannellini Salad
Pulled Pork Greek Salad
Italian Marinated Pork Chops
Italian Chicken Wings
Italian Pork Spiedini
Chicken and Berry Cobb Salad
Smoked Sausage and Bacon Blue Cheese Hot Potato Salad
Chicken Sausage Pasta
Bean and Lentil Caprese Salad
Veggie Spaghetti Salad
Italian Pasta Salad
Wish-bone Chicken Fajitas
Classic Italian Burgers
Italian Antipasto Skewers
Grilled Chicken Salad
Easy Garlic bread
Perfect Roasted Fennel
Italian Salad
What Goes Great With Texas Roadhouse Italian Dressing
Without a doubt, this famous dressing may enhance any dish. Still, there are many dishes, meat items, snacks, and salads that go great with this Texas Roadhouse Italian dressing, and we will reveal the food items that go great with this kind of Italian dressing below:
Texas Roadhouse Grilled Shrimp
The Texas Roadhouse Grilled Shrimp Recipe is a must-try for all seafood, shrimp, and grill lovers because you can always make this fantastic recipe at home. One more thing, it's effortless and doesn't take much time to prepare, and at the end of cooking, both your eyes and tummy will be happy.
Texas Roadhouse Sauteed Mushroom
The Texas Roadhouse Sautéed mushrooms are a tasty dish made by sautéing edible mushrooms. It is served as a side dish, with fresh vegetables and components that make delicacies like duxelles, as a topping for steaks and toast, and as a garnish, and when you add the Italian dressing, it is a pleasure you will never forget.
Texas Roadhouse Chopped Steak
Texas Roadhouse chopped steak is ideal for a late-night family dinner. Do you understand what chopped steak is? Chopped steak is also called a beef patty, chop steak, or hamburger steak. It is also known as hand steak or steak burger. Nonetheless, they are high in protein and have a great flavor. The Texas Roadhouse chopped steak is topped with sautéed onions, mushrooms, and jack cheese. And pair them with two sides of your choice.
Texas Roadhouse Pork Chop
Texas Roadhouse pork chops are one of the greatest pork meals in the world, as well as one of the most flavorful and succulent creations of this well-known restaurant chain. Pork meat can help with muscle growth and maintenance while also improving exercise performance. This recipe is delicious and healthy at the same time.
More dishes and food items you can try with the Texas Roadhouse Italian dressing are:
Steaks
Grilled chicken
Italian Marinated Pork Chops
Italian Chicken Wings
Balsamic Chicken & Veggies
Chicken Sausage Pasta
Bean and Lentil Caprese Salad
Wish-bone Chicken Fajitas
Classic Italian Burgers
Mexican-style Grilled Steak
Grilled Zucchini Roll-Ups
Chipotle-Orange Shrimp
Barbecue Pork Skillet
Special Tips From The Chef
If you don't like sugar, try replacing it with maple syrup for a healthier sugar alternative. If you want to stick to the recipe, we recommend using sugar.
If you want, you can easily replace the apple cider vinegar with red wine vinegar. So no worries if you don't have apple cider vinegar at home.
If you want a healthier oil alternative, you can use avocado or olive oil instead of soybean oil.
Go with all black pepper in the recipe if you don't have the white pepper at home or want to avoid the white pepper.
Storing and Reheat The Texas Roadhouse Italian Dressing
Store the Texas Roadhouse Italian Dressing in Glass Jar so that you can use this in the future.
Refrigerate any leftover dressing in an airtight container or glass jar with a lid. I prefer a jar with a tight seal. It can be kept for up to 15 days. And also, always shake the jar before using the dressing.
You may reheat the dressing in the microwave for about 30 seconds, and it will be okay and ready to be used for any meal or snack.
FAQ
Is Italian seasoning the same as Texas Roadhouse Italian dressing?
No, they are not the same thing. Italian seasoning is a dry herb combination that comprises basil, oregano, thyme, rosemary, and, on occasion, marjoram. When mixed with oil and vinegar, Texas Roadhouse Italian dressing mix contains comparable dried herbs, salt, and extra ingredients to form a great salad dressing.
What is the Texas Roadhouse Italian Dressing mix made of?
This dressing is made with exactly 14 ingredients, and they are apple cider vinegar, sugar, salt, garlic powder, white pepper, black pepper, onion powder, garlic salt, ground basil, oregano, diced garlic, honey, mustard, and soybean oil.
What does this dressing do to meat?
This dressing gives a juicy flavor to any meat and an extra kick of spices, making the meat more yummy and delicious.
Does this dressing have cheese in it?
Usually, most of the Italian dressings has cheese in them, but Texas Roadhouse Italian dressing does not have cheese in it.
Is there any raw egg in this?
No, the recipe for Texas Roadhouse Italian Dressing has no raw egg ingredient.
Bottom Line
If you want to make a tasty and mouthwatering dish, use Texas Roadhouse Italian Dressing. It's incredibly simple to create. All you have to do is gather your supplies and follow the cooking instructions. This may be the ideal option for you if you wish to appreciate something Italian.