Get ready to experience the taste of Texas in your own kitchen with our recipe for Texas Roadhouse grilled shrimp. Known for its distinct flavors and hot spices, this recipe will transport your taste buds straight to the heart of Texas, where grilling is a beloved pastime.
Perfect for summertime meals, our recipe is a lighter alternative to traditional barbecued shrimp but packs just as much flavor.
Bring the taste of Texas Roadhouse to your home and impress your guests with this mouthwatering recipe for Texas Roadhouse grilled shrimp.
Ingredients That You Will Need
1 pound large shrimp peeled and deveined
2 tablespoons extra virgin olive oil
2 tablespoons lemon juice
1 tablespoon smoked paprika
1 teaspoon garlic powder
1 teaspoon onion powder
1 teaspoon dried oregano
1 teaspoon dried basil
½ teaspoon salt
½ teaspoon black pepper
¼ teaspoon cayenne pepper
Tools
Mixing Bowl
Teaspoon
Tablespoon
wooden skewers
Grill
Food Tongs
How to Make Texas Roadhouse Grilled Shrimp Recipe
Peel and devein the shrimp: To begin, peel and devein the shrimps, leaving the shell on and cutting along the outer edge of the shrimp's back, cutting the shell to get to the vein. Don't bother if you can't see the vein.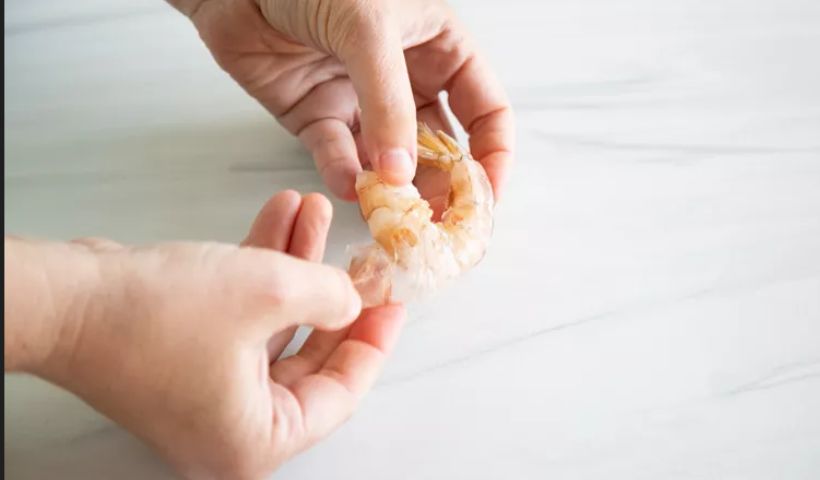 Add the shrimp and pour lemon juice and olive oil into the mixing bowl: In a large mixing bowl, combine 1 pound of large peeled and deveined shrimp with tails on. Add 2 tablespoons lemon juice and 2 tablespoons extra-virgin olive oil.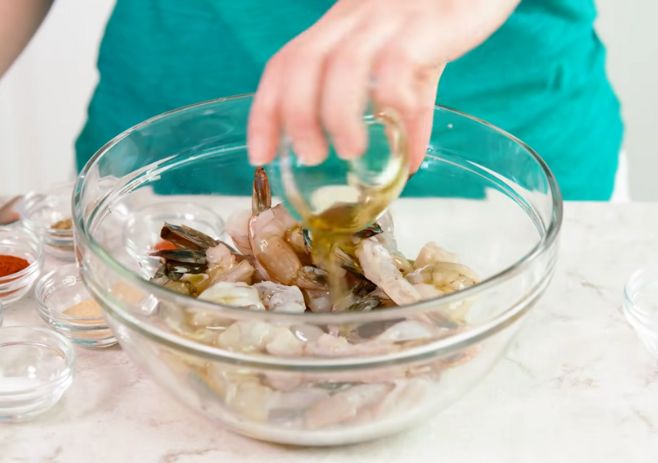 Add the paprika, garlic, and onions powder: Now add 1 tablespoon of smoked paprika. The paprika adds flavor and color to this recipe and it looks great to have an excellent bright pink or red shrimp when grilling. Then, add 1 teaspoon each of garlic powder and onion powder.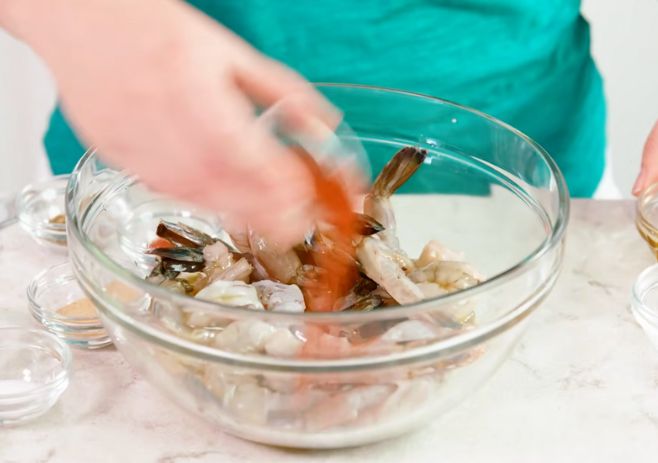 Adding the rest of the ingredients: Now follow up with dried basil and dried oregano. It already smells so good, and we only have 3 ingredients to go. Next, add 1/2 teaspoon of salt, 1/2 teaspoon of black pepper, and 1/4 teaspoon of cayenne pepper to taste. We're going to toss everything together gently.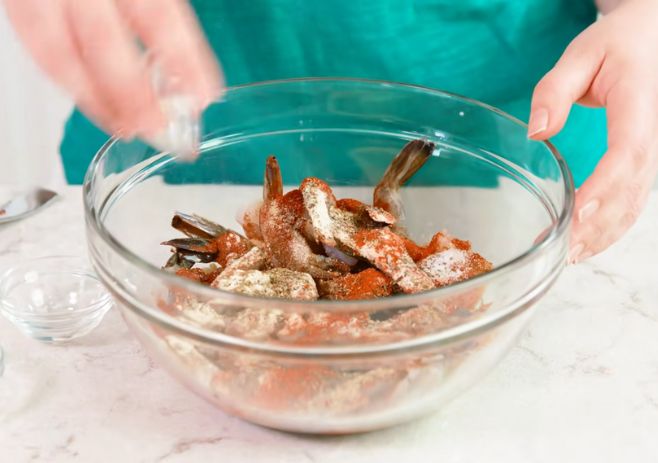 Preparing the shrimp for grilling: If your shrimp are on the small side and you're worried about them falling through the grill grates, soak some wooden skewers in water for at least 10 minutes before threading them with your shrimp.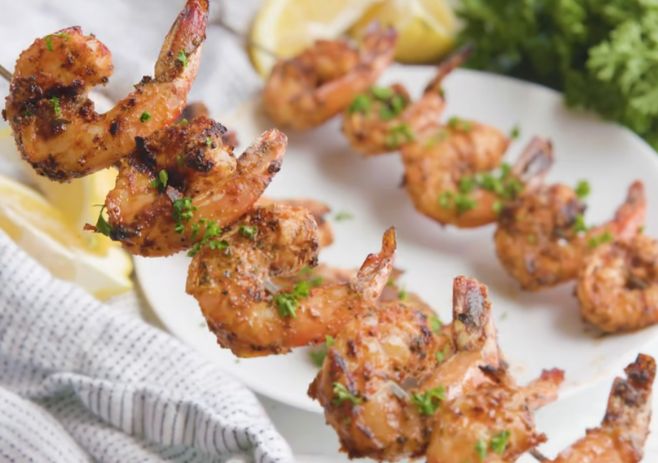 Grill the shrimp: Preheat your outdoor grill to high heat, which should be around 500 degrees Fahrenheit. Place the shrimp on the grill grates directly. Make sure that the grill grates are lightly oiled.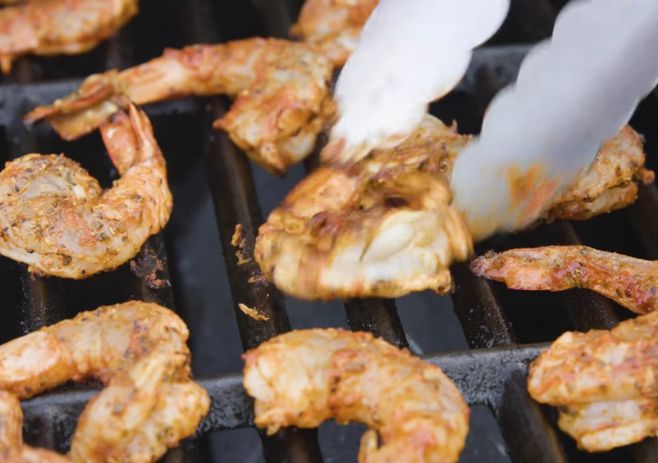 Then we'll close the lid and let them cook for another 2-3 minutes. The shrimp will then be flipped and finished cooking for another 2 minutes. When shrimp have finished cooking, they are no longer translucent. Now it is ready to serve and eat.
FAQ
What will happen if I cook the shrimp too long?
Honestly, the overcooked shrimp become stringy and chewy, making them unappealing to eat. You can still eat them, but the texture is unpleasant and lost its taste.
How many calories does a grilled shrimp have?
The exact calories usually vary depending on the size of the shrimp. Still, one piece of grilled large shrimp has around 10 calories.
How long should I cook the shrimp on the grill?
On a standard grill size, cook the shrimp for 2 to 3 minutes on each side, for a total of 5 minutes for 1 piece of shrimp.
Conclusion
The Texas Roadhouse Grilled Shrimp Recipe, is a must-try for all seafood, shrimp, and grilled lovers because you can always make this fantastic recipe at home. One more thing, it's effortless and doesn't take much time to prepare, and at the end of cooking, both your eyes and tummy will be happy.
Overall, Texas Roadhouse Grilled Shrimp is an excellent choice for a quick, tasty, and flavorful meal.
This grilled shrimp recipe can be served as an appetizer or as a main course and can be flavored in a variety of ways. So fire up the grill and enjoy your own homemade meal.
Lindsay G. Cabral is a recipe blogger who specializes in vegan and gluten-free recipes. Lindsay has been blogging since 2012, and her recipes have been featured on popular websites such as Huffington Post, Mind Body Green, and The Kitchn. In addition to her blog, Lindsay is also the author of two cookbooks, Vegan Yum Yum and Vegan Yum Yum for All Occasions. When she's not in the kitchen, Lindsay enjoys spending time with her husband and two young daughters.