Fan of Longhorn Steakhouse's sautéed mushrooms! Then you're in luck because we have a simple and delicious copycat Longhorn Steakhouse sauteed mushroom recipe that you can make at home!
This recipe calls for fresh mushrooms sautéed in butter and seasoned with shallot, salt, and pepper, resulting in a rich and savoury flavour that's perfect as a side dish or topping for your favourite steak.
So grab all the ingredients and equipment that are needed for this amazing Longhorn Steakhouse Sauteed Mushroom Recipe and Let's make this delectable side dish quickly and share the joy with your loved ones at the table.
Ingredients
1 lb button mushrooms, stems removed
1 large shallot, thinly sliced
2 tbsp unsalted butter
4 tbsp olive oil
Salt and pepper
1 tbsp lemon juice
½ cup dry sherry, cooking wine
1 tsp fresh thyme
For Garnish
1 tbsp fresh parsley, chopped
Tools
Large spoon, for stir
Measuring spoons
Measuring cup
Cutting board
Electric stove
Large skillet
Burner
Knife
How to Prepare Longhorn Steakhouse Sauteed Mushroom
Step 1: Slice the shallot
Using a cutting board and a sharp knife, slice the shallot into tiny slices and also remove the stems from the button mushrooms.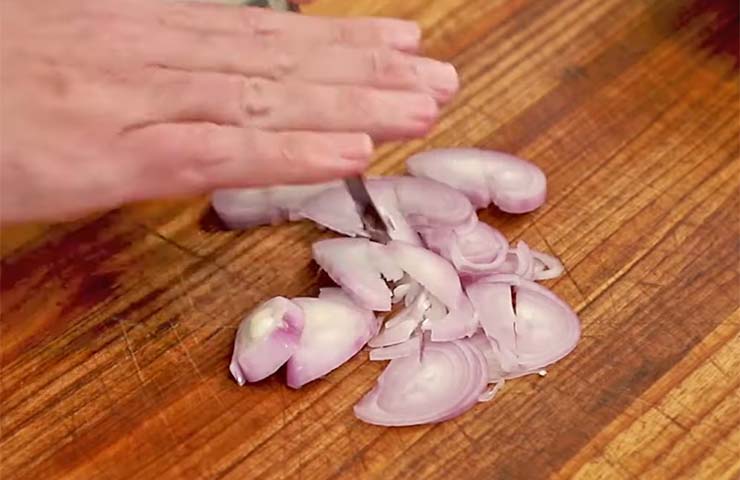 Step 2: Cook the shallot slices
Add two teaspoons of olive oil in a big skillet over medium-high heat. Add the shallot slices and cook. Stirring constantly with a big spoon until the shallots are golden and caramelized Properly.
Note: After 5 minutes. Remove them from the pan with a large spoon.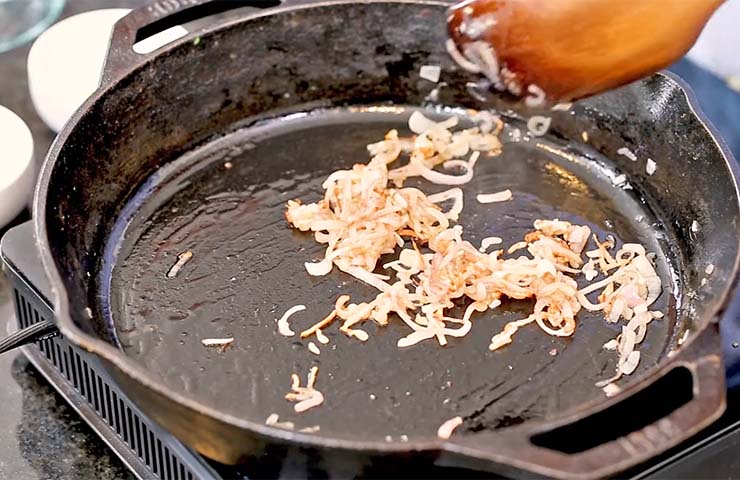 Step 3: Add mushrooms to heated oil
Add the remaining 2 tbsp of olive oil to the skillet and add the mushrooms with a pinch of salt. Then cook the mushrooms for about 3 to 5 minutes, stirring every now and then.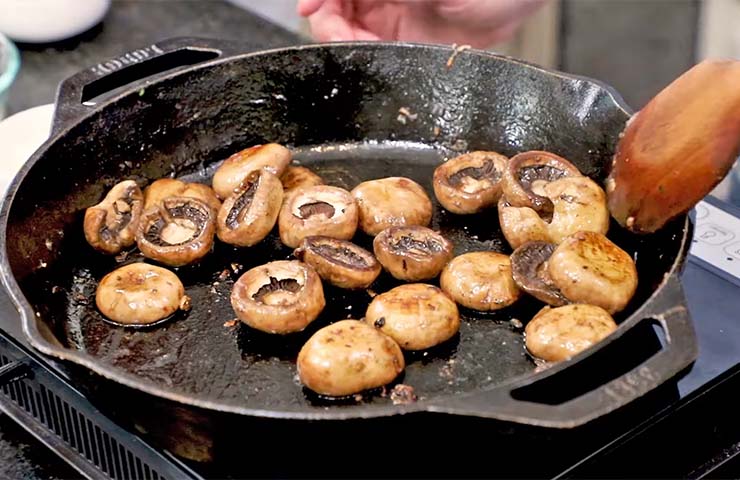 Step 4: Pour lemon juice
Add 1 tsp lemon juice to the mushrooms and cook for 3-4 minutes. While cooking, occasionally stir until almost all of the juice has evaporated.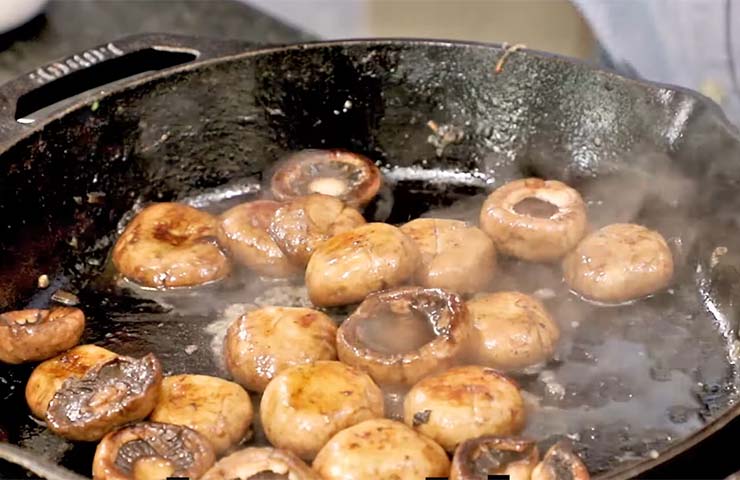 Step 5: Add dry sherry wine and thyme
Now add ½ cup dry sherry and 1 tsp fresh thyme to the pan and stir and cook for 1 minute or until all the liquids evaporate.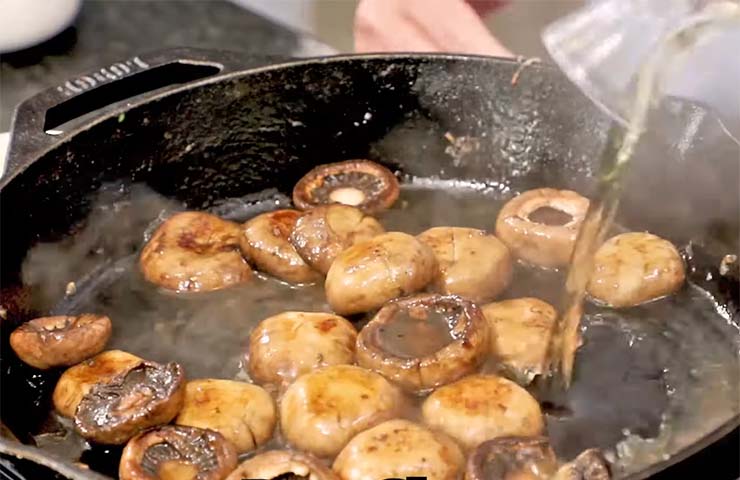 Step 6: Return the cooked shallots
Next, return the shallots along with 2 tbsp of unsalted butter and a healthy pinch of salt and pepper, and keep cooking the mushroom on medium heat.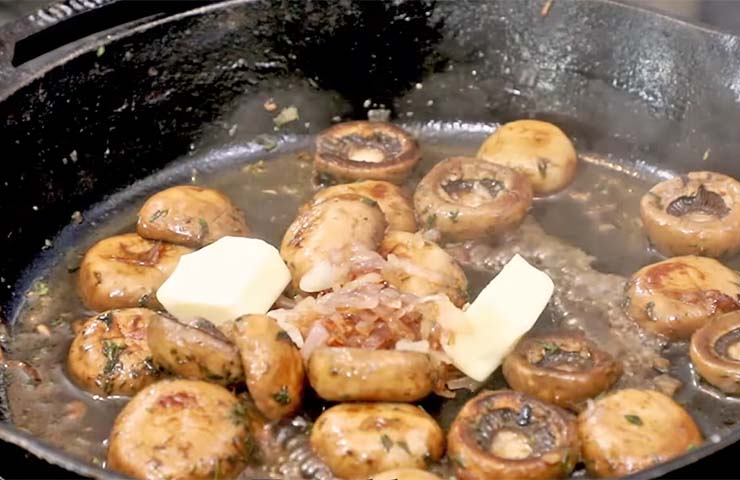 Step 7: Serve on a plate
When the cooking is complete, the mushrooms appear soft and release liquid. Serve the cooked mushrooms on a plate, and you are ready to eat.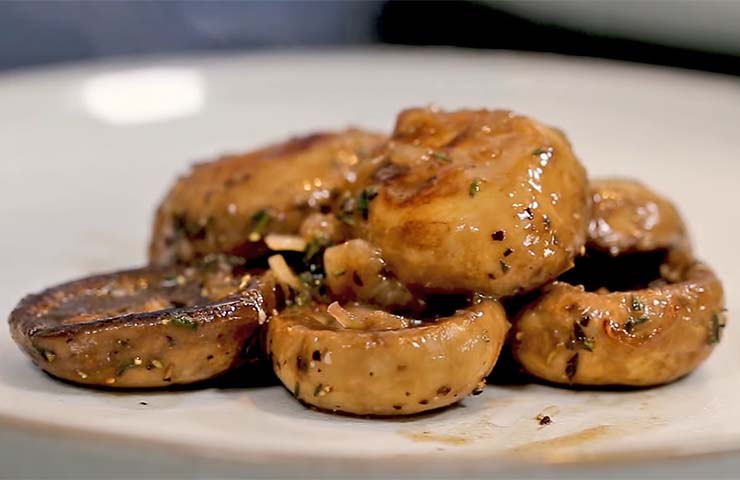 Expert Tips For This Dish
It would be best if you completely cooked the liquid that mushrooms produce in order to have sautéed mushrooms that are not soggy (or drain it away). The mushrooms won't be able to brown till it does.
It is up to you whether you want to slice the mushrooms more or cut them in half.
I usually sprinkle some fresh parsley on top of my mushrooms, but if you prefer, you can add dill, chives, or thyme leaves, which are fantastic additions.
We do not recommend freezing the mushrooms after they have been served.
We highly recommend serving these hot off the stove. Sautéed mushrooms reheated are tasty, but fresh is always best.
You can add more ingredients to make the seasoning and increase the taste, such as garlic or other vegetables, but we followed the authentic recipe, so we recommend not adding any additional ingredients if you want to enjoy this.
What goes best with Longhorn Steakhouse Sauteed Mushroom?
There are a lot of main dishes along with some salads pair well with this recipe but without a doubt that we want to suggest a few dishes that go great with this amazing Longhorn Steakhouse sauteed mushrooms so here are some of them:
Steaks
Baked potatoes
Pizza
Pasta
FAQs
Is LongHorn Steakhouse Sauteed Mushroom healthy?
Absolutely, this dish is healthy for you because the main ingredient is a mushroom, which includes potassium, antioxidants, fibre, and vitamin C that are helpful for you to stay healthy and fit.
How many calories does LongHorn Steakhouse Sauteed Mushroom have?
If you consume this entire dish, you will add about 195–205 calories to your diet.
Is LongHorn Steakhouse sauteed mushrooms keto-friendly?
Yes, this dish is keto-friendly, and mushrooms are among the healthiest and most keto-friendly foods. So you can eat this without worrying.
Is this dish gluten-free?
LongHorn Steakhouse Sauteed mushrooms have no ingredients that contain gluten and are ideal for a gluten-free diet plan.
Is it okay to wash mushrooms?
Yes! As it has been established that mushrooms don't absorb as much water. So washing them is ok, just don't submerge them in water. If you're still unsure, use a damp paper towel to remove any dirt.
How long can we store the dish in the fridge?
To store mushrooms in the fridge, place them in an airtight container or a sealed plastic bag with the air pushed out for up to 4-5 days.
Conclusion
After going through the entire Longhorn Steakhouse Sauteed Mushrooms Recipe, you may already be aware that it is not only incredibly simple to make but also delectable and healthy.
This is a must-try for everyone, whether you are making it for the first time or have made it before. Once you try cooking this amazing dish and share it with your family and friends, they will undoubtedly keep asking for more from you if you host a party or get-together.
Lindsay G. Cabral is a recipe blogger who specializes in vegan and gluten-free recipes. Lindsay has been blogging since 2012, and her recipes have been featured on popular websites such as Huffington Post, Mind Body Green, and The Kitchn. In addition to her blog, Lindsay is also the author of two cookbooks, Vegan Yum Yum and Vegan Yum Yum for All Occasions. When she's not in the kitchen, Lindsay enjoys spending time with her husband and two young daughters.