The First Watch Purple Haze Recipe is a well-known cocktail at First Watch that will please anyone Who is looking for a sweet and fruity beverage with a punch. Because of its eye-catching purple colour and flavour, this drink has gained popularity among drink enthusiasts.
Purple Haze by First Watch is ideal for anyone who enjoys a flavorful and potent beverage. Its bright and fruity flavour profile makes it suitable for those who prefer sweeter drinks, and using various spirits ensures that it packs a punch.
Whether you're considering impressing your friends with a fun and unique drink or want to indulge in a tasty one, this version of Purple Haze is a great choice.
Ingredients
Butterfly Pea Tea
1 and ½ ounces of Lavender Syrup
3/4 cup of Fresh Lemon Juice
1 and ½ ounces Honey
Ice cubes
Water
Garnish
Tools
Glass
Mixing glass or jar
Jiggers
Strainer
Shaker
Boiling pot
Handheld frother
Know Your Ingredients
Butterfly Pea Tea: Butterfly pea flower tea, also known as blue tea in the world, is used to add an eye-catching colour as well as an authentic vibe, similar to The First Watch Purple Haze.
Lavender Syrup: Lavender flavour is herbal, floral, and earthy. It is also sweet and delicate, with a calming and soothing effect on this purple haze. It is a must-have ingredient in this recipe.
Fresh Lemon Juice: Lemon juice is a liquid collected from ripe, fresh lemons. The highly acidic juice has a mild lemon flavour, complementing the fruit's natural bitterness.
Honey: This recipe also needs honey because it makes this drink so unique.
Ice cubes: We use ice cubes in the saker, but you can also add them to a glass of juice.
Water: Yes, we need the appropriate amount of water for the size of your glass.
How to make First Watch Purple Haze
Step 1: Start with lemon juice and honey
First, take a large glass or mixing jar and then add ¾ cup of Fresh Lemon Juice, and 1 and ½ ounces of Honey into it.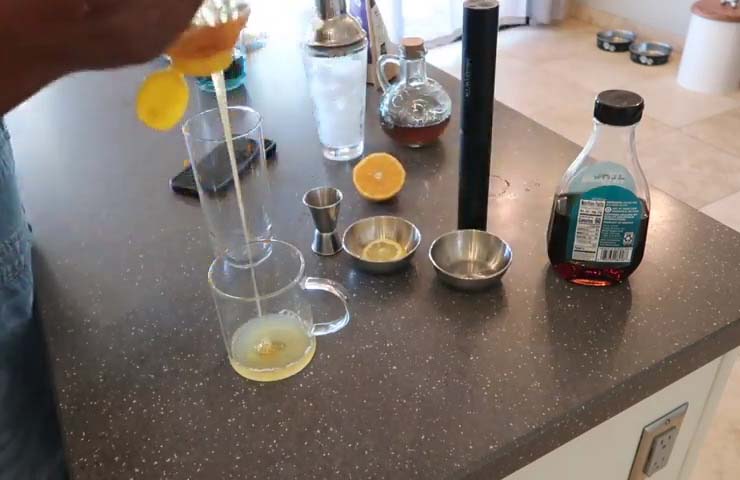 Step 2: Add Lavender Syrup and mix
Next, add 1 and ½ ounces of Lavender Syrup into the large glass and stir with a large spoon or use the Handheld frother to mix the ingredients.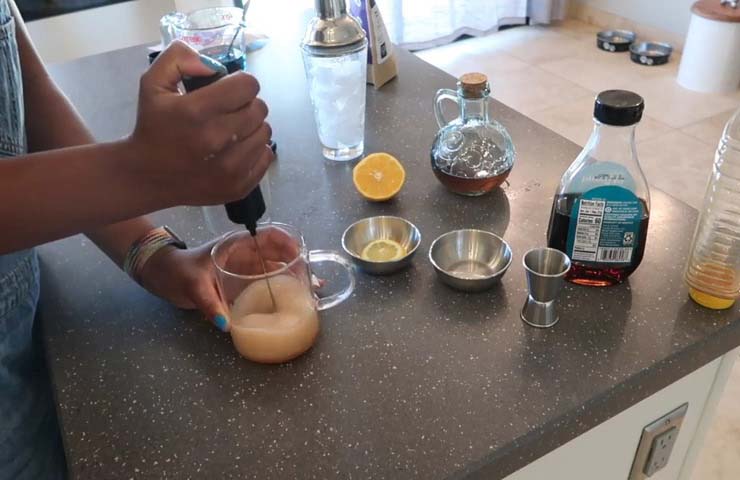 Step 3: Stain and pour
Stop all the bubbles now with a stainer or spoon and pour the mixture into a serving glass. And then, pour water into the glass until it is about halfway full, or perhaps a bit higher.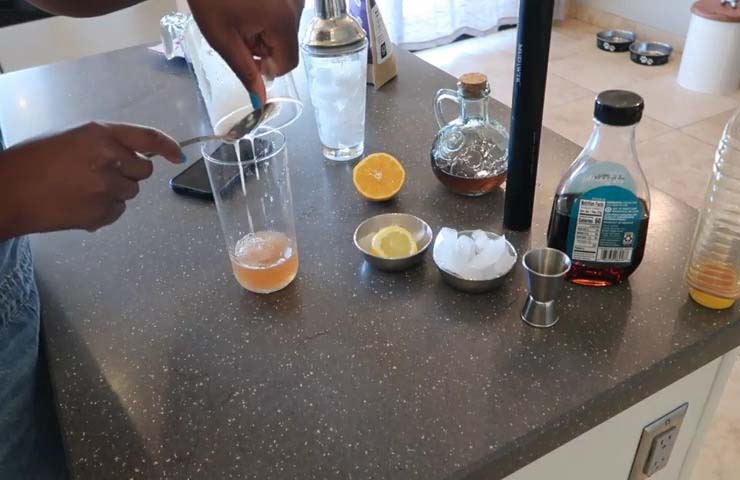 Step 4: Shake the pea tea
Pour the butterfly pea tea into a shaker and shake gently to make it ice cold.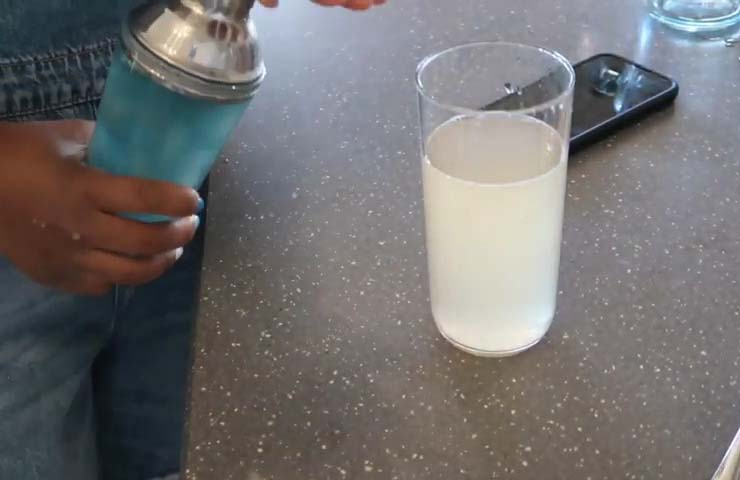 Step: 5: Add the pea tea
To avoid splashing, the spoon should be placed on the edge of the glass, and gently pour pea tea into the lemonade. When you pour it into the glass, it will start to change colour.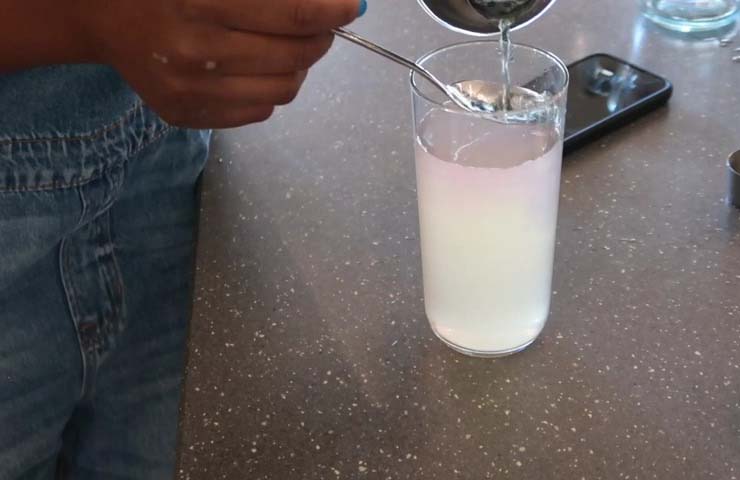 Step 6: Garnish and serve
Now garnish with a lemon slice, and there you go; you have First Watch Purple Haze ready and feel free to drink and enjoy.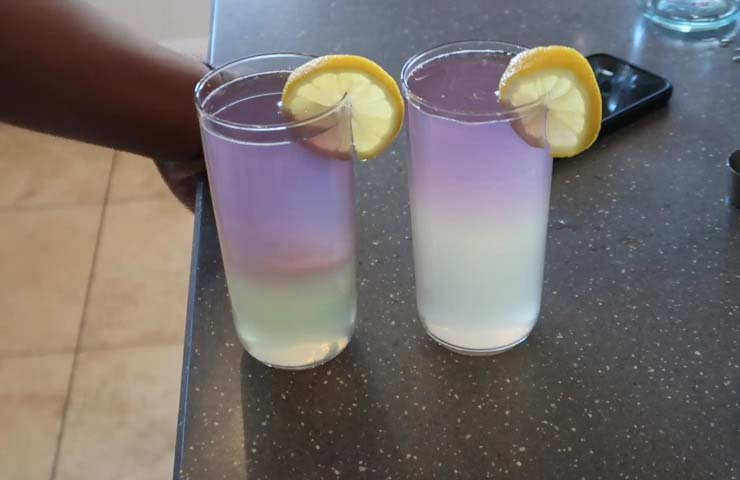 Tips
If you want to avoid using store-bought lavender syrup, you can make it yourself. To make that, here is the process:
Simple syrup is an easy way to create a purple gradient using lavender, sugar, water, and lavender flowers, poot all that in a boiling pot. Simmer it for 15 minutes and then cool completely, leaving the lavender flowers in it for an hour before transferring it into a jar.
We recommend that you always use the ingredients and amounts specified in the recipe; otherwise, your drink will taste different.
FAQ
How many calories are in First Watch Purple Haze?
Each glass of purple haze contains approximately 230-240 calories.
What ingredients are in a purple haze at First watch?
The Purple Haze from the First Watch is made up of only a few ingredients like Butterfly Pea Tea, Lavender Syrup, Fresh Lemon Juice, Honey, or cane sugar and water.
What kind of high does First watch Purple haze give you?
The first watch version of purple haze contains no alcohol, so you will not be high or drunk, so drink as much as you want.
What flavour is the purple haze from First Watch?
It isn't easy to describe because everyone's taste buds are different, but it tastes like a lemonade with lavender flavour, a little pea tea, and some sweetness.
Conclusion
First Watch Purple Haze Recipe promises a delicious and revitalizing experience, whether you sip it on a hot summer day or over a leisurely evening with friends.
Despite its simplicity, this light drink contains a few carefully selected ingredients that, when combined, create a flavour experience unlike any other. It has a devoted following among drinkers who appreciate fruity flavours. It has become a popular choice for those looking for a satisfying and enjoyable drinking experience.
Lindsay G. Cabral is a recipe blogger who specializes in vegan and gluten-free recipes. Lindsay has been blogging since 2012, and her recipes have been featured on popular websites such as Huffington Post, Mind Body Green, and The Kitchn. In addition to her blog, Lindsay is also the author of two cookbooks, Vegan Yum Yum and Vegan Yum Yum for All Occasions. When she's not in the kitchen, Lindsay enjoys spending time with her husband and two young daughters.