I recently moved to a new city, eager to explore its culinary scene and uncover local gems. On an afternoon, one of my cousins invited me to a downtown restaurant for lunch. As I glanced through the menu, a particular dish caught my eye: Costa Vida Nachos with Queso. Intrigued by the description, I couldn't resist giving it a try. Since I didn't know much about Spanish or Mexican cuisine, I searched the internet to gain some knowledge before diving in.
When the waiter brought the plate to me, I was pleasantly surprised. The dish looked just as enticing as it had sounded. The creamy and cheesy queso paired perfectly with the meticulously crafted nachos, creating an irresistible combination. I eagerly took a piece of nacho, dipped it into the queso, and took my first bite. The creamy and crunchy combination was pure bliss, transporting me to a world of delightful flavors.
I was so excited about this amazing dish that I couldn't help but tell my cousin all about it while I ate it. It was a unique way to eat, unlike anything else I had ever tried. On that afternoon, I knew I had found something amazing.
Since that memorable evening, Nachos with Costa Vida Queso, as I fondly call it, has become a favorite indulgence of mine. Inspired by my newfound love for this queso recipe, I've started recreating the Costa Vida Queso recipe in my own kitchen. Now that you have this copycat recipe, you can also taste the amazing flavors and enjoy the happiness it brings with whatever foods or meat items you try with it.
Ingredients
1 small onion
1 small green bell pepper
1 small red bell pepper
1 Roma tomato
1/2 jalapeno (adjust according to your spice preference)
A handful of cilantro
3/4 pound American cheese, sliced
1/2 pound Colby Jack cheese, cubed
1/2 pound Gouda cheese, cubed
2 tablespoons unsalted butter
1/2 cup whole milk
Salt and pepper to taste
Optional toppings: additional cilantro, diced tomatoes, pickled jalapenos
Tools
Cutting board
Knife
Measuring spoon
Measuring cup
A large wooden spoon
Few cup size small bowls
A large mixing bowl
cast-iron skillet
Heat stove
How to Make Costa Vida Queso
Step 1: Chopping time
First, prepare a cutting board, and then using a sharp knife, start dicing the onion, green bell pepper, red bell pepper, and jalapeno into small pieces.
And also deseeded the Roma tomato and diced it as well. Finely chop the cilantro.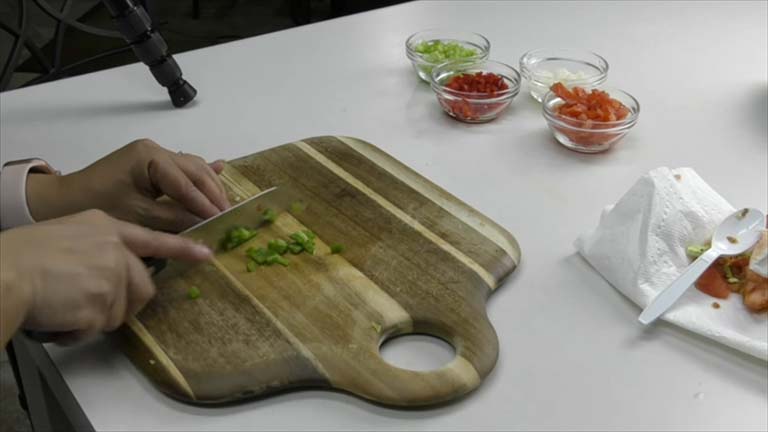 Step 2: Melt the butter
Add about 2 tablespoons of unsalted butter to a small cast-iron skillet and melt it over medium heat.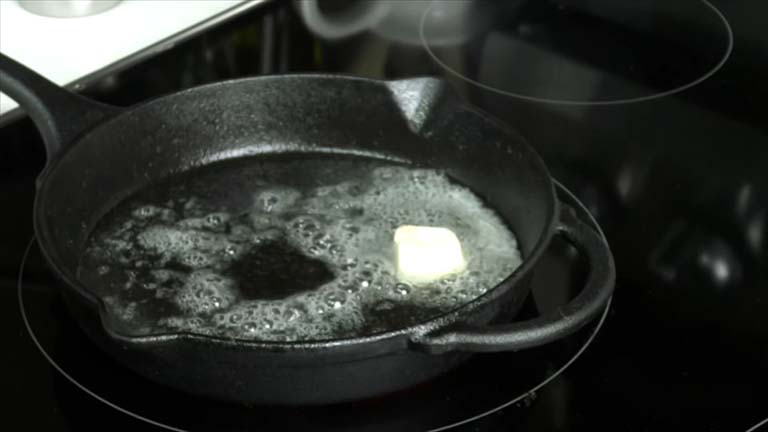 Step 3: Add the chopped ingredients
Add the diced onion, green bell pepper, red bell pepper, and jalapeno to the skillet. Sauté for a few minutes until they soften.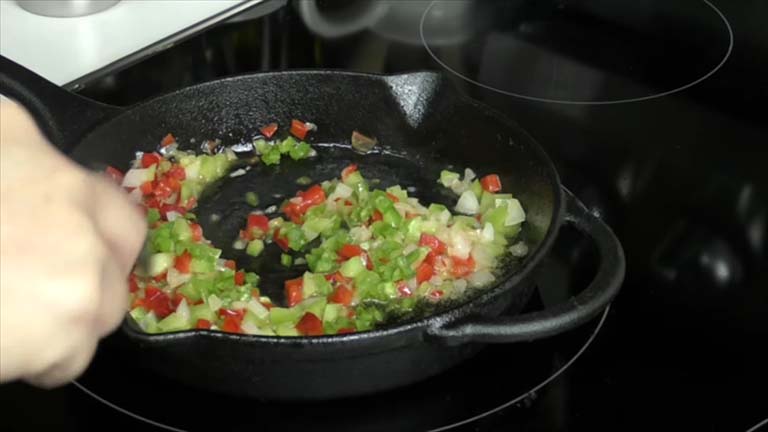 Step 4: Add different cheeses
Begin adding the cheese to the skillet. Start with the sliced American cheese, followed by the cubed Colby Jack cheese and Gouda cheese. Add them gradually to ensure proper melting.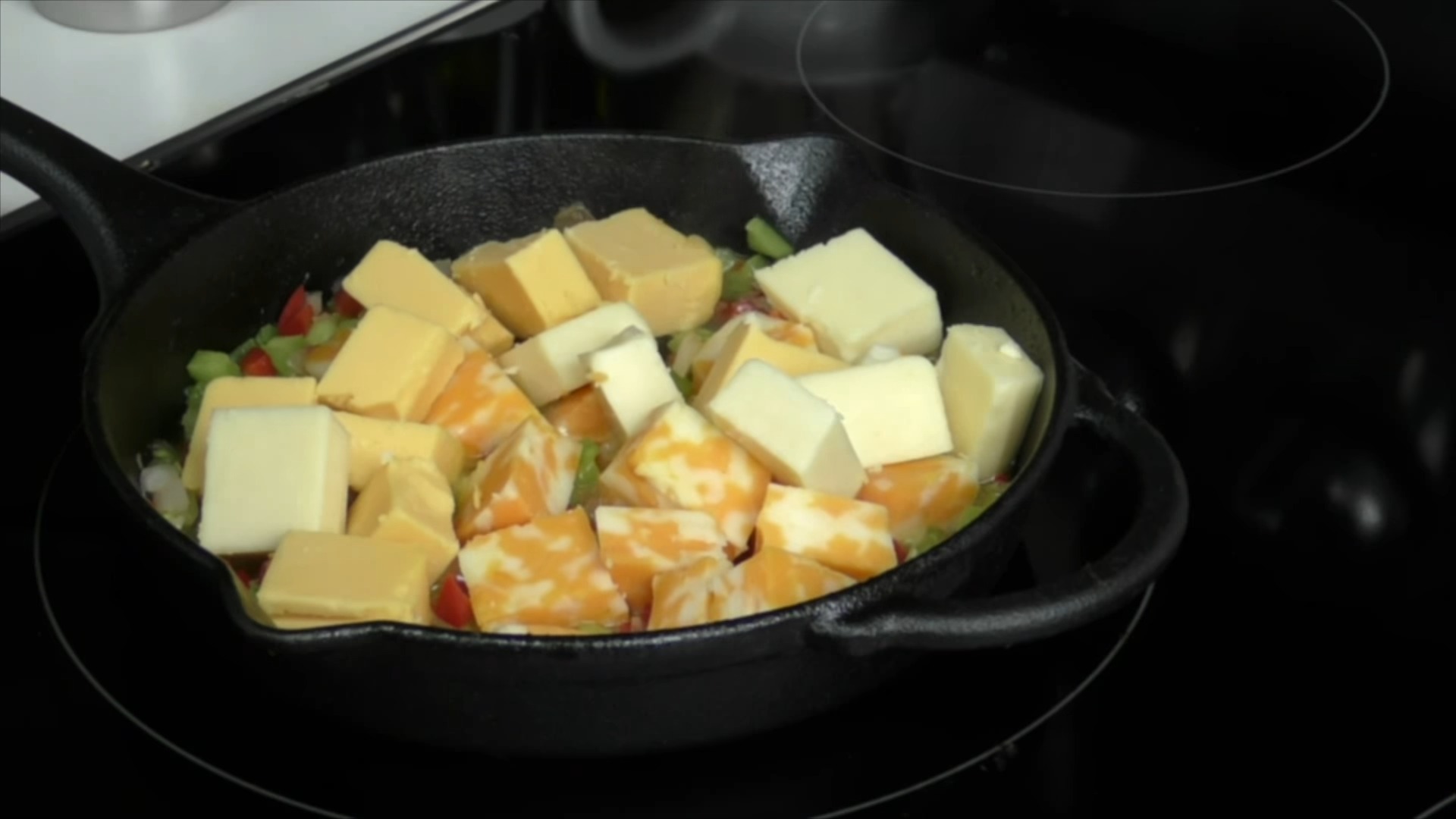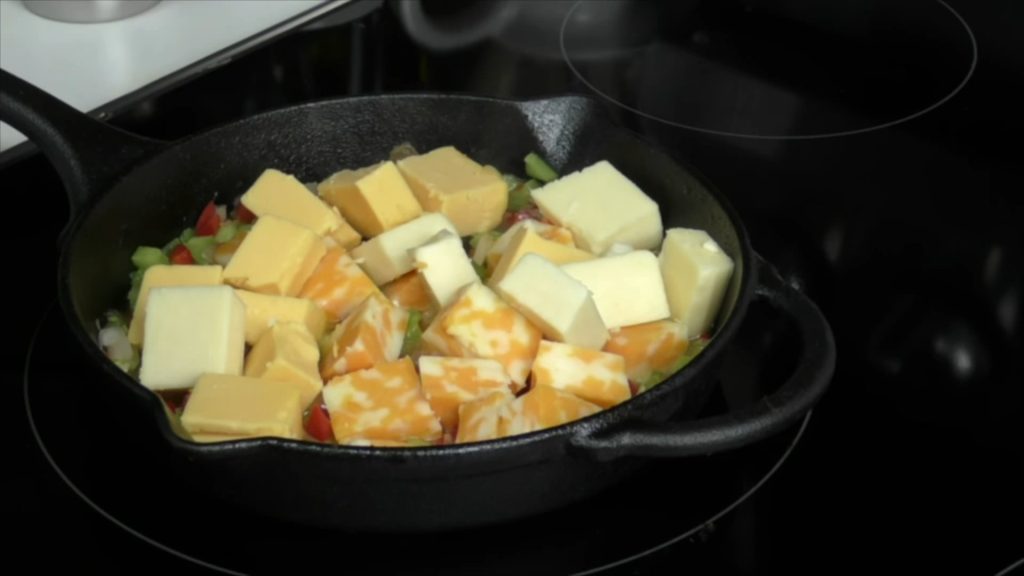 Step 5: Add milk, salt and a few more ingredients
In this step pour in the whole milk and mix well. The cheese will start melting and creating a creamy texture. Season with salt and pepper to taste. Add cumin and oregano for additional flavor.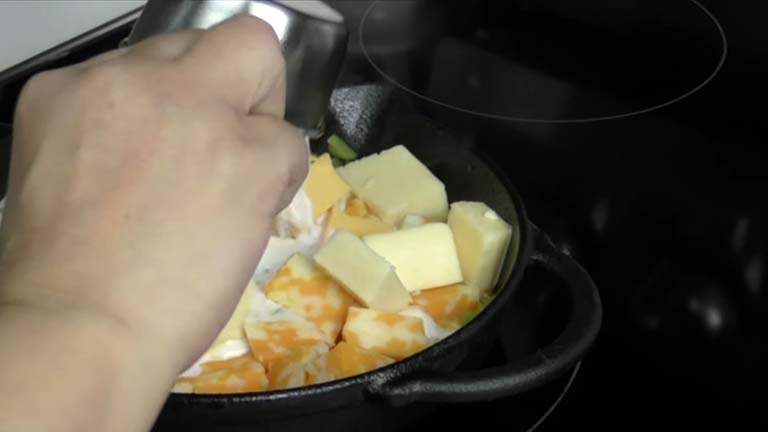 Step 6: Add more cheese
Continue adding more cheese until you reach your desired consistency, ensuring it doesn't overflow the skillet.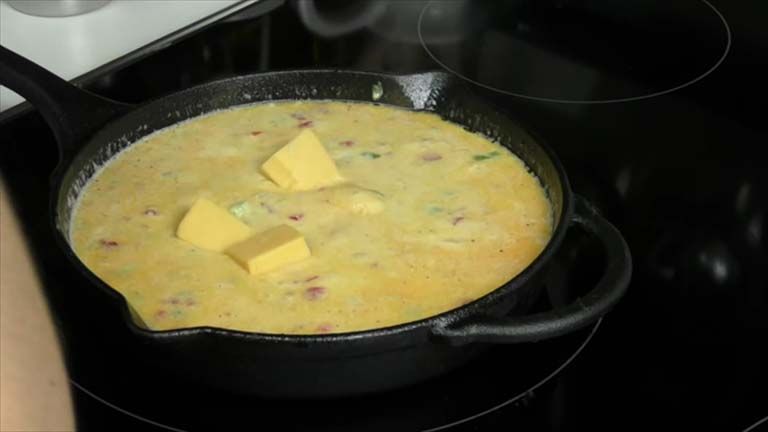 Step 7: Bake time
Once the cheese has almost completely melted, stir in the chopped cilantro.
If desired, preheat your oven's broiler. Carefully transfer the skillet to a baking sheet and place it under the broiler for 25 to 30 seconds or until the top turns golden brown. Be cautious and watch it closely to avoid burning.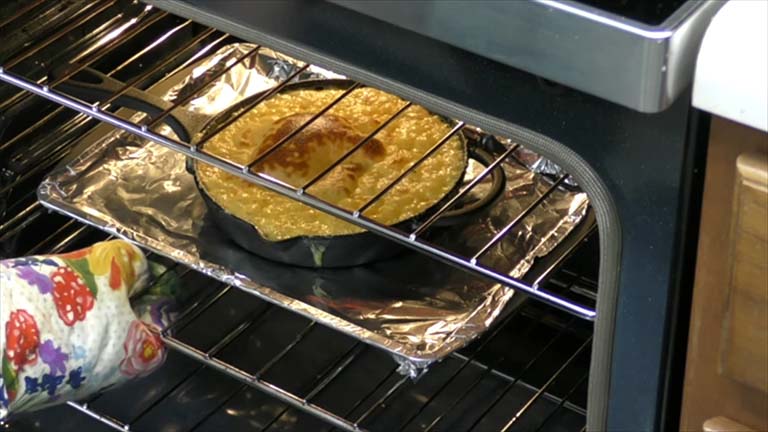 Step 8: Bring it out and garnish
Remove from the oven and let the queso dip sit for a few minutes.
Garnish with additional cilantro, diced tomatoes, and pickled jalapenos, if desired.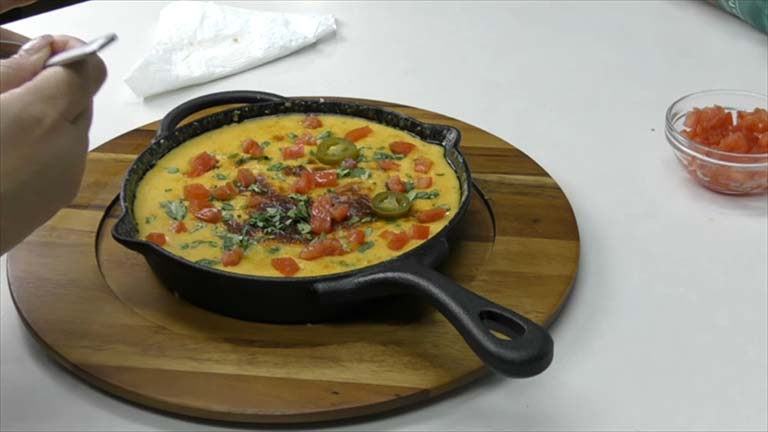 Step 9: Serve
Serve the queso dip warm with tortilla chips or your favorite dipping snacks.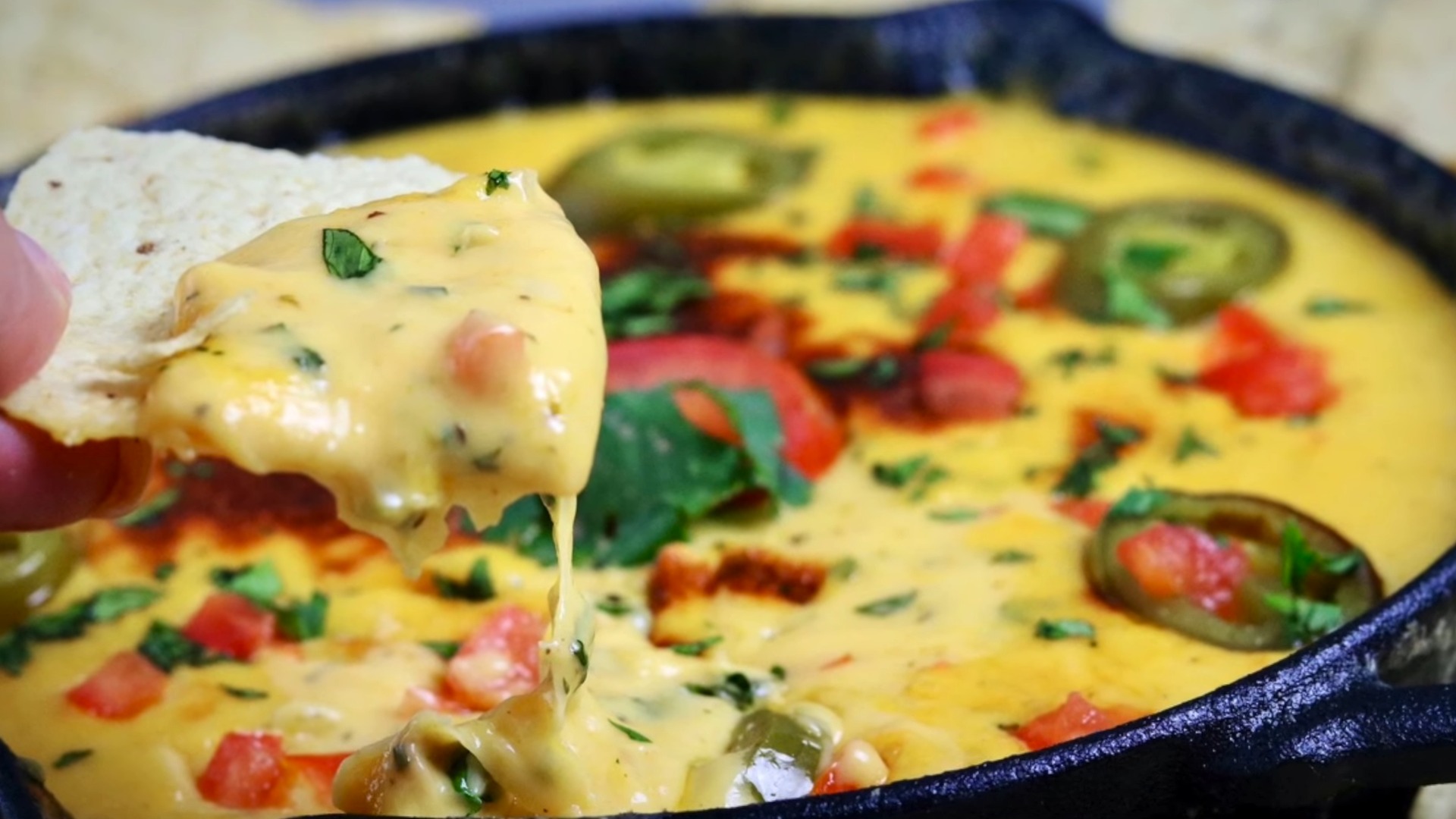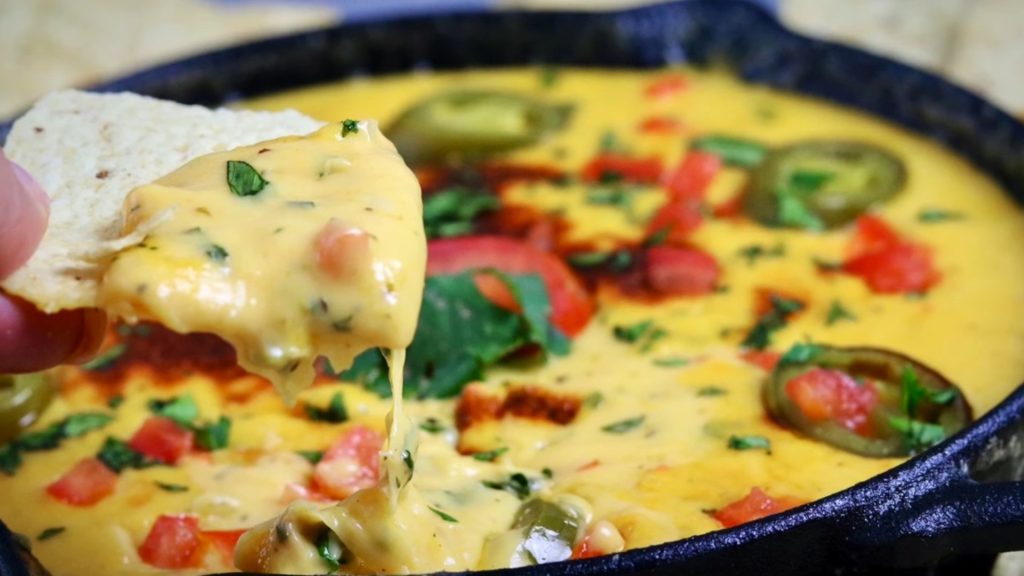 Chef Special Tips
When adding cheese to a recipe, don't rush. Instead, add the cheese slowly. This way the cheese melts well and gives the dish a creamy texture. If you add all the cheese at once, it might clump or melt unevenly.
If you want to use cheeses other than American, Colby Jack, and Gouda, that's fine. You can do that. Just remember that meltable cheeses are best for a creamy queso dip.
Use the broiler to finish the queso dip and give it a golden brown top. Don't leave it alone because the cheese can burn fast. Check it often to make sure it doesn't burn or brown too much.
Want to experiment with the toppings? Feel free to add whatever toppings you like. Add fresh cilantro, diced tomatoes, and pickled jalapenos to the cheese dip to make it taste better.
How to Store & Reheat
Store: Keep any leftovers in a container that seals tightly and places them in the refrigerator for up to five days. But we suggest trying to eat this fresh and warm.
Reheat: Simply reheat in the microwave for two to three minutes, stirring after every thirty seconds. If it is too much thick, you can change or adjust the consistency by adding a little milk.
How to Use Costa Vida Queso?
Try out as a dip: Costa Vida Queso is a versatile dip that pairs perfectly with tortilla chips and vegetables. You can also use it as a dipping sauce or a flavorful topping for pizza. For a delightful change, try it as a side dish with fried chicken wings.
Try out as a topping: Enhance the taste of your burritos and tacos by swapping shredded cheese with Costa Vida Queso. Its creamy texture and rich flavor elevate any taco, especially steak or barbacoa. You can also add it to mashed potato dishes for a delicious combination that will amaze anyone.
With sandwiches and burgers: Elevate the creaminess and flavor of your burgers and sandwiches by adding Costa Vida Queso. We've experimented with different types, and the result is mind-blowing. This creamy cheese takes the overall taste of burgers and sandwiches to a whole new level.
Frequently Asked Questions (FAQ)
How should I adjust the spiciness of the queso dip?
The queso dip can be made spicy by adding more or less jalapeno. Reduce the jalapeno or leave it out for a less spicy dip. Add more jalapenos, cayenne pepper, or hot sauce to make the dip spicier.
Can I make the queso dip with different kinds of cheese?
Yes, you can try different cheeses to make your queso dip. The recipe calls for American, Colby Jack, and Gouda cheese, but you can use cheddar, Monterey Jack, or pepper jack.
Can I make the queso dip ahead of time?
Yes, you can make some preparations ahead of time but we suggest its best to serve righ away when its freshly cooked and warm.
How many calories are in Costa Vida Queso?
For every serving of this Costa Vida Queso, you will gain about 108 calories.
Conclusion
The Costa Vida Queso Recipe will take your snacking to the next level and make your taste buds dance with joy.
So dont think much and give this recipe a try and once you tried then you will never stop licking your fings for sure.
Last Updated on May 22, 2023 by Eleanor
I love cooking, It makes me feel good knowing that whatever I make is something my family can eat, and it also gives me the chance to get creative with my cooking.
My goal is to help people learn how to cook by showing them how easy it is. If you're new at this, or if you just want some easy recipes in your life, check out my blog!