Bored at home and getting hungry! And your stomach is aching for some Yard House poke nachos? We've got you covered.
Yard House nachos are among the most popular in the United States, specifically their Ahi Tuna Poke Nachos, which will leave you with a burst of delicious and unique flavor in your mouth.
Moreover, these poke nachos are light snacks, and you can have this anytime at home or make it for any occasion or want to have a summer party, then it's a must-try for you.
So, without further hesitation, let's start making your version of this restaurant's top-notch poke nachos recipe from Yard House in your kitchen.
What is Poke?
Poke is more of a traditional dish for the native Hawaiians. Hawaiian fishermen would slice up smaller reef fish and serve them raw, seasoned with whatever was available, usually condiments like sea salt, candlenuts, seaweed, and limu. Traditionally, poke is made with ahi tuna.
Ingredients:
12-ounce Crispy wonton chips
1 pound Marinated raw Ahi (sushi-grade tuna)
1 cup Vegetable oil
One lime
One tablespoon of soy sauce
1 Fresh avocado
½ cup Lemon sriracha Aioli
For toppings:
Sweet soy
The creamy white truffle sauce
Cilantro Serrano chilies
Sliced green onions
Toasted black & white sesame seeds
Nori strips
Tools
A mixing bowl
Knife
Teaspoon
Tablespoon
Nonsticky frying pan
Tongs
A large platter
How to make Yard house Poke nachos
Cut the Ahi tuna:
First, cut the raw Ahi into ½ inch pieces, which is sushi-grade tuna, and then put all the pieces in a medium mixing bowl.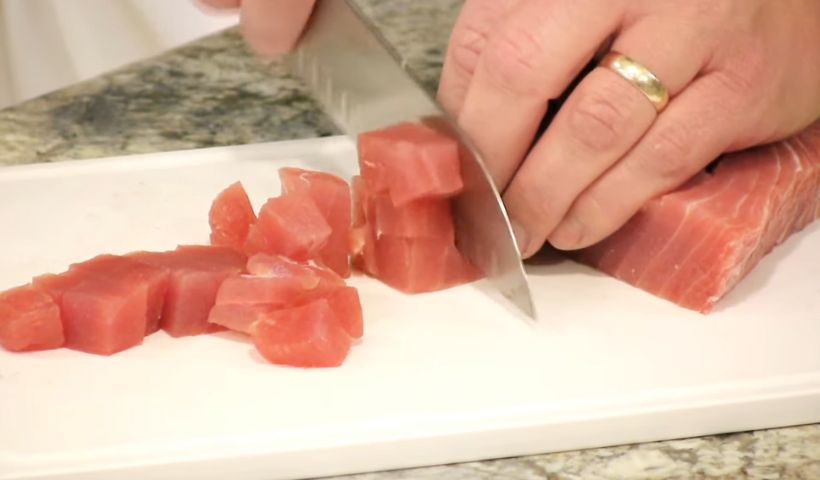 Marinating the raw Ahi:
Combine the chopped Ahi with ½ cup of chopped red onions, one tablespoon of soy sauce, and the lime juice in a mixing bowl.
Now set aside the Ahi to marinate ideally for our recipe.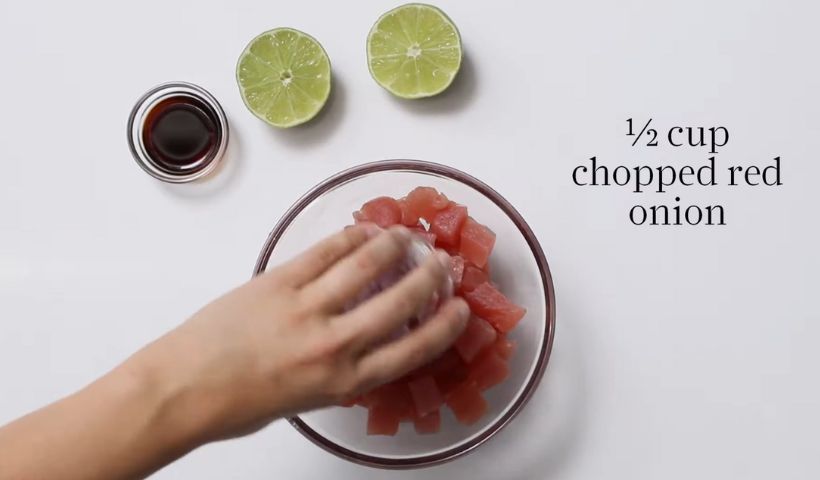 Cutting the wonton wrappers:
First, you can buy wonton wrappers. All you need is to cut the wrappers into triangular shapes because usually, the wrappers are square, and you can use the knife and cut in the middle, and here you have your triangular-shaped wonton wrappers.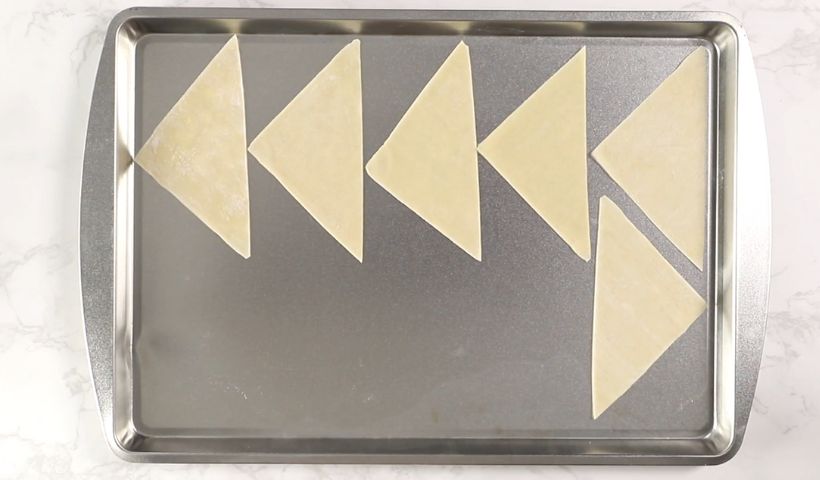 Frying the Crispy wonton chips:
All you need is a nonstick frying pan and heat it to medium heat, and then after a few seconds, pour vegetable oil and check that the frying pan has ½ inch of oil in it to help you fry the wrappers perfectly.
Now put 2-3 pieces at a time in the frying pan and fry them. Use the tongs to flip them so that all of them get perfectly fried, have a golden brown texture, and become crispy when it's fried. Try to put them aside in a wire rack so that all the oil gets out of the crispy wonton chips, or put it on tissue papers or oil-absorbing papers.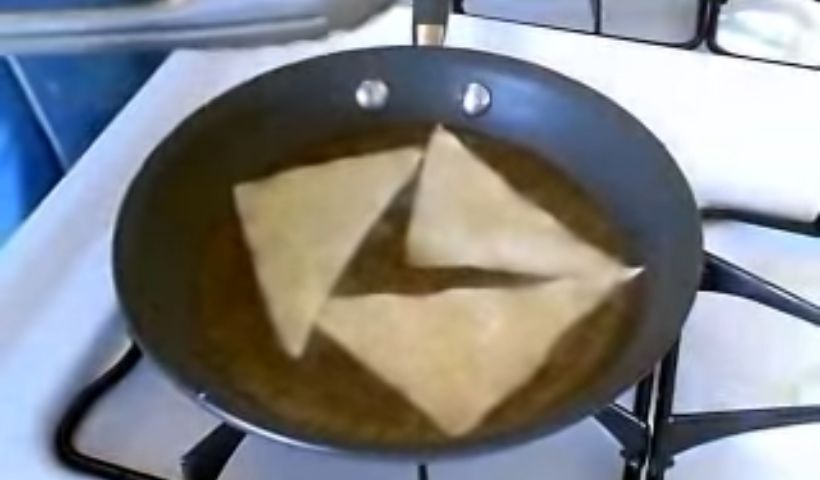 Time to start serving the platter:
Next, take a large platter, spread those fried crispy wonton chips, and then scatter the marinated raw Ahi over the chips, followed up by scattering the freshly sliced avocado all over the chips on the platter.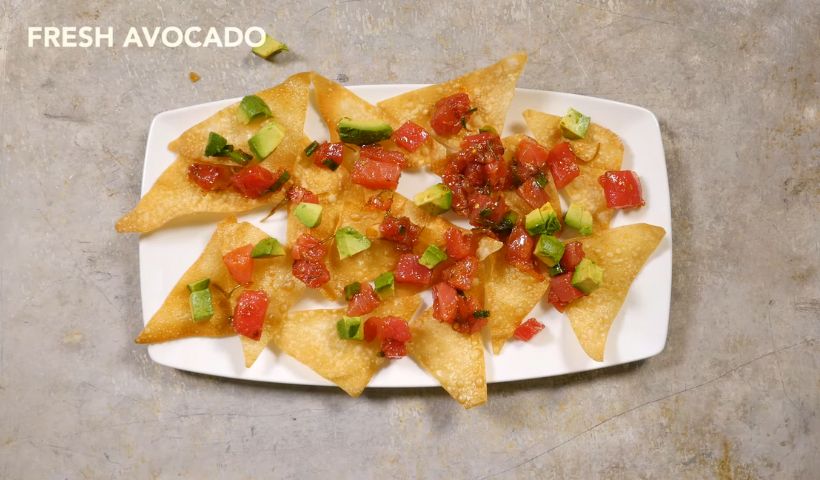 Pouring the sriracha aioli and sweet soy:
Pour half a cup or two tablespoons of sriracha aioli all over the chips, and, as you can see, it's getting more colorful, eye-catching, and delicious as you add more ingredients.
Now add two tablespoons of sweet soy all over the chips, and let me tell you, this sweet soy will make the nachos juicier and give your taste buds a blast of unique taste.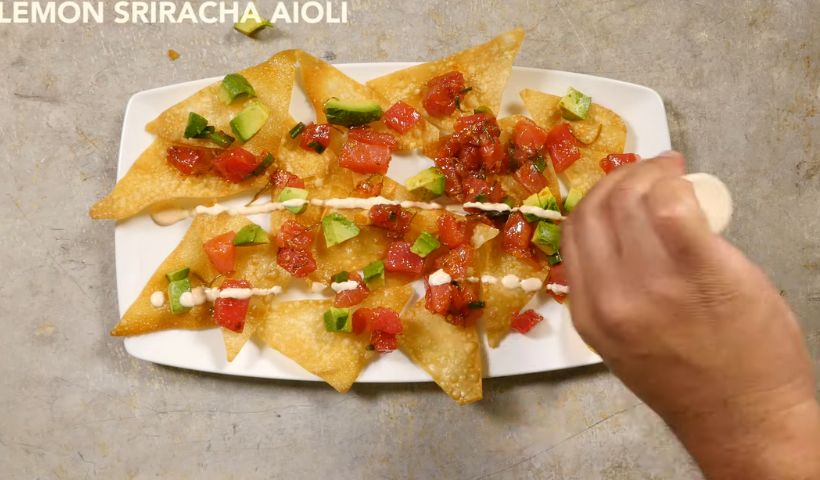 Pouring the creamy white truffle sauce:
Follow up by adding the yummy creamy white truffle sauce all over the wonton chips. It gives the nacho an extra yummy and mouthwatering taste.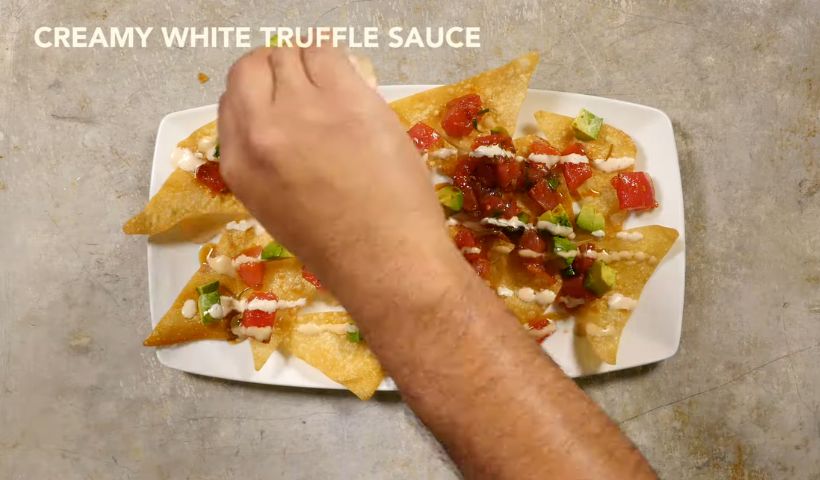 Ending the topping:
Now it's time to end the decoration with some topping, adding Cilantro, Serrano chilies, sliced green onions, Toasted black & white sesame seeds, and finishing with the nori strips.
Here you have your restaurant version of Yard House poke nachos, ready to be eaten.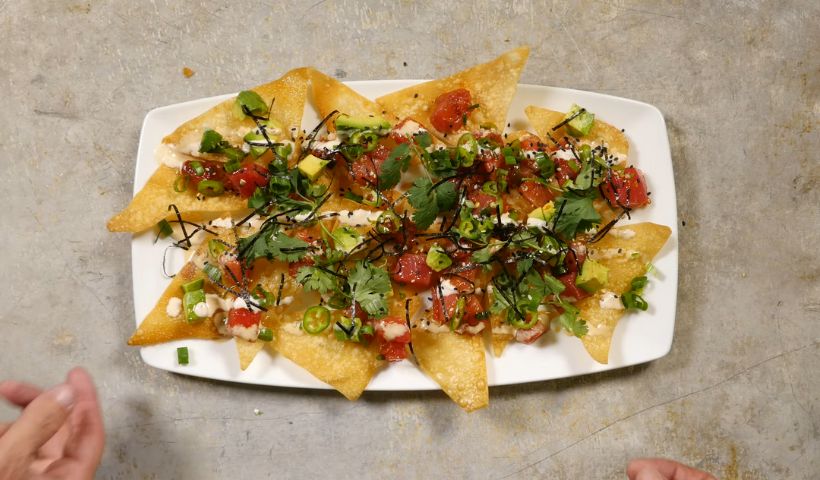 Readymade wonton chips:
You can always go for the easy method. You can buy readymade wonton fried chips to make your cooking easy and save a lot of time or buy other chips too.
Sriracha Aioli alternative:
Spicy mayo can be your go-to alternative to sriracha Aioli, or you can make your homemade mayo or Sriracha Aioli. Or you can make a combo of mayonnaise and sriracha aioli by using a whisk which will go great with yard house with our recipe.
Toppings:
You can use other herbs like mint, dill, and basil.
Also, some vegetables like olive, black bean, and jalapeno for toppings are all up to your taste and preference.
Storing the Ahi:
Always remember that sushi-grade tuna will last 24-48 hours in the fridge before going wrong. So we recommend using it while it's fresh to have the best taste.
FAQ
Is raw poke good for health?
Yes, it contains a good amount of protein, vitamins like B12, C, and D, and minerals like magnesium, potassium, folate, iron, manganese, zinc, and niacin. And all of these elements provide your body with optimal healthy nutrition.
What other chips can I use for nachos?
We use the wonton fried chips, but you can always go for alternatives like Santitas, tortilla chips, or any brand you prefer.
Can I add cheese to the nacho?
Yes, of course, you can have cheese as a topping, but I recommend not trying cheese for poke nachos.
What kind of tuna should I use?
We recommend you buy the sushi-grade ahi tuna, which is best for poke nachos.
What to serve with poke nachos?
You can go with any side dish you want with poke nachos, but we suggest trying spiced pumpkin soup, chicken tortilla soup, honey garlic shrimp, Mexican rice, etc.
Conclusion:
Without a doubt, Yard House Poke Nachos has brought a revolution in the world of food variation. You will be glad to make this secret recipe in your kitchen and make this dish anytime on any occasion to make your home events or party more spicy and tasty.
The flavour combination will entice your taste buds and leave you wanting more.
We hope we were able to make this recipe simple enough so that you can enjoy it with friends and family or on your own.
Last Updated on January 26, 2023 by Zoey
Lindsay G. Cabral is a recipe blogger who specializes in vegan and gluten-free recipes. Lindsay has been blogging since 2012, and her recipes have been featured on popular websites such as Huffington Post, Mind Body Green, and The Kitchn. In addition to her blog, Lindsay is also the author of two cookbooks, Vegan Yum Yum and Vegan Yum Yum for All Occasions. When she's not in the kitchen, Lindsay enjoys spending time with her husband and two young daughters.