Cheesecake Factory Chicken Marsala Recipe is for a delicious and creamy Chicken Masala, a copycat version of the popular dish from the Cheesecake Factory. The dish consists of juicy chicken and mushrooms in a creamy sauce. It is easy to make with everyday ingredients and can be ready in under an hour.
The Chicken Marsala features a rich mushroom and dry and flavorful marsala wine. It tastes fancy and will impress your family, dinner guests, or special someone for a date night! You can garnish it with parsley to add a little more beauty and taste. And if you love sauce, you can add a little more to make your piece super saucy.
The recipe is so good that everyone in the family loved it, including the baby! And if you're worried about the cost, making it at home is much cheaper than ordering it at the restaurant. You can enjoy a homemade version of Chicken Marsala for a fraction of the price.
Ingredients
1 1/4 lbs chicken breast, 2 piece
8 oz brown button mushrooms halved or sliced if very large
1/2 tsp of onion powder
2 garlic cloves, minced
2 tbsp of olive oil
1 tbsp of unsalted butter
1/2 tsp of Salt
1/4 tsp of black pepper or to taste
1/4 cup of all-purpose flour for dredging
3/4 cup of dry marsala wine, not sweet
3/4 cup chicken stock reduced-sodium
1/2 cup heavy whipping cream
Garnish
2 tbsp parsley finely chopped
Tools
Cutting board
Knife
Measuring cup
Measuring spoons
Saucepan
Wooden spoon
Tung
Serving plate
Large skillet
Know Your Ingredients
Chicken breasts: We need skinless and boneless chicken breasts for the recipe.
Marsala wine: Dry Marsala is a must to add ingredients to the recipe
Garlic cloves: You need minced garlic cloves to have the perfect chicken marsala.
Mushroom: You can use any mushroom, but this is a must in this recipe because it is the heart of this dish.
Heavy cream: To make this dish more creamy and sauce like we need heavy cream.
Chicken broth: Yes, you need chicken broth to give a unique flavor to this dish, and you can use either homemade or store-bought chicken broth for this recipe.
Flour: You need to dredge the chicken breast before browning them in the skillet.
Butter and oil: To cook this dish, you need oil and melted butter which will give this dish extra juiciness.
Salt and pepper: Sold is needed in making any dish, and you should take salt to taste.
Parsley: Use freshly chopped parsley to make the dish more vibrant and flavorful.
How To Cook Cheesecake Factory Chicken Marsala
Step 1: Slice the mushrooms
We'll begin with some brief preparation. You'll need 8 ounces of brown mushrooms, sometimes called baby bella mushrooms. Set those aside after thickly slicing them.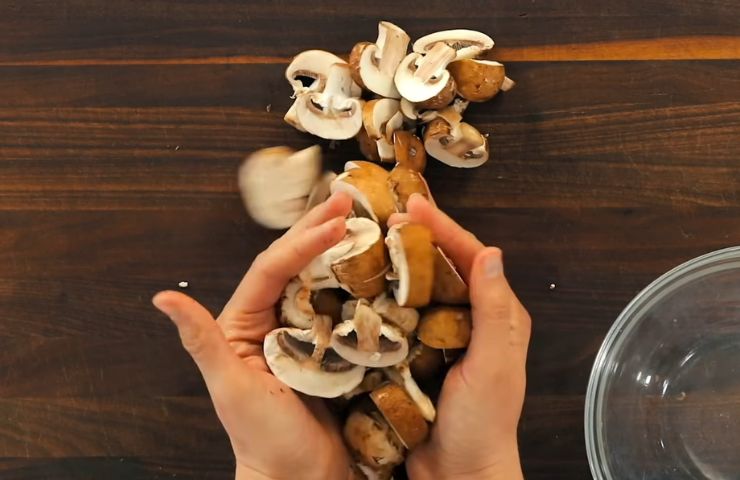 Step 2: Mince the garlic and chop the parsley leaves
Next, finely mince two large garlic cloves. Also, finely chop two tablespoons of fresh parsley, you can use flat leaf or Italian parsley, and I like to chop a little extra to garnish the top.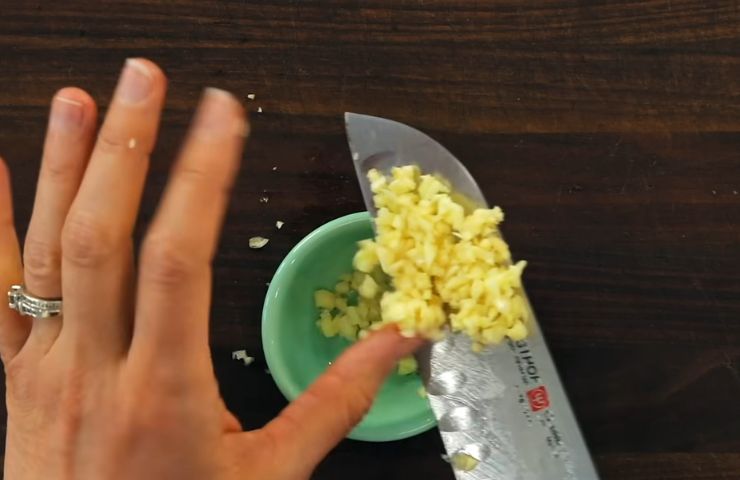 Step 3: Cut the chicken breasts
You'll need two large chicken breasts. Now cut chicken breasts in half lengthwise to make 4 even cutlets.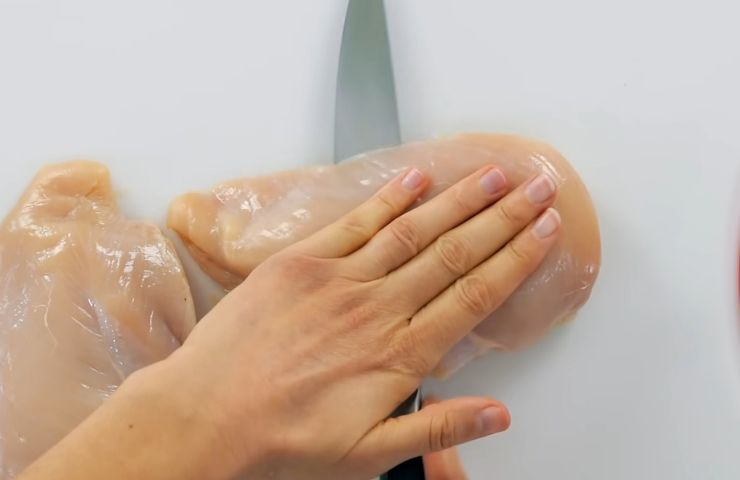 Step 4: Season the chicken pieces
Place between plastic wrap and pound or hammer until 1/3″ thick. Season the chicken all over with 1/2 teaspoon salt and 1/4 teaspoon pepper, then dredge in flour (shaking off excess), and set aside.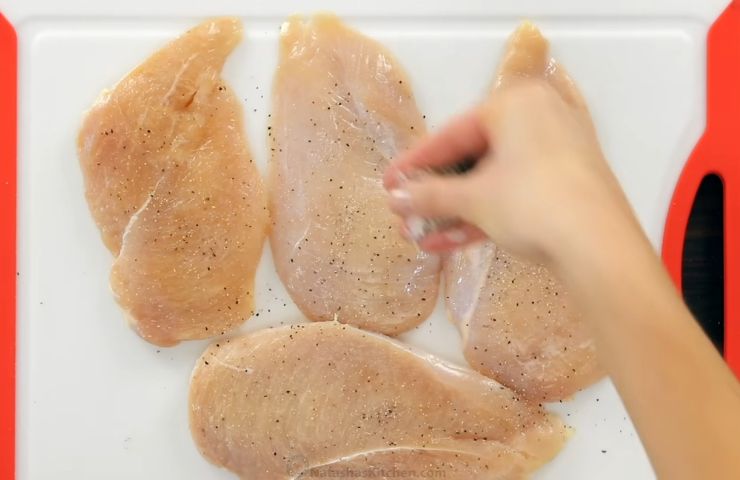 Step 5: Heat the pan
Then, over medium heat, heat a large heavy-bottomed pan. Add 2 tablespoons olive oil and 1 tablespoon butter.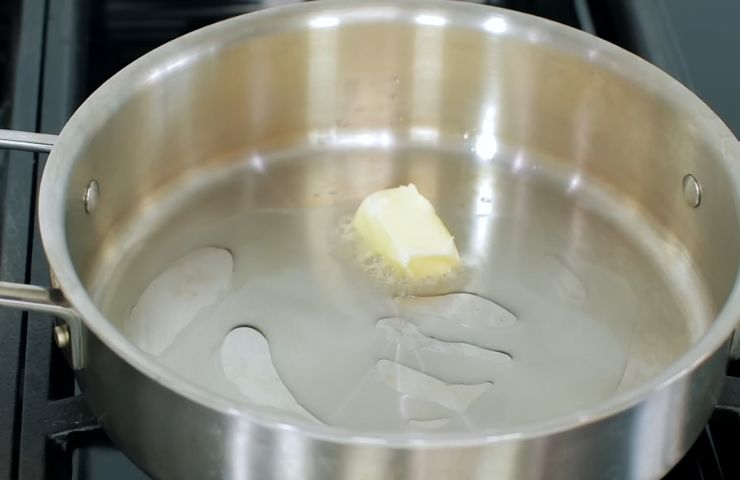 Step 6: Saute the chicken
When the butter and oil are hot, add the dredged chicken and cook until golden and cooked through, 3-4 minutes per side (don't overcook). Set aside the chicken and cover it with foil to keep it warm.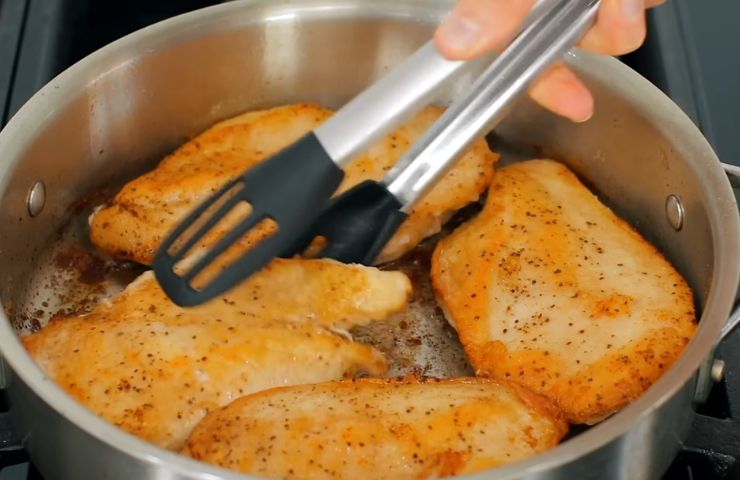 Step 7: Saute the mushrooms
If necessary, add more oil to the pan along with the mushrooms and sauté until the excess liquid from the mushrooms evaporates, and the mushrooms are golden brown.
Note: This might take 5 minutes to evaporate the excess liquids.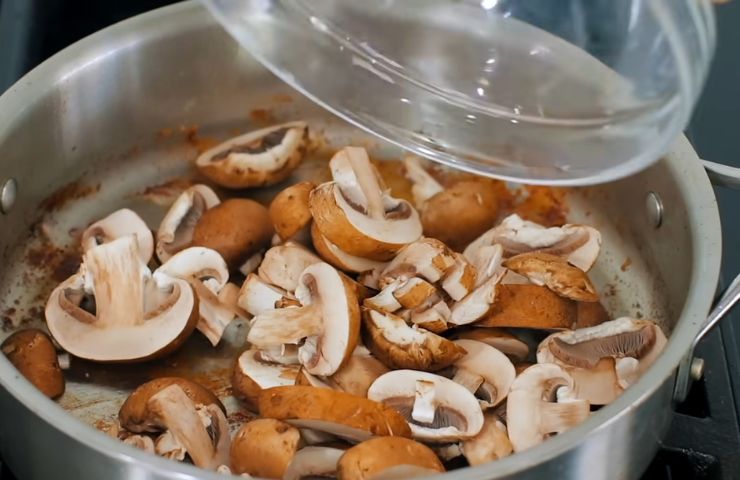 Step 8: Add in onion powder and garlic
Now add 1/2 teaspoon onion powder and 2 minced garlic cloves and stir with a wooden spoon for 30 seconds or until fragrant.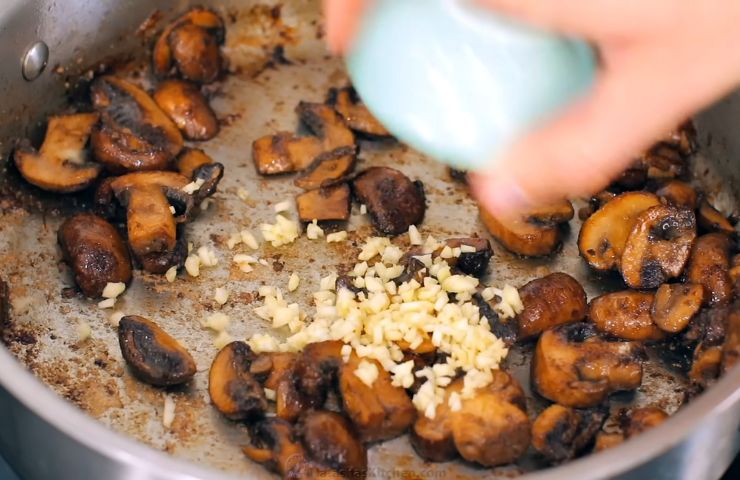 Step 9: Add marsala wine, chicken stock, and heavy cream
Scrape the pan and add 3/4 cup marsala wine, cooking until the liquids are mostly reduced about 4 to 5 minutes. Then, while stirring, slowly pour in 3/4 cup chicken stock and 1/2 cup heavy cream.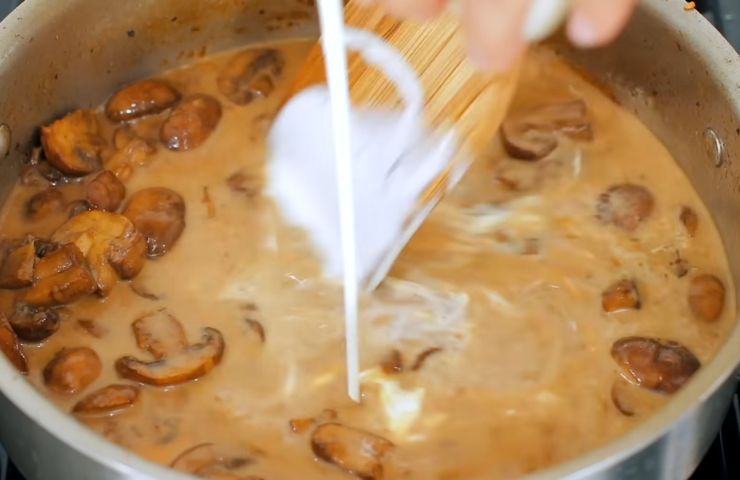 Step 10: Simmer the dish and add a little salt
Reduce the sauce to a simmer and continue to cook for another 4-5 minutes or until slightly thickened. Now season the sauce with 1/4 teaspoon salt or to taste.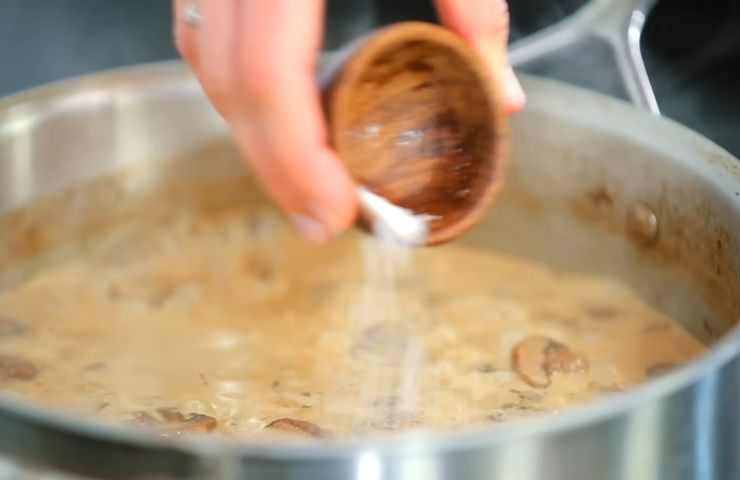 Step 11: Finishing touch and serve
Return the chicken to the pan and top with 2 tablespoons of chopped parsley. Spoon the sauce over the chicken and cook until heated through, making the sauce thickened to your liking.

Note: It will take around 2 minutes to do and keep in mind the sauce will thicken more as it cools.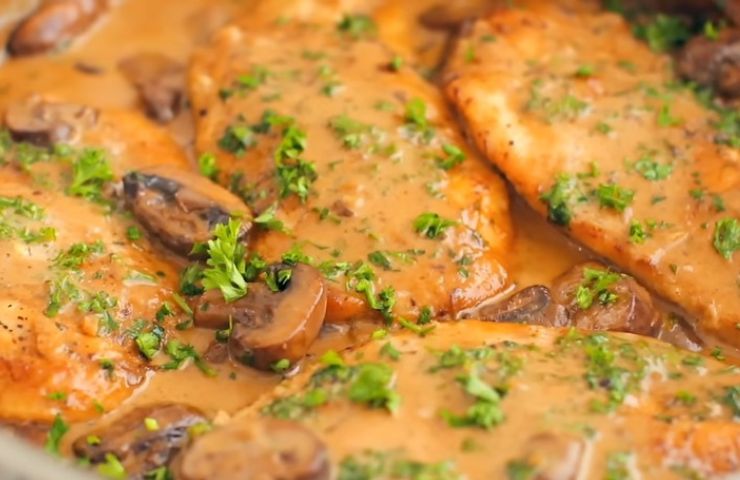 Tips And Tricks
To properly sauté the chicken and mushrooms, always preheat the skillet, heat the oil, and melt the butter beforehand.
Always follow the ingredients in the recipe and don't add other ingredients then you will lose the authenticity of this fantastic dish.
We recommend using chicken breast instead of other chicken meat sections because other portions will take longer to cook and produce an excellent chicken marsala.
What To Serve With Cheesecake Factory Chicken Marsala
Chicken marsala is a delicious Italian dish that can be paired with a variety of side dishes. Here are some simple and easy options to complement the savory flavors of the dish:
Green beans: Green beans provide a healthy and flavorful option when you're short on time. This dish is simple to make and when you try it with chicken marsala it makes the dish extra flavourful.
Jasmine rice: Jasmine rice is a light and fluffy side dish that's perfect for absorbing the rich marsala sauce. It is another side dish that goes great with chicken marsala.
Brown rice: Brown rice is a tasty and simple side dish that pairs well with the flavors of the chicken marsala. It is a healthy side dish that boosts and also makes it healthy to try with chicken marsala.
Egg Noodles: Making egg noodles only takes about six minutes. They're a perfect match for Chicken Marsala and taste superb together. You can serve the item plain or add more sauce and spices for extra flavor.
Duck-fat fried potatoes: Duck-fat fried potatoes are the best! They are crispy on the outside and also soft on the inside. It tastes amazing because of the duck fat. They also goes well with chicken marsala.
Baked sweet potatoes: Baked sweet potatoes are always a great side dish that goes great with chicken marsala! They're full of vitamins and nutrients and add a healthy boost to your meal. The sweet flavor complements the earthy taste of the chicken marsala for a delicious and satisfying dinner.
Garlic Bread: Another fantastic side dish that goes well with this amazing chicken marsala is garlic bread. In no time, you can make quick air fryer garlic bread! Which can improve the overall flavor of chicken marsala.
Store And Reheat
Store: Refrigerate leftover chicken marsala for 2 to 3 days in an airtight container. But after 3 days, it will lose both its original flavor and nutritional value of the meal.
Reheat: If you wish to reheat this dish, it will take between 12 and 15 minutes in a preheated 400ºF oven.
FAQs
What is the difference between chicken Marsala and chicken Madeira?
The main difference between these two is that Chicken Madeira uses Madeira wine from Portugal, while Chicken Marsala uses Marsala wine from Italy. The flavors differ due to the wine difference.
Is dry or sweet marsala wine better for Cheesecake Factory chicken marsala?
If you want to prepare Cheesecake Factory chicken marsala, you must use dry marsala wine and follow the official Cheesecake Factory recipe.
What is the most popular chicken dish at the Cheesecake factory?
Chicken Madeira is the most popular chicken dish at Cheesecake Factory, and many people go there just to eat it.
Is chicken marsala sauce supposed to be thick?
Yeah, the chicken marsala sauce must be rich in order to achieve a texture where the kitchen and mushrooms stick together with the sauce.
Which is sweeter chicken Marsala or Madeira?
Due to the wine used in the preparation of the meal, chicken Madeira tastes sweeter than chicken Marsala.
What marsala wine is best for chicken marsala?
We recommend that you try Florio Dry Marsala because it is by far the best we have tried for cooking chicken marsala, and the end result is a delicious dinner. If you can't find that, try Colombo dry marsala wine.
Last Few Words
Given everything, I really hope all of you guys like the Cheesecake Factory Chicken Marsala Recipe because I know you will. It tastes like fancy home cooking. Simply, you will want to dip your bread into the pan to savor every last bit of this knockoff Chicken Marsala. It's a beautiful, posh supper that you can easily prepare, and you'll be so proud of yourself when your mom, a qualified chef, is impressed!