Bored of eating the same old fried chicken and want to try something hot and healthy? We are bringing you a unique Longhorn Spicy Chicken Bites Recipe, a dish for you to cook and enjoy. That way, you can have a delicious and healthy dish simultaneously.
Another thing to mention is that all spicy lovers will enjoy and become addicted to this secret recipe from the famous Longhorn Steaks.
So, gather your kitchen tools and start preparing these fantastic chicken bites, and we will bring you the simple steps that even an inexperienced cook can follow easily.
What are Longhorn spicy chicken bites?
Longhorn Steakhouse's famous new appetizer is Longhorn Spicy Chicken Bites. They are made with all-white meat chicken breast marinated in a spicy blend of peppers, paprika, and garlic before being hand-breaded and fried until it gets a crispy golden brown color.
Also, they're served with a creamy jalapeno dipping sauce. If you like spicy foods, you'll love these bites. They're ideal for snacking on while watching a game or as an appetizer before a meal.
Ingredients
Meat:
400 grams of Boneless chicken cut into bite-sized pieces
For Marination:
½ teaspoon of Salt
½ teaspoon of Pepper powder
For Batter :
Three tablespoons of all-purpose flour
Two teaspoons of Corn flour
½ teaspoon of Baking powder
¼ teaspoon of Salt
One and ½ teaspoons of Pepper powder
One egg of egg white
Four tablespoons of Chilled water
Oil for deep frying
For Sauce:
Two teaspoons of chopped garlic (6 cloves)
Two teaspoons of chopped Green chili's or as per taste
½ teaspoon of Red Chilli flakes or as per taste
Three tablespoons of Spring onions/ green shallots (white and green portions)
One teaspoon of Soy sauce
Three teaspoons of red Chilli Sauce
Two tablespoons of Honey
One tablespoon of olive oil for sautéing
For Topping:
One teaspoon of chopped green onions
Tools/ Equipment
Chopping board
Knife
Medium size bowl
Small size bowl
Teaspoon
Tablespoon
Skillet
Frying saucepan
Wooden spoon
Serving plate
Tongs
How To Make Longhorn Spicy Chicken Bites
Step 1: Cut the chicken into pieces
First, use a chopping board and knife to cut the 400 grams of boneless chicken into bite-size pieces that are easier for everyone to eat and allow the spices to permeate the meat. Next, add all the chopped chicken pieces to a medium size bowl.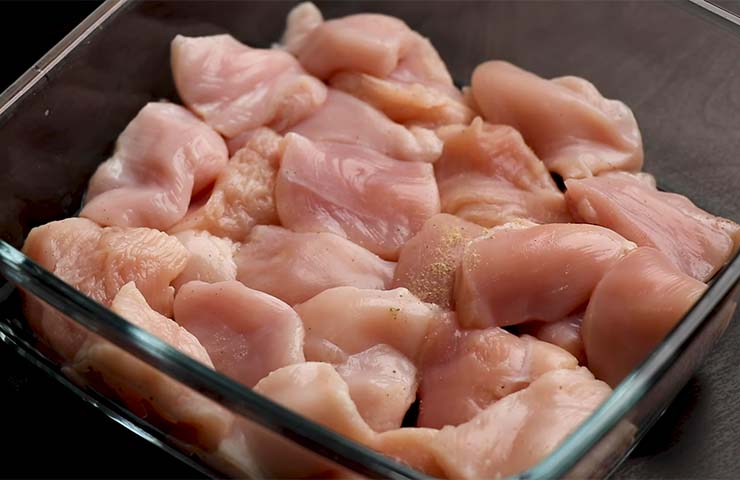 Step 2: Time to marinate
It's time to add ½ teaspoon of pepper powder and add ½ teaspoon of salt into the mixing bowl. Use your hand and try to mix everything to better marinate it. Set that aside for 30 minutes.
Note: Remember that the chicken should marinate for at least 30 hours, but it can soak up to 24 hours.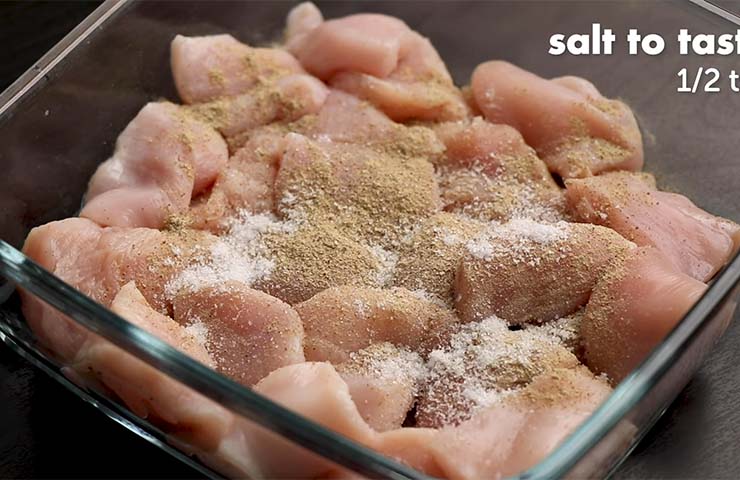 Step 3: Combine all of the ingredients in a Bowl
In another bowl, combine all of the ingredients for the batter mix, beginning with three tablespoons of all-purpose flour, two teaspoons of cornflour, ½ teaspoons of baking powder, 1 and 1/2 teaspoons of pepper powder, ¼ teaspoon of salt, egg white of one egg.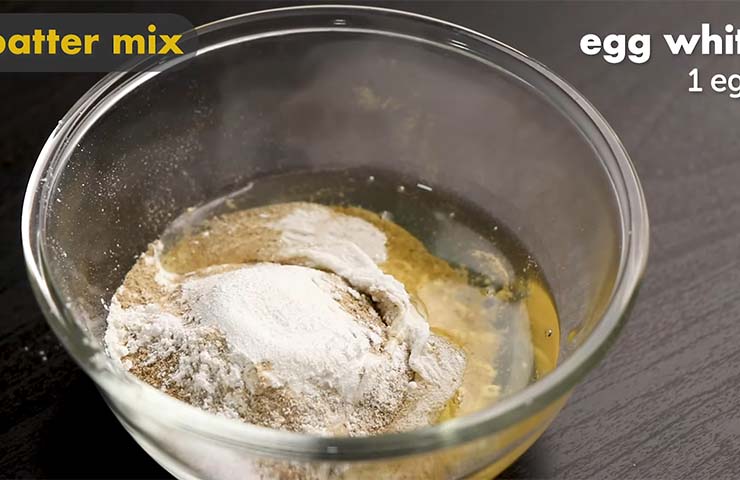 Step 4: Mix the ingredients with a whisk
Mix all the ingredients in the bowl with a whisk until they are perfect. After 2 minutes, add four tablespoons of chilled water, start mixing again, and keep going until it becomes a batter.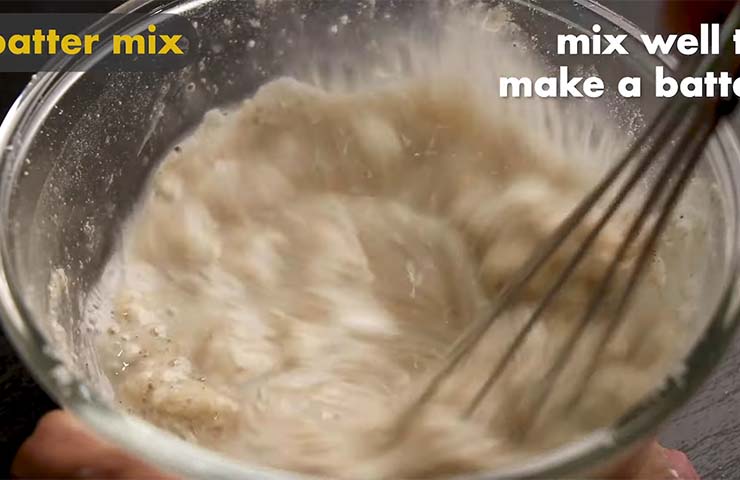 Step 5: Heat the oil for deep frying
Now, it's time to pour vegetable oil into the skillet and check if the oil has covered ½ of inches deep.
Note: When the chicken has been marinating for at least 30 minutes, bring it for frying.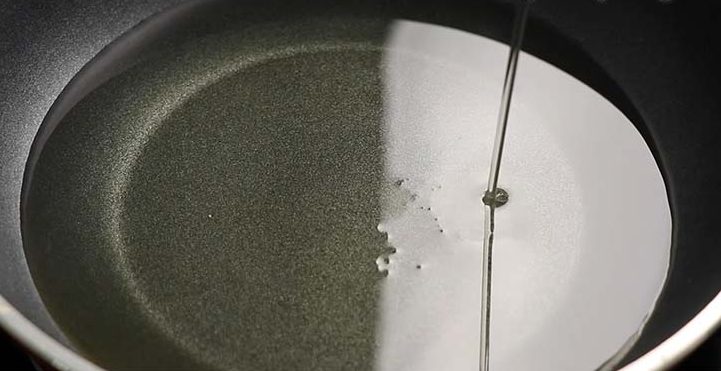 Step 6: Dip the chicken into batter and fry
Now it's time to dip the chicken pieces into the batter, drop it into the hot oil in the skillet, let it fry for around 4-5 minutes on medium heat, and keep frying until the chicken gets a golden brown color.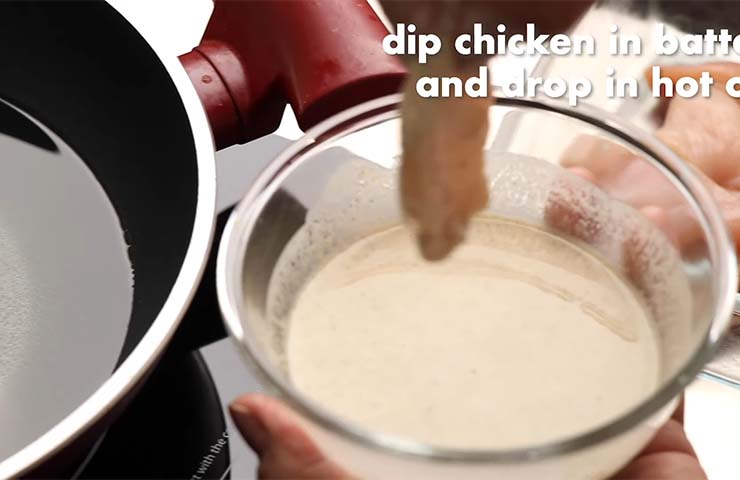 Step 7: Remove the fried chicken's excess oil
Use a wire rack to absorb the extra oils from the fried chicken pieces or tissue paper to absorb the oils from the chicken pieces.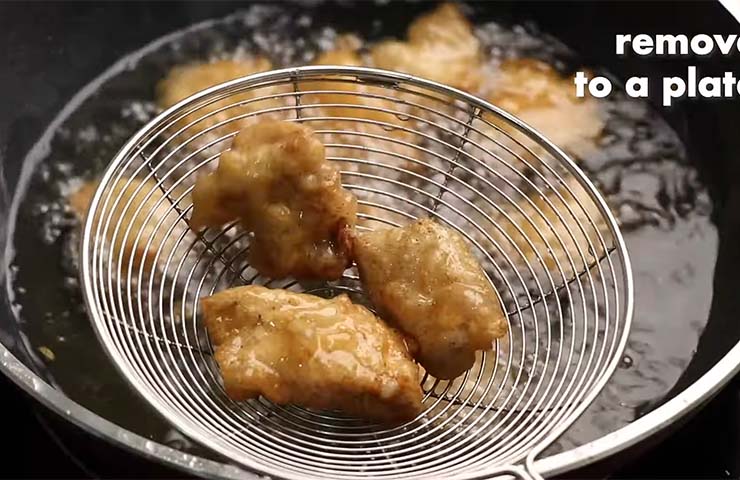 Step 8: Add olive oil, garlic, and chili's
Pour one tablespoon of olive oil into another frying pan, then add chopped two spoons of garlic, two chopped pieces of green chili's, ½ teaspoon of red chili flakes, and stir with a wooden spoon.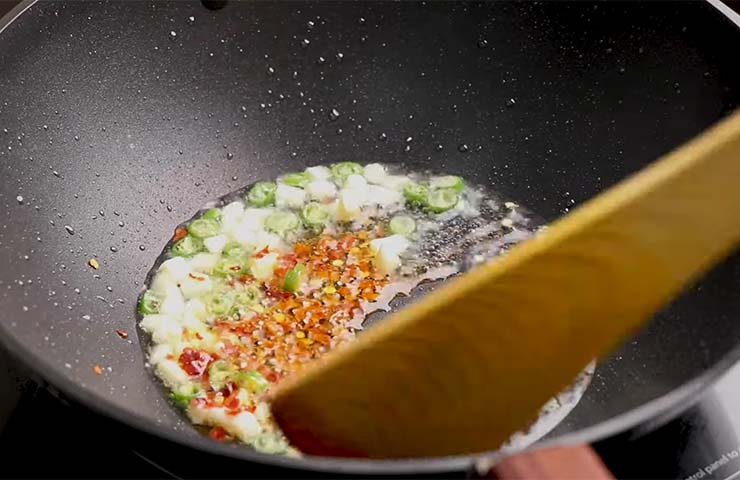 Step 9: Adding Spring Onions
Next, add three tablespoons of chopped spring onions into the frying pot and stir for another 30 seconds.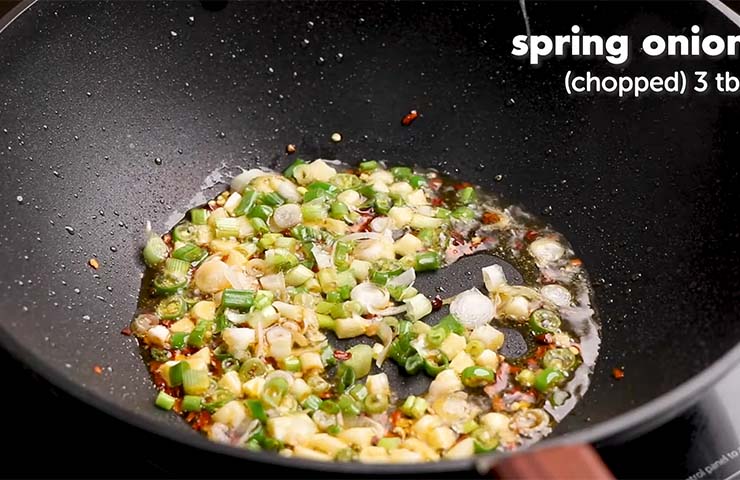 Step 10: Adding Soy Sauce and Chili sauce
Next, it's time to add one teaspoon of dark soy sauce and three teaspoons of red chili sauce and stir for a while.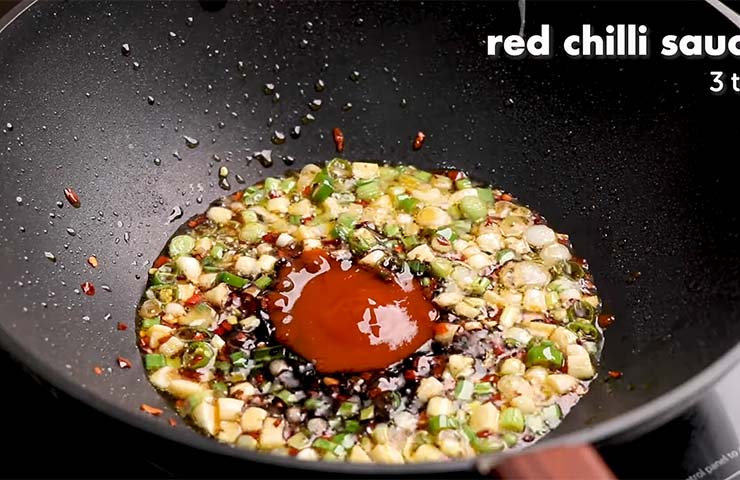 Step11: Adding Honey
It's time to add two tablespoons of honey and stir. And honestly speaking, this will add extra flavor to the recipe. Alright, now mix and add a pinch of salt to the sauce.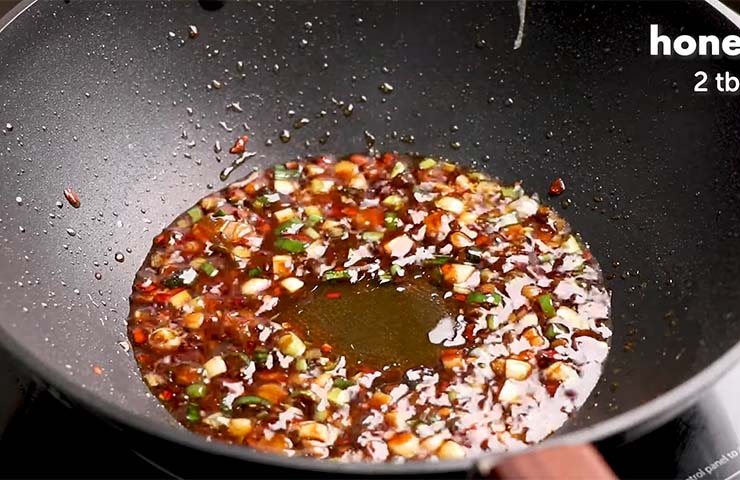 Step 12: Stir to mix it well
It's time to pour all the fried chicken into the frying pot, which we have fried a little earlier, and it's time to stir with a wooden spoon so that all the sauce ingredients get mixed well with the fried chicken.
We recommend tossing the chicken for around 2-3 minutes in the pot on medium heat. Mix well to coat the sauce.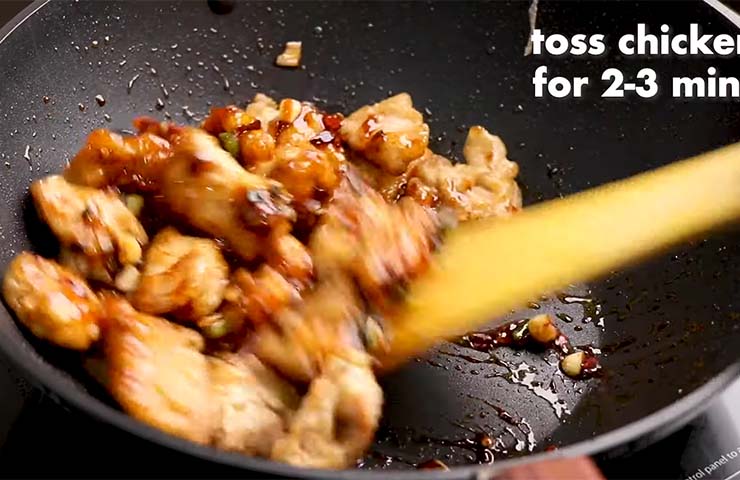 Step 13: Time for the topping and serve
For toppings, use one teaspoon of chopped spring green onions all over the chicken and stir, and it is ready to serve.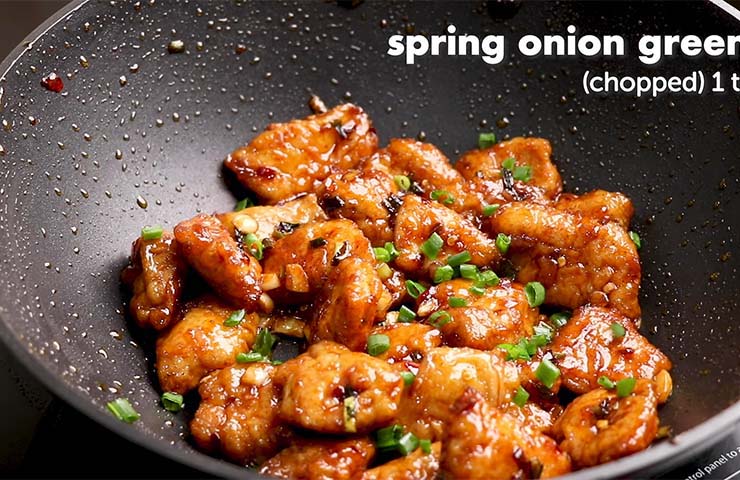 What should I Serve With Longhorn Spicy Chicken Bites?
This dish can be served with a variety of side dishes or salads, so here are some suggestions for dishes to pair with the LongHorn Spicy Chicken Bites:
It can be served with ranch or blue cheese dressing for dipping.
For a spicy lunch, add to a salad or wrap.
Serve as a main course with roasted vegetables and quinoa.
For an extra kick, add the chicken bites to a pizza.
Also can try it out with coleslaw salad.
Benefits of Longhorn Spicy Chicken Bites
There are many advantages to eating this amazing LongHorn spicy chicken bites recipe, and we will list some of them below:
Longhorn's Spicy Chicken Bites are made entirely of white meat chicken, which contains less fat and calories than dark meat chicken.
This recipe contains Whole wheat flour, which contains more fiber than the white flour used in the breading.
Finally, they're cooked in heart-healthy olive oil instead of unhealthy saturated fats.
Longhorn's Spicy Chicken Bites are a great choice if you're looking for a delicious, healthier alternative to fried chicken!
Tips and Tricks
Store in the refrigerator: Ensure that the spicy chicken bites have completely cooled before storing them in the fridge. Transfer to an airtight container, preferably one large enough not to overlap.
Reheat Process: Preheat the oven to 400 degrees Fahrenheit. Now line a baking sheet with foil and arrange the leftover chicken on top, leaving space between each piece.
Garlic Powder: Garlic powder can easily be substituted for fresh garlic if you prefer a more subtle garlic flavor or don't have any on hand.
FAQs
Are there any side effects of Longhorn Spicy Chicken Bites?
There are no side effects of this dish because the ingredients used are low in calories and, at the same time, it is a good source of protein.
How can I improve the taste of Longhorn Spicy Chicken Bites?
Adding black pepper and paprika while cooking will improve its taste and spiciness. A pinch of cayenne pepper can give the chicken bites a nice kick of flavor.
Is Longhorn Spicy Chicken Bites Spicy?
Without a doubt, Longhorn Spicy Chicken Bites are spicy. And they're made with a sauce, and red pepper flakes blend so that it will give you a spiciness in your taste buds, and if you like spicy food, this is a must-try.
How many calories are in these Longhorn Spicy Chicken Bites?
It has a low-calorie range of 90 to 135 calories per serving. As a result, it is a better alternative to regular fried chicken.
Conclusion
Longhorn Spicy Chicken Bites Recipe is a delicious alternative to all the regular fried chicken recipes. It is not only flavorful, but it will also satisfy your taste buds. The recipe is simple to make and only requires a few ingredients.
Vegetarians, meat eaters, and anyone who enjoys a spicy kick will enjoy this alternative to fried chicken. It's also a healthier option than traditional fried chicken because it's lower in fat and calories.
So, this is a must-try recipe for all foodies and health-conscious people. Another benefit is that you can make it anytime and enjoy it with your family and friends at any moment.
Last Updated on January 31, 2023 by Lindsay G. Cabral and Zoey