A month ago, my loved ones and I dined at The Cheesecake Factory. Me and my kids tried all of their pasta, and we found that their Pasta Napoletana is quite different from the others, and my kids loved this one. When we got back home, they were so ready for more that they asked me to prepare the pasta at home.
I also learned that this recipe is difficult to find because they don't share their secrets. So, I kept trying to make this amazing restaurant version at home and got pretty close.
The best thing about making this recipe was that I could get my kids to help me. They loved helping me measure the ingredients and mix everything together. It was a great way for the whole family to spend time together and enjoy a tasty meal.
Here, I'll tell you all about this amazing dish, along with the copycat recipe, and give you the best tips and directions for making it at home. They are easy to understand and follow. So, let's start making this delicious dish right away!
What Is Pasta Napoletana?
Pasta Napoletana is a dish that originated from Naples, Italy, and is now popular worldwide. In Naples, Italy, Napoletana sauce is called "la salsa," which means "the sauce." It is a pasta dish that is usually made with a tomato-based sauce that includes San Marzano tomatoes, garlic, onions, and herbs like basil or oregano. These rich ingredients are essential for making the dish delightful.
Ingredients for This Cheesecake Factory Pasta Napoletana
Pasta:
Meat:
1/2 lb ground turkey
1/2 lb Zatran's cajun-style smoked sausage, sliced
1/2 lb mild ground Italian sausage
Pepperoni slices
Vegetables:
1 green bell pepper, chopped
1 onion, chopped
Mushrooms, sliced
Sauces and Seasonings:
3 tbsp tomato paste with garlic, basil, and oregano
1 can (10 oz) Rotel diced tomatoes and green chilies (chunky version)
1 jar (24 oz) Boticelli tomato and basil pasta sauce
Worcestershire sauce
Seasonings: Vadia, black pepper, garlic salt, Italian seasoning, onion salt, crushed red pepper flakes
1 tsp sugar
Oils:
Cheese:
Equipment
Knife
Cutting board
Measuring spoon
A large wooden spoon or spatula
A large pot
Large skillet
How to Make Cheesecake Factory Pasta Napoletana
Step 1: Cook the pasta
First, cook the Barilla spaghetti in a large pot according to the package instructions. After it has finished cooking, you should drain it and set it aside.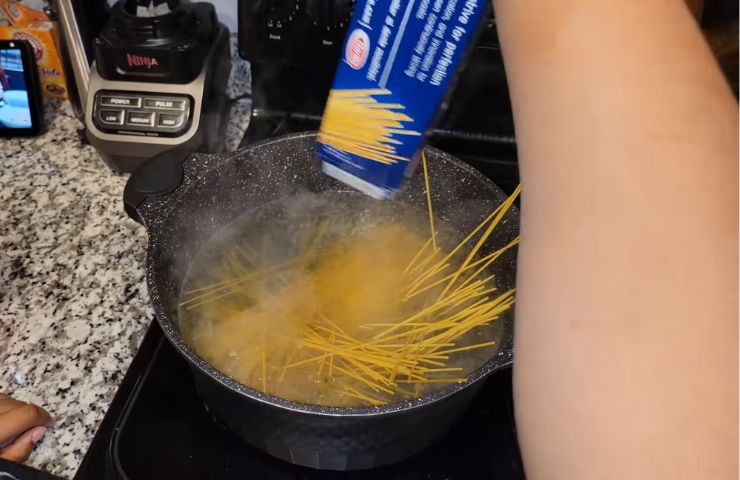 Step 2: Heat a large skillet
In a separate large skillet, heat 1 tablespoon of olive oil over medium heat. Add the ground turkey and break it up with a spatula.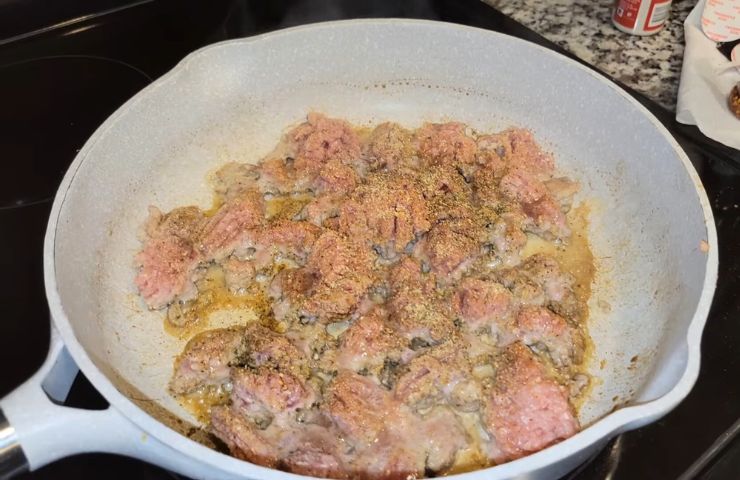 Step 3: Use proper seasoning
Use Vadia, black pepper, garlic salt, and onion salt to season. Cook the turkey until it turns brown and cooked through.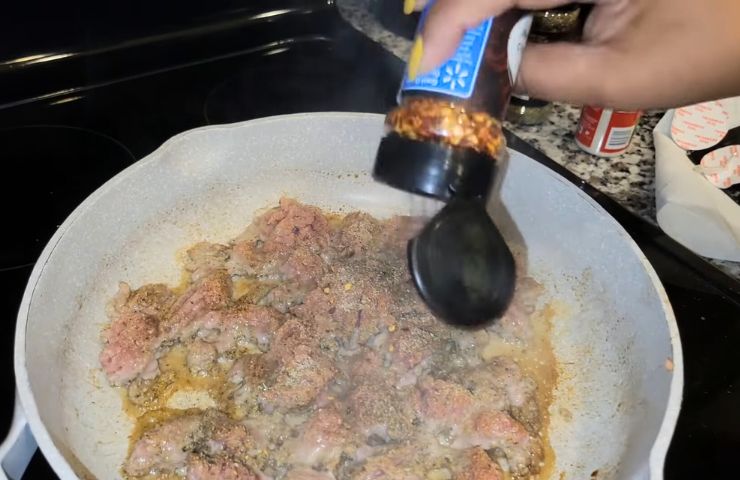 Step 4: Add the vegetables
In the same skillet, add the chopped onions and bell pepper. Cook until the vegetables are softened.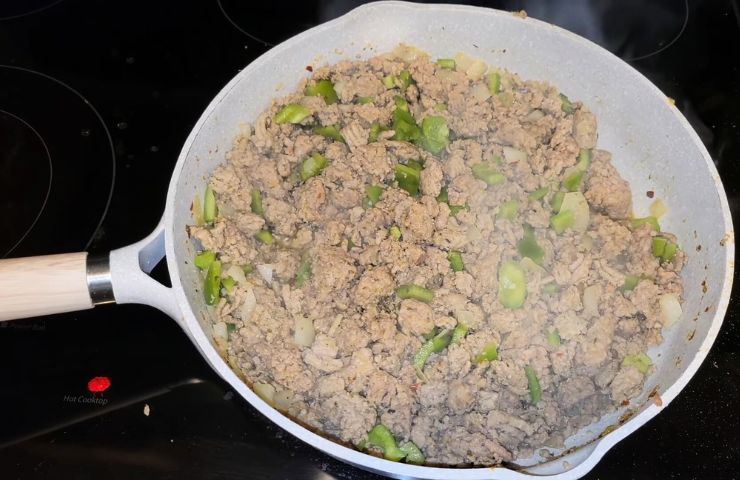 Step 5: Add sausages
Next, add the sliced Zatran's cajun-style smoked sausage and mild ground Italian sausage to the skillet with the turkey. Continue cooking until the sausages are browned and fully cooked.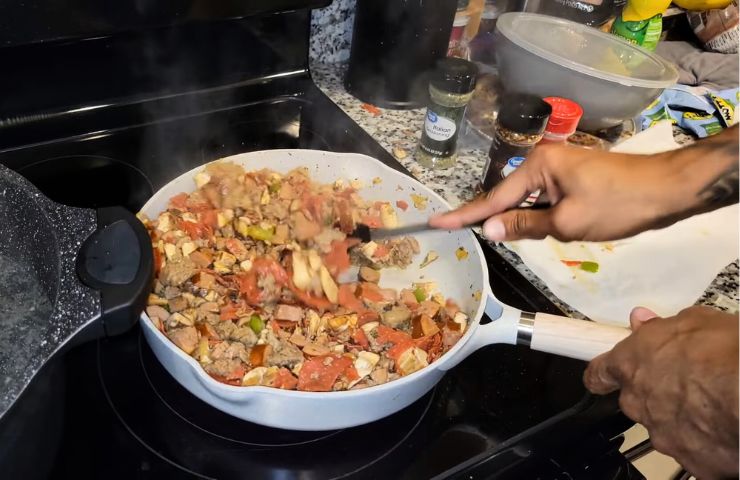 Step 6: Stir well while cooking
Stir in the tomato paste with garlic, basil, and oregano. Mix well to combine the flavors.
Step 7: Add diced tomatoes
Pour in the can of Rotel diced tomatoes, green chilies (chunky version), and the Botticelli tomato and basil pasta sauce.
Step 8: Add more ingredients
Add a dash of Worcestershire sauce and 1 teaspoon of sugar. Mix everything together and let the sauce simmer for a few minutes. Toss in the sliced mushrooms and pepperoni slices into the sauce and let them cook until tender.
Step 9: Add Barilla Pasta
Add the cooked Barilla pasta to the sauce and mix everything well, coating the pasta with the flavorful sauce.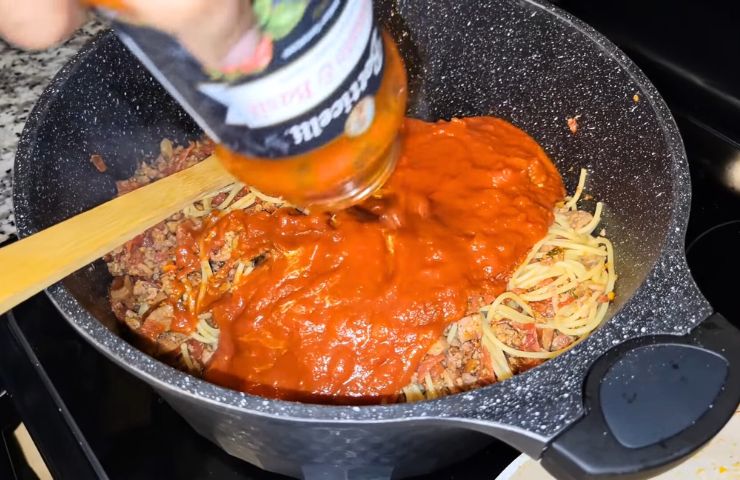 Step 10: Serve
Serve the Cheesecake Factory Napolitana-inspired pasta hot, garnished with shredded Parmesan cheese.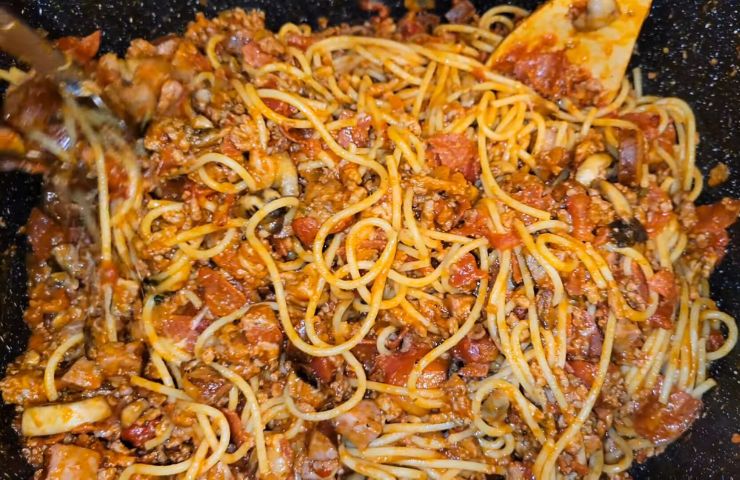 Special Tips from the Chef
Chop the vegetables to your preferred size before you start cooking the dish. But I suggest chop them into tiny sizes. And while chopping, don't be quick, or you might cut your fingers.
You can use any type of pasta, but spaghetti works best with the recipe, and the original recipe from the Cheesecake Factory also uses the same type of pasta.
If you do not enjoy turkey, you are free to substitute any other kind of meat, such as beef or becon, or even chicken or lamb meat, for this dish.
In our recipe, we made the Napoletana sauce, but if you want to save time, you can, but for the store-bought sauce, we suggest you follow the original sauce recipe to get the best taste and flavor.
How To Store and Reheat Cheesecake Factory Pasta Napoletana?
Storing:
The best way to store Pasta Napoletana is to put them in separate airtight containers. This way, you can keep them in the fridge for up to 3–4 days.
Reheat:
Simply place them in a saucepan and set the temperature to medium. In order to prevent it from sticking to the pan while it's heating for ten minutes, stir it quite frequently.
What Goes Well with Cheesecake Factory Pasta Napoletana?
This copycat of Cheesecake Factory Pasta Napoletana pairs well with many side dishes. Here are some of the side dishes you can try, along with a brief description of each:
Garlic Bread:
A classic choice, garlic bread complements the flavors of Pasta Napoletana splendidly. Savor the warm, golden-brown bread brushed with luscious garlic butter, adding a fragrant touch to every bite.
Tossed Salad:
To balance Pasta Napoletana's richness, you can choose a crisp and refreshing tossed salad. Customize your salad with fresh vegetables like lettuce, juicy tomatoes, crunchy cucumbers, and vibrant carrots.
For a simple yet delightful accompaniment, consider steamed or roasted green beans. These rich and nutritious legumes provide a pop of color to your plate while offering a rich source of essential vitamins and minerals.
Roasted Vegetables:
Serve roasted vegetables with Pasta Napoletana to jazz up the flavor of your meal. Roasted broccoli, carrots, and peppers seem delicious. It tastes good and provides vitamins and minerals.
FAQs
Does Cheesecake Factory Napoletana sauce have meat?
Yes, like the traditional Napoletana sauce Cheesecake Factory version of the recipes also have meat in it. You can use Italian sausage, minced beef, beef bacon, or other meat-based items based on your preference.
Is this Napoletana pasta vegan?
No, Napoletana pasta is typically not vegan as it commonly contains meat-based ingredients like sausage or bacon. But it can be made vegan using vegan ingredients
What kind of noodles does the cheesecake factory use?
The Cheesecake Factory uses spaghetti noodles in their Napoletana pasta dish. It is a classic pasta that is often used in Italian dishes.
How many calories are in Napoletana pasta?
The number of calories in Napoletana pasta depends on the ingredients used and the portion size. Usually, it contains around 305 calories per serving.
Final Thoughts on This Recipe
Cheesecake Factory Pasta Napoletana is a wonderful option for busy weekends and quick events because it is easy to make. Even though it's easy and takes little time to make, everyone at the table will be happy with it.
The pasta is cooked just right, and the sauce has great flavor and texture depth. Also, it's a great way to get kids interested in cooking.
Pasta Napoletana from Cheesecake Factory is an easy-to-make and delicious meal. You won't be disappointed at all for sure. I think that when you cook this and see how it turns out, you will thank me and be proud of yourself as a cook.
I'm Zoey, and I love to cook.
I make all my meals at home, which means that every day is a new adventure. I have no idea what I'll be cooking that day—it could be anything from pancakes to lasagna to kabobs to chicken soup—but it always turns out delicious.