I'm sure you've heard of La Victoria Orange Sauce, which has become a recent trend, and many are attempting to bring the copycat version of La Victoria Orange Sauce Recipe, and today we get by far the closest to the original recipe.
Without a doubt, this orange sauce recipe has made La Victoria, aka La Vic's, the most demanding sauce, and many people go there just to buy this and try it out, so don't worry today we will help you make this simple sauce recipe in your kitchen in just a few minutes.
Why is La Victoria Orange Sauce Recipe so popular?
This recipe is based on the La Victoria Taqueria World Famous Orange Sauce recipe from the Tacolicious cookbook. This popular sauce is also called La Vic's Orange Sauce or crack sauce. If you haven't had it before, I recommend making the trip to the South Bay to try the original.
I should mention that this sauce is very spicy! The longer you keep the seeds, the more flavorful this will be. And it became a popular sauce because it is a must-try with a taco, making the taco more flavorful while adding a kick.
Ingredients
6 chipotles and chipotle pepper in the adobo sauce can
1/4 cup fresh lime juice (about 3 limes)
1 tsp chipotle powder
1 tsp smoked paprika
1/2 cup vegetable oil
20 garlic cloves
1 tsp salt
Tools
Blender
Measuring cup
Measuring spoon
Serving bowl or Glass jar
How To Make La Victoria Orange Sauce
Step One: Start with garlic cloves and chipotles
In a blender, combine 20 garlic cloves and 6 chipotle chiles, extracting as much adobo as possible from the can and leaving the adobo behind.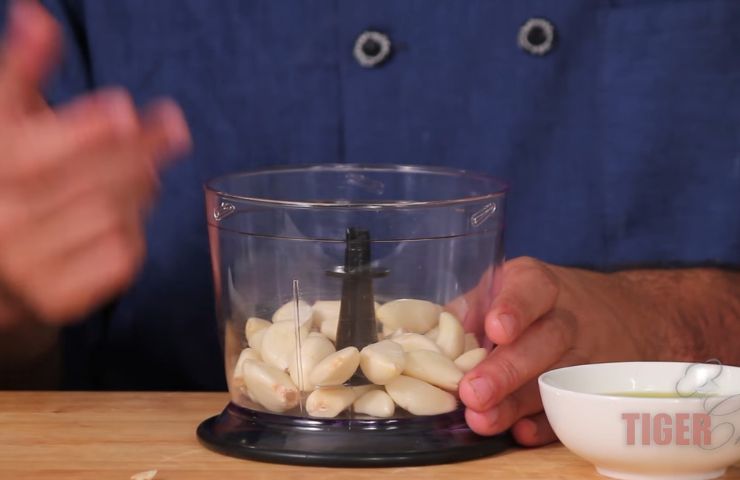 Step Two: Add paprika, chipotle powder, and salt
Next, add 1 tsp smoked paprika, 1 tsp chipotle powder, and 1 tsp salt, all into the blender.
Step Three: Add lemon juice and vegetable oil
Now squeeze three fresh lemon juice or 1/4 cup of fresh lime juice, followed by 1/2 cup of vegetable oil, into the blender.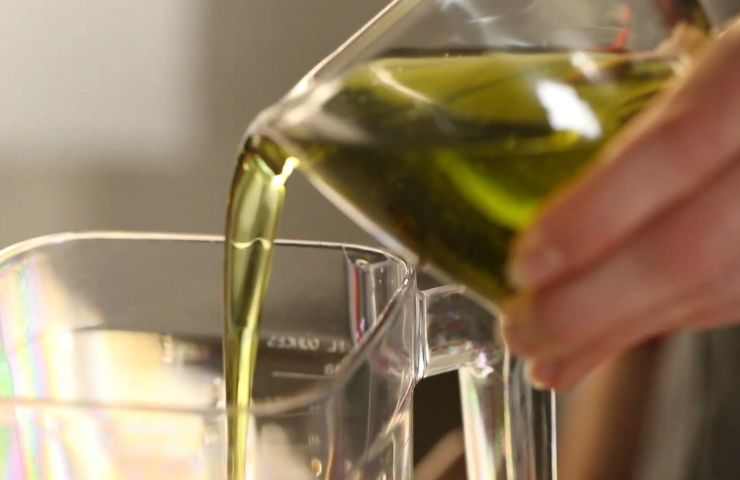 Step Four: Blend
After all of the ingredients are combined, begin blending and process for a few minutes; note that you can add extra vegetable oil if the sauce is too thick.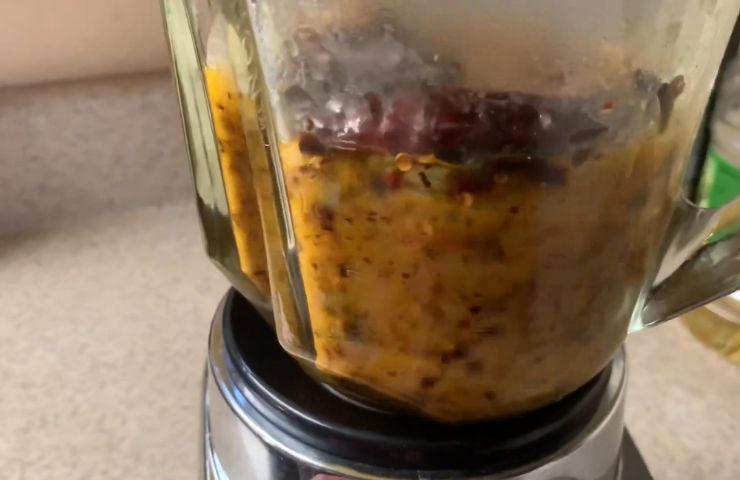 Step Five: Pour and serve
When the blending is complete, pour this into a bowl or a glass jar and serve on any taco or meat meal, etc. and enjoy.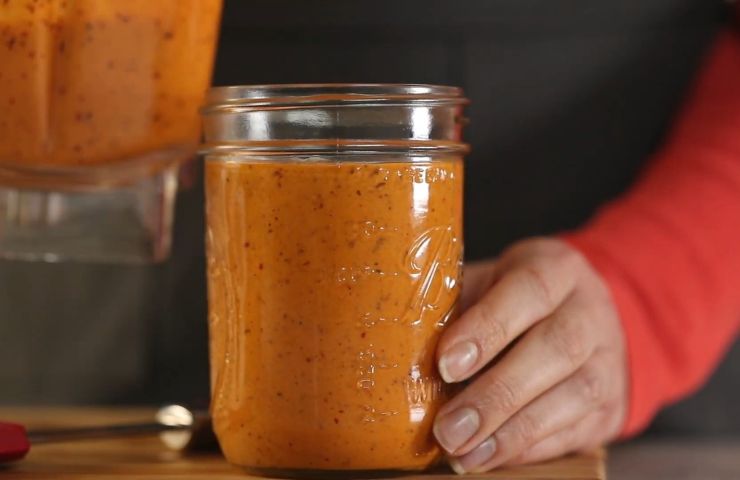 Tips and Tricks
You can go with olive oil instead of vegetable oil, but the taste will be a bit different.
If you're not sure which brand of chipotle pepper in adobo sauce to use in this dish, we recommend La Costea. If that is not accessible, then use the La Morena brand. If you can't find any of these, you can use any brand you like.
To perfect this recipe like the original La Victoria Orange Sauce Recipe then, follow the ingredients and instructions well.
The benefit of utilizing chipotle peppers adobo sauce can is that it contains smoked and dried jalapenos that have been rehydrated and canned, as well as adobo sauce, which is a purée of tomato, vinegar, garlic, and other spices. So that's why you don't need many ingredients to make this recipe.
Benefits of La Victoria Orange Sauce
There are a few advantages and health benefits of this amazing sauce, and those are:
This recipe may benefit your heart health. It lowers harmful blood cholesterol levels and helps regenerate blood vessels.
This recipe includes chipotles which helps with a lower risk of heart attack and stroke, so this dish will help you stay healthy.
The vital minerals in this recipe are excellent for keeping healthy hair and skin.
This orange sauce can help with tension and anxiety. It is excellent for both body and mind relaxation.
This recipe is suited for a vegan, vegetarian, or gluten-free diet because it does not contain dairy ingredients.
What Goes Best with La Victoria Orange Sauce
There are many foods and snacks or side dishes that you can try with this La Victoria orange sauce, and here are some of the meals that go well with it.
Bacon: Bacon is a salt-cured pork product manufactured from various cuts, most commonly the belly or less fatty sections of the back. It's a tasty breakfast meal that goes well with La Victoria orange sauce.
Burritos: A burrito is primarily a Mexican cuisine that originated in Ciudad Juárez and consisted of a flour tortilla wrapped around various fillings in a sealed cylindrical shape. And without a doubt, a dash of La Victoria orange sauce can turn this into a must-try dinner.
Nachos: Nachos are one of the most renowned Mexican snacks or side dishes that have become a fan favorite in America. They taste even better with a La Victoria orange sauce poured over them, and you can have a great time with every mouthful you take.
Tacos: Tacos are a popular Mexican cuisine that consists of small hand-sized maize or wheat tortilla topped with a filling. And believe me when I say that this La Victoria orange sauce is the heart of any taco since it enhances the flavor and changes the way you consume tacos.
Enchiladas: An enchilada is a type of Mexican cuisine consisting of a corn tortilla wrapped around a filling and topped with a savory sauce. This La Victoria orange sauce enhances the moist and flavorful nature of the dish.
Tostadas: Many people are familiar with this snack, which is a word used to describe a range of cuisines in Mexico and primarily refers to a deep-fried or toasted flat or bowl-shaped tortilla that, when topped with La Victoria orange sauce, enhances the entire taste and makes your cuisine worth trying.
Store and Reheat
Store:
If you want to store it, then this sauce can be kept in the refrigerator. We discovered that La Victoria orange sauce could be stored for up to 5 months in a jar or glass container. It can also be frozen in individual glass containers, but it must be mixed with water beforehand.
Reheat:
You can reheat this in the microwave for 30 seconds or more or in a skillet for a few minutes. But we recommend eating it fresh because reheating will give you a different flavor than before.
FAQ
Does La Victoria sauce need to be refrigerated?
La Vic's secret sauce should be refrigerated for up to 30-45 days but can be left out for a day or two without spoiling. Hence, we recommend that you try it just after you make it fresh to get the most excellent flavor.
Is La Vics orange sauce vegetarian?
Yes, La Vics Orange Sauce is suitable for vegetarians. They constantly produce this sauce with that in mind, making it ideal for meat eaters, vegetarians, vegans, and anyone who appreciates eating a variety of foods.
How many calories are in La Victoria Orange Sauce?
You will gain approximately eight calories per 2-tablespoon serving, and this sauce is unquestionably nutritious.
Is La Victoria Orange Sauce gluten-free?
Yes, because all the ingredients used in this recipe make this La Victoria orange sauce, without a doubt, a gluten-free sauce.
Is La Victoria Orange Sauce keto-friendly?
Yes, the ingredients used in this recipe make this La Victoria Orange Sauce an excellent option for anyone looking for a sauce for their keto diet, as this is a keto-friendly sauce.
Last Few Words
This La Victoria orange sauce recipe is suitable for any season and an excellent addition to your regular meal or any fast food you wish to try. Additionally, it can be served as a side dish or as an ingredient in your favorite meals to enhance the overall flavor of any recipe.
So, if you want to try it out, simply follow the easy directions given in the recipe article and you'll be able to make it in no time.
Last Updated on March 21, 2023 by Zoey
Lindsay G. Cabral is a recipe blogger who specializes in vegan and gluten-free recipes. Lindsay has been blogging since 2012, and her recipes have been featured on popular websites such as Huffington Post, Mind Body Green, and The Kitchn. In addition to her blog, Lindsay is also the author of two cookbooks, Vegan Yum Yum and Vegan Yum Yum for All Occasions. When she's not in the kitchen, Lindsay enjoys spending time with her husband and two young daughters.