Pizza night is a treasured tradition in the homes of those who adore the delectable and versatile dish, and it is an event that many people look forward to on a weekly basis. What truly distinguishes a good pizza from a great pizza is the sauce used to top it.
As a result, the sauce is critical to the success of a pizza night, and it is often said that the sauce is what makes or breaks a pizza.
So we will help you prepare your very own homemade sauce, and in my opinion, the Don Pepino Pizza Sauce is by far our favourite pizza sauce recipe.
In today's Delicious Cooks, we'll show you how to make a Don Pepino pizza sauce recipe. It will also be one of the best and simplest ways to make the finest and most popular pizza sauce you have ever made.
Ingredients That You Will Need
8-ounce, 1 can of tomato sauce
8-ounce, 1 can of tomato paste
1 teaspoon minced garlic
2 teaspoons dried basil
1 teaspoon dried oregano
½ teaspoon paprika
¼ teaspoon salt
Tools or Equipment
1 Medium size bowl
1 wooden spoon or plastic spoon
Storing jar or jug
How to make Don Pepino pizza sauce
Step 1: Adding tomato paste and sauce in a bowl
First, pour the tomato sauce, which is about 8 ounces in weight, into the mixing bowl, followed by the 8 ounces of tomato paste, which is a concentrated tomato with a lot of the liquid removed.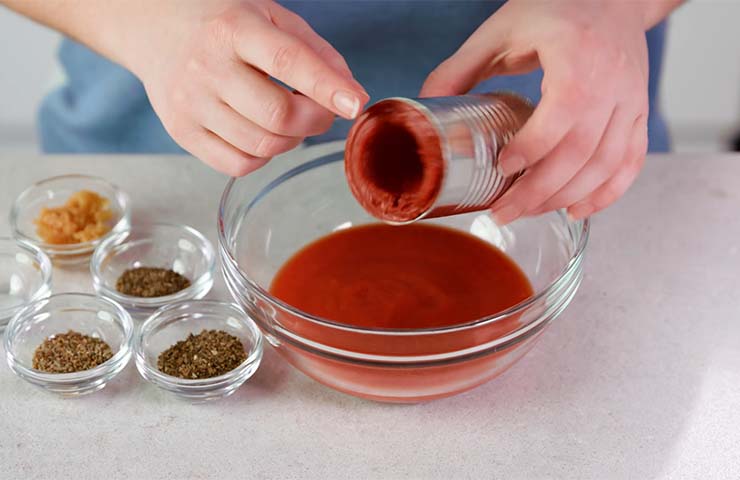 Step 2: Adding minced garlic
Then we'll add 1 teaspoon or 1 garlic clove minced. I almost always have fresh garlic on hand, but if you don't, you can replace 1/4 teaspoon of garlic powder.
Step 3: Add basil, oregano, paprika, and salt
Then you'll add 2 teaspoons of dried basil, 1 teaspoon of dried oregano, 1/2 teaspoon of paprika (I use regular, not smoked), and the last 1/4 teaspoon of salt, and that's it.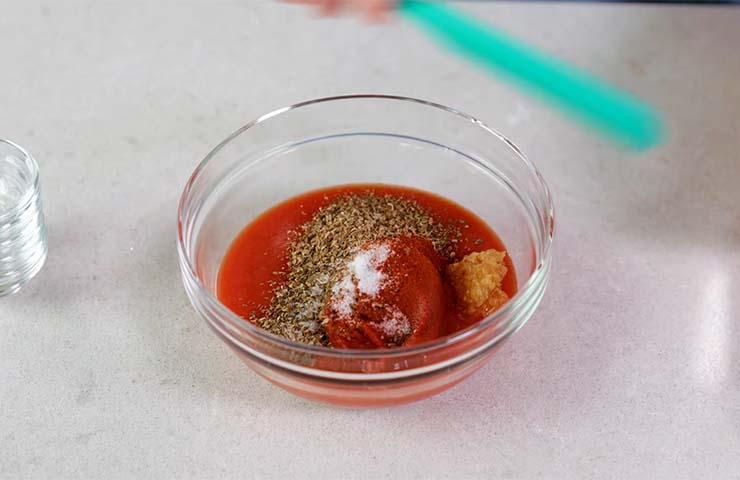 Step 4: Mix all the ingredients
All that remains is to combine everything. Use a plastic spoon to stir until all of the ingredients are thoroughly mixed.
Now here you have your own homemade Don Pepino pizza sauce ready to pour on a pizza, cook, and enjoy.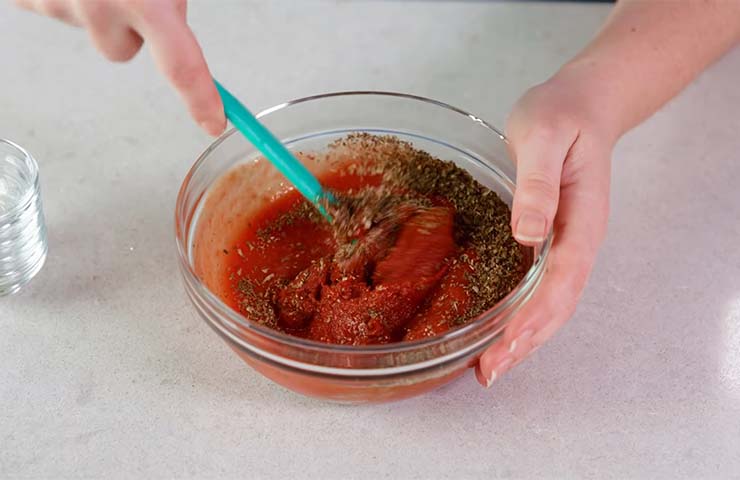 Tips And Tricks
Fresh ingredients:
Always try to have fresh ingredients that will boost the flavour of the pizza sauce and the overall taste of the homemade pizza on your taste buds.
Garlic powder:
If you don't have minced garlic in your kitchen or want to use an alternative, you can always go for a little more garlic powder and regular sea salt.
Granulated sugar:
Many people want to add sugar, which will be granulated if you want a little sweetness in your pizza sauce. You can also use coconut sugar instead. I believe the small amount of sugar enhances the flavor of the tomatoes.
Store:
If you store the sauce in an airtight container in the fridge, it should stay good for about 2 weeks.
FAQs
Is Don Pepino a Good Pizza sauce?
Yes, it is and according to various statistics and a large amount of feedback from people in the United States, Don Pepino is the Best Store-Bought Pizza sauce of 2023.
What Kind Of Tomatoes are in Don Pepino Pizza Sauce?
Don Pepino has revealed that vine-ripened Jersey tomatoes are used to make America's first fully prepared pizza sauce.
What can I add to my pizza sauce to make it taste better?
You can add cheese, black pepper, white onions, and various herbs, but don't use too many herbs or it will taste bitter and lose its main purpose as a pizza sauce.
How long can pizza sauce last?
Usually, if you keep the pizza sauce in a refrigerator, you can keep the sauce stored for around five to seven days, but we recommend you try to make and use it within 2 days; then, you will have the best flavour and taste, and it will make the pizza delicious.
Can I use ketchup as pizza sauce?
The answer is no because pizza sauce and ketchup are completely different things. To be more precise, they contain different ingredients and serve different purposes.
Where is Don Pepino sauce made?
Don Papino sauce is one of the most popular pizza sauces, and its main packing facility is in Southern New Jersey.
Is Don Pepino pizza sauce good for health?
Without a doubt, Don Pepino Sauce is good for health because the ingredients which are used in making the pizza sauce all have healthy vitamins and nutrition.
Conclusion
In conclusion, making a delicious Don Pepino Pizza Sauce Recipe at home doesn't have to be complicated or expensive. With the right ingredients and a simple recipe like Don Pepino, you can easily achieve the perfect balance of flavors that will take your pizza to the next level.
Whether it's a quick and easy weeknight dinner or a party-pleaser, this pizza sauce will definitely be a hit every time.
Impress your family and friends with your cooking skills and elevate your homemade pizzas to a whole new level. Don't wait, give it a try today!
Last Updated on February 11, 2023 by Eleanor
I love cooking, It makes me feel good knowing that whatever I make is something my family can eat, and it also gives me the chance to get creative with my cooking.
My goal is to help people learn how to cook by showing them how easy it is. If you're new at this, or if you just want some easy recipes in your life, check out my blog!