As a busy mom of two energetic kids, it's all too easy to get caught up in the chaos of daily life. Making time for myself is a rarity these days! But the other night, I suddenly had the most intense craving for El Chico Brownie Skillet – a dessert my husband and I discovered on a road trip before the kids came along. I decided to make a copycat recipe for El Chico Brownie Skillet, and this easy one-bowl brownie skillet delivers that decadent chocolate fix! The best part? The whole family devoured it.
So, Grab your skillet, preheat your oven, and let's get ready to sink your spoon into chocolate heaven.
How Does This El Chico Brownie Skillet Taste?
El Chico Brownie Skillet satisfies even the most intense chocolate craving with its fudgy, moist brownie base and crispy exterior. Each bite unveils a rich, intense chocolate flavor balanced by a hint of vanilla. The addition of chocolate chips provides extra indulgence.
Classic ingredients like butter, cocoa powder, chocolate chips, sugar, eggs, and flour come together to create the ultimate chocolate treat. Baked in a cast iron skillet, this brownie achieves the perfect crackly crust and luscious center. Topped with ice cream, it's a delightful interplay of warm, gooey brownies and cold, creamy vanilla.
How To Make This El Chico Brownie Skillet
Are you ready to make this recipe? Let's start with gathering the ingredients.
Ingredients
3/4 cup unsalted butter, softened
2 cups semi-sweet chocolate chips
3/4 cup granulated sugar
3/4 cup packed brown sugar
3 large eggs
1 cup all-purpose flour
3 tablespoons cocoa powder
1/2 teaspoon salt
1 tablespoon vanilla extract
3/4 cup mixed dark and white chocolate chips
Vanilla ice cream for serving
Tools and Equipment Needed
12-inch cast iron skillet
A rubber spatula or you can use a mixer as well
Instructions
Step 1: Preheat Oven and Melt Butter & Chocolate
Preheat oven to 350°F.
In a microwave-safe bowl, melt 3/4 cup butter and 2 cups chocolate chips on high for 2 mins. Stir, then continue heating in 1 minute intervals until completely smooth and silky. Set aside to cool slightly.
Step 2: Mix Wet Ingredients
Whisk in 3/4 cup granulated sugar and 3/4 cup packed brown sugar until completely dissolved in the melted chocolate.
Add 3 large eggs one at a time, whisking well after each one until they are all mixed in.
Step 3: Mix Dry Ingredients
Take a small bowl and stir together 1 cup flour, 3 tablespoons cocoa powder, and 1/2 teaspoon salt.
Step 4: Combine Wet & Dry Ingredients
Next, add dry ingredients to the wet ingredients bowl. Gently fold with a spatula just until blended together. Be careful not to overmix – just fold until everything is combined. You want to avoid overmixing at this stage to keep the brownies light and fudgy.
Step 5: Fold in Chips & Pour Batter
Add 1 tablespoon vanilla and 3/4 cup mixed chocolate chips. Fold gently to distribute.
Pour batter into a greased 12-inch cast iron skillet. Use a spatula to smooth the top.
Step 6: Bake & Cool
Bake for 30-35 minutes until the center is just set.
Step 7: Serving
Add about ⅔ of a scoop of vanilla ice cream on top of the hot brownie and enjoy the sweet treat.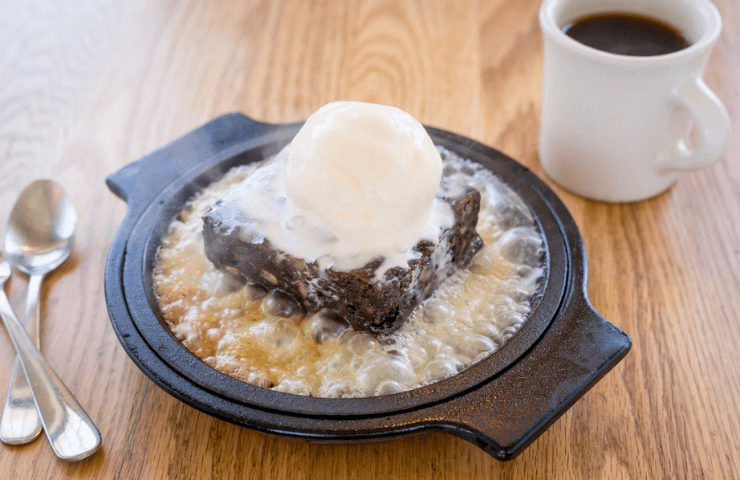 Cooking Tips
Use high-quality cocoa powder and chocolate chips for maximum flavor.
Grease the skillet well with butter or nonstick spray to prevent sticking.
Mix the batter gently to avoid overmixing which can make brownies tough.
Bake in the center of the oven for even cooking. Rotate the pan halfway through if browning unevenly.
Check for doneness early to prevent overbaking. Brownies should be slightly underbaked in the center.
You can customize it with mix-ins like chocolate chunks, nuts, peanut butter swirls, etc.
Serve warm with ice cream for a delicious hot-and-cold contrast.
How To Store The Leftover Brownie?
The best way to store leftover El Chico Brownie Skillet is to first allow the skillet to cool completely after baking. Then, tightly wrap the entire skillet with a few layers of plastic wrap, followed by a layer of aluminum foil to seal in the freshness. Store the wrapped skillet in the refrigerator for up to 1 week. But it's better to enjoy this brownie hot with ice cream. The taste will be amazing and mouthwatering.
FAQs About This Recipe
Can You Make This El Chico Brownie Ahead of Time?
No, because El Chico Brownie is served hot with ice cream, and it's the signature of this recipe. So, if you want to taste the real taste, then try it after baking.
Is Melted Butter or Oil Better for Brownies?
Both work well, but for this recipe, I would recommend Butter. Melted butter gives a rich, slightly firmer texture with a shiny crust.
Is it necessary to serve the brownies with vanilla ice cream?
Serving the brownies with vanilla ice cream is a popular choice. It's like a signature touch to this recipe.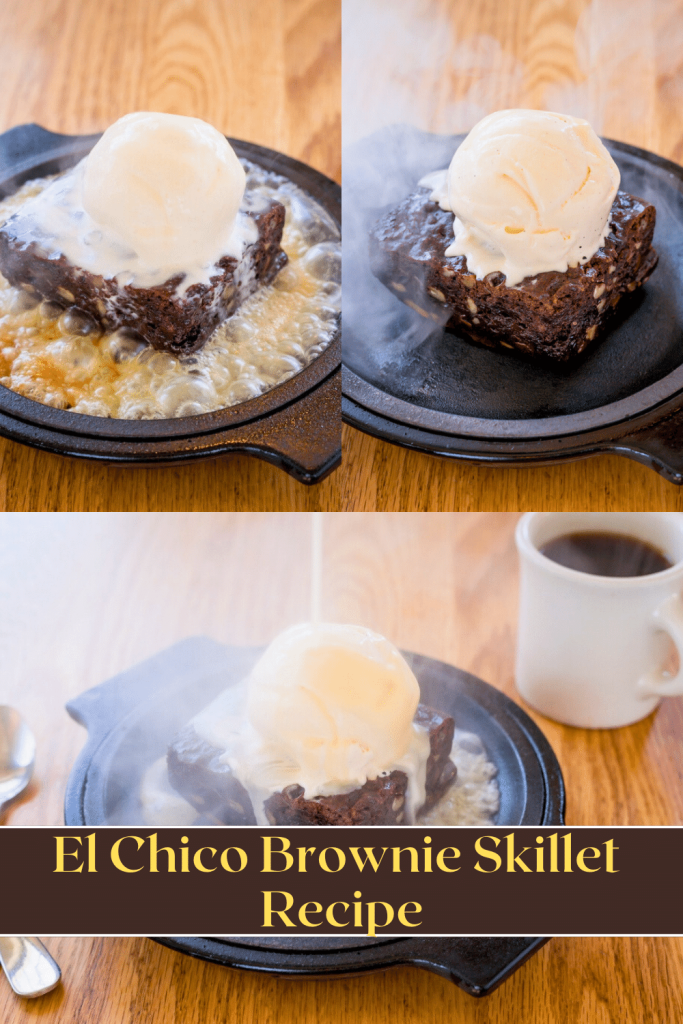 Final Words
To sum up, this El Chico Brownie Skillet with Vanilla Ice Cream recipe is a nostalgic and delicious treat that's sure to satisfy your sweet cravings. Recreate the magic of that cherished road trip right in your own kitchen. Bookmark this recipe now, and share the joy of indulgence with your loved ones. Don't miss out on this delightful dessert adventure!
Lindsay G. Cabral is a recipe blogger who specializes in vegan and gluten-free recipes. Lindsay has been blogging since 2012, and her recipes have been featured on popular websites such as Huffington Post, Mind Body Green, and The Kitchn. In addition to her blog, Lindsay is also the author of two cookbooks, Vegan Yum Yum and Vegan Yum Yum for All Occasions. When she's not in the kitchen, Lindsay enjoys spending time with her husband and two young daughters.