When you visit the Yard House, you will find several menus. But not every menu appeals to everyone. There's nothing better than their Mac and Cheese dish to soothe your soul.
I always choose their Mac and Cheese as my first-ever Yard House favorite dish. It sounds boring, but it makes me feel hearty and comforting: "roasted chicken breast, applewood smoked bacon, wild mushrooms, cheddar, and parmesan cheese with Castellina pasta and white truffle oil."
So here's my inspired Yard House mac and cheese recipe that I will show you. Check out the recipe below and try it at home to create more delicious.
Ingredients That You Will Need
1 Ib fusilli pasta
6 tbsp. unsalted butter
3 cups whole milk(heated)
Eight slices of lean bacon
¼ all-purpose flour
8 oz sharp cheddar cheese(grated)
8 oz Monterey jack cheese(grated)
4 oz gorgonzola cheese (crumbled)
2-3 pieces of Rotisserie Chicken Breasts
1 cup panko breadcrumbs
1 cup Cremini Mushrooms
¼ tbsp salt
¼ tbsp black paper
One pinch of white pepper
One pinch of white pepper
Cayenne pepper(optional)
Truffle oil
Tools or Equipment
Chopping board
Knife
Heat stove
Cooking Saucepan
Boiling pot
Whisk
Wooden spoon
Large casserole dish
Oven
Serving Bowl
How to Make Yard House Mac and Cheese
Step 1: Slicing the mushrooms and meats
Before starting cooking, let's prepare the ingredients first. Slice your mushrooms and bacon. After that, dice up chicken breasts.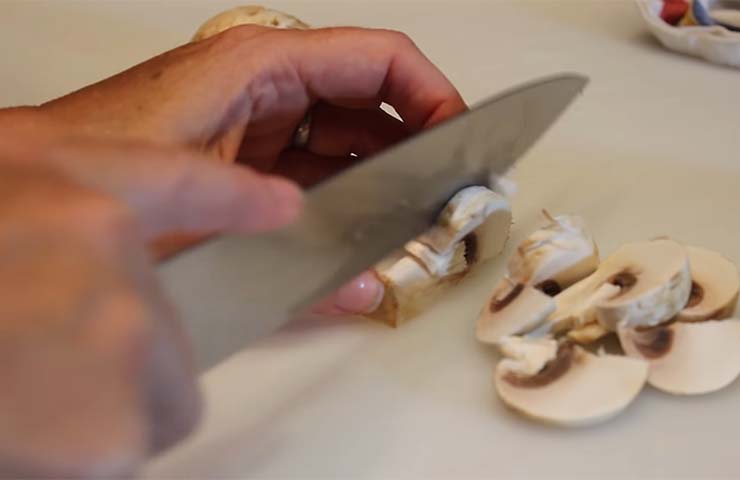 Note: We're going to brown our bacon, but first, we'll start boiling the water for our pasta.
Step 2: Cooking the pasta
Now fill a large pot with water and set it over high heat with a lid cover so that water comes up to a boil quickly. When the water starts boiling, add a little bit of salt into it to season the pasta. While the water boils and your pasta cooks, take advantage of step 3 to get some work done!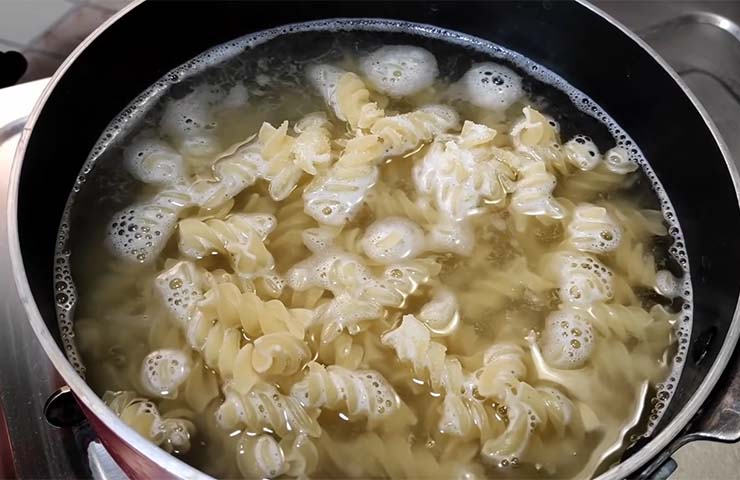 Step 3: Brown the bacon
In this step, brown the bacon. Adding oil to the pan is optional because the bacon will render fat, cook on its own, and grease. When it looks nice and becomes crispy, shift the bacon aside and let it sit in a bowl that has a paper towel.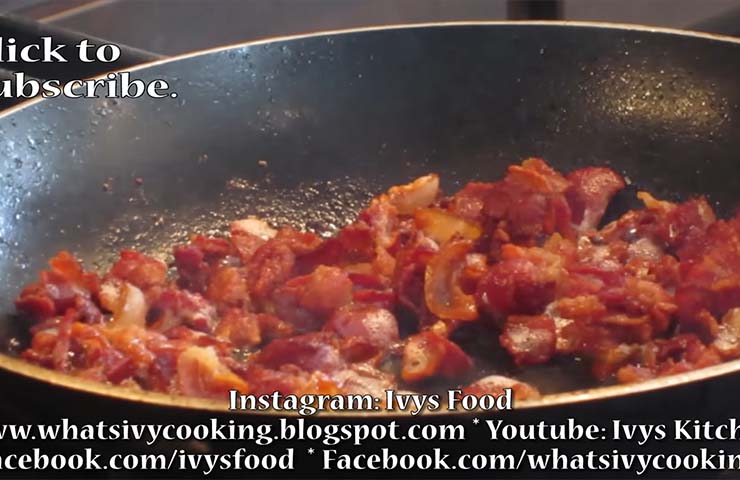 Note: Don't wash the pan; you can reserve some bacon greases for cooking mushrooms and chicken.
During this time, drain the pasta after it has been cooked for 8-10 minutes.
Step 4: Add the mushrooms and cook in bacon fat
Now let's cook the mushrooms in that delicious bacon fat. Add mushrooms to the bacon breeze and season it lightly with salt and pepper. When mushrooms are done cooking, set them aside and put a little bit of the saved bacon grease into the pan.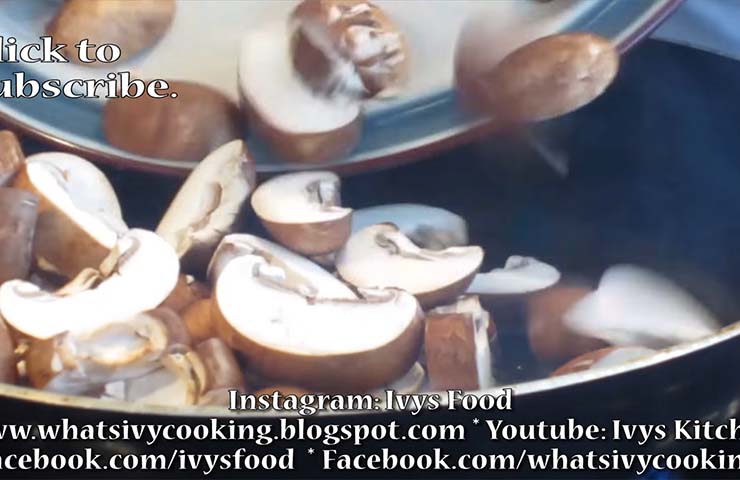 Step 5: Add chicken piece and cook
Then, add the chicken you chopped earlier and start sauteing to enhance the bacon flavor.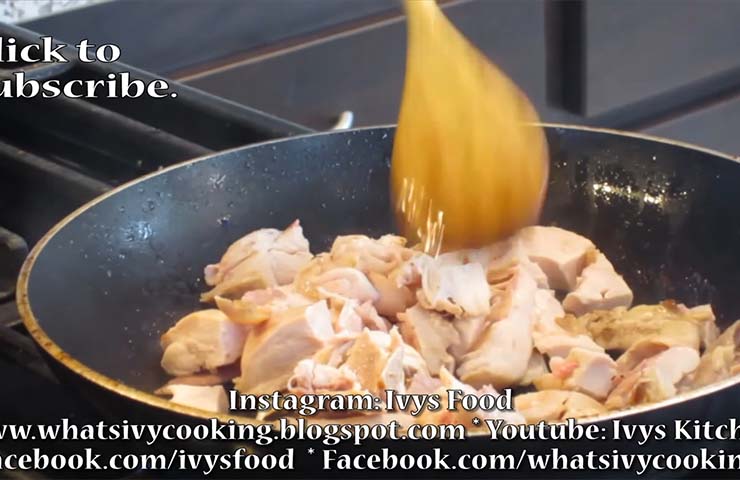 Step 6: Start making the roux
It's time to start making the roux. In a large pan over medium heat, melt four tablespoons of the butter. When adding the flour, mix the milk into the butter until combined. Cook for 1-2 minutes without over-browning.
Step 7: Adding milk, salt, and white pepper
Add the milk, then whisk to mix. Now add a pinch of white pepper and salt, and let that cook until it boils and thickens. Please turn off the heat when it thickens.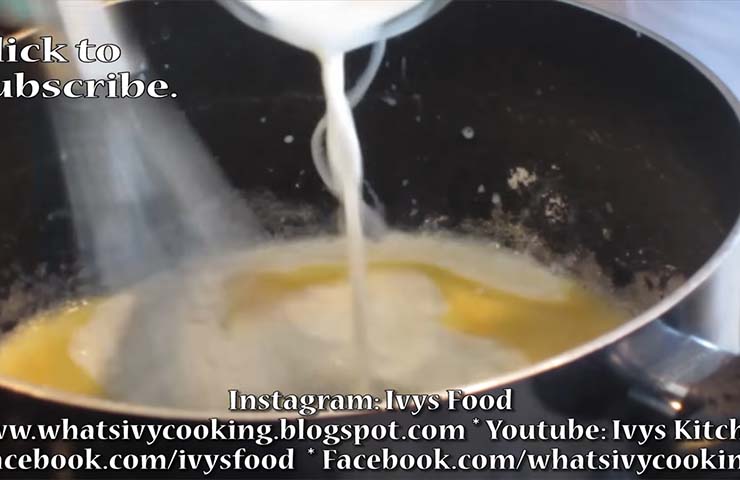 Note: Remember, don't use much salt and pepper because cheese is already salty.
You can now preheat your oven to 350 degrees.
Step 8: Add cheese
Once your sauce is prepared, slowly add cheddar cheese and Monterey Jack cheese while mixing thoroughly.
Now, stir in the Gorgonzola cheese slowly, tasting it as you go. But if you're not a gorgonzola cheese person, you don't need to put much gorgonzola on it.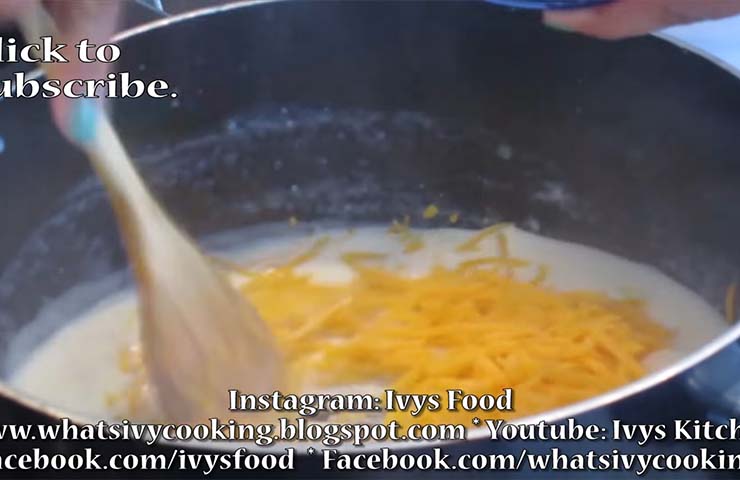 Note: Now check to see if you need extra seasoning, and if so, apply a little bit of salt, freshly ground black pepper, and cayenne pepper to taste immediately.
Step 9: Adding pasta, mushrooms, and meats to the cheese
After that, add pasta to the cheese and mix it. Now gradually include chicken, mushrooms, and some bacon into the mixture. If you want to top your mac and cheese with bacon, save some for later.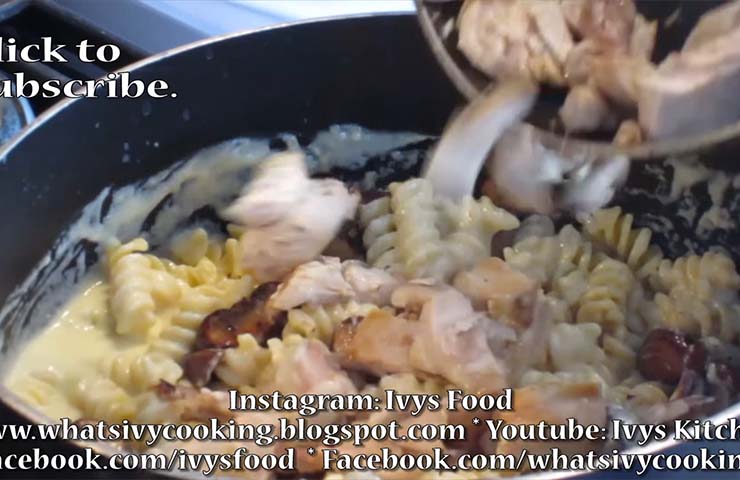 Note: Before adding salt, keep in mind that bacon is already salty, so adding more salt will make the recipe taste bland.
Step 10: Serve the mac n cheese in a large casserole dish
Now It's time to use nonstick frying spray or butter to oil a large casserole dish. Now place the pasta mixture in the dish and attempt to flatten it down to make it as even as possible.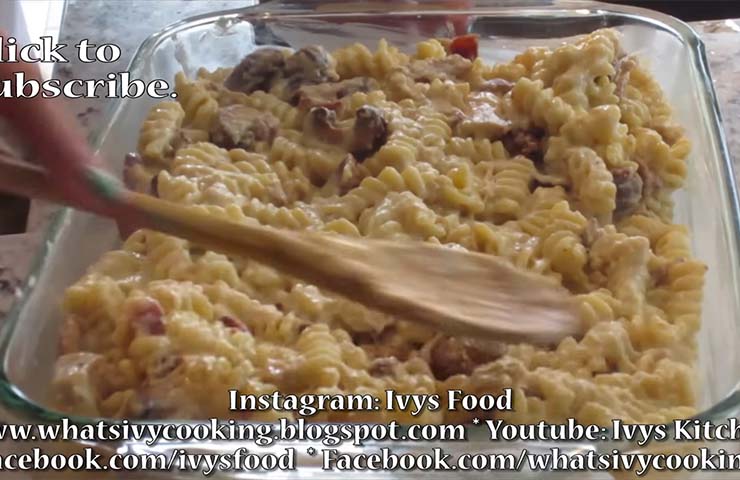 Step 11: Topping
For the crispy topping, spread some panko breadcrumbs to make the texture crunchier and more flavorful. If you don't have any panko breadcrumbs, you can use crackers or store-bought breadcrumbs. Now pour a bit of melted butter on top of the breadcrumbs, giving it a nice brown topping.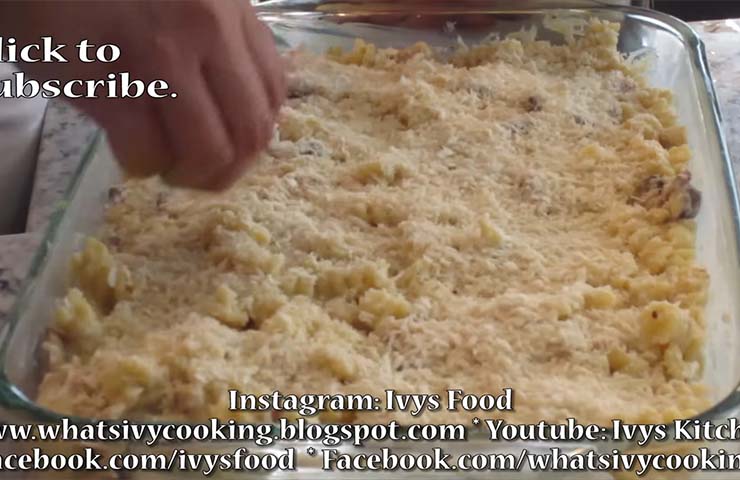 Step 12: Baking Time
Now bake at 350 degrees for an additional 40 minutes while leaving the oven uncovered or until the top has browned.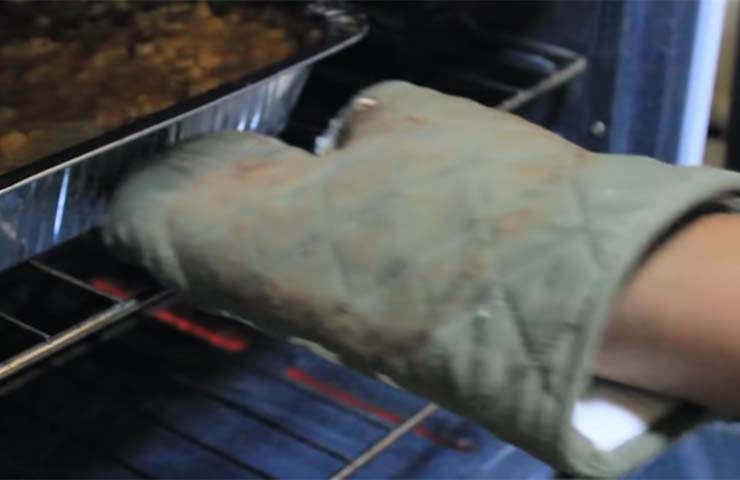 Step 13: Ready to Serve
Let your mac and cheese cool down before you serve it in a bowl, then top it with the crumbled bacon that you had set aside as a garnish and drizzle the truffle oil on top of it.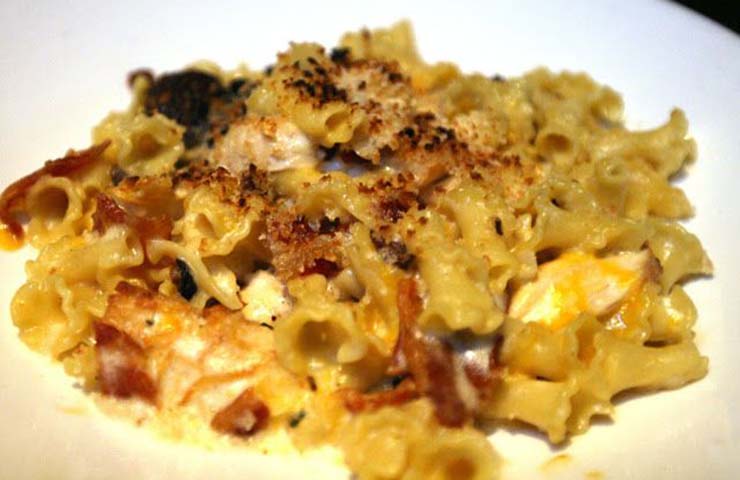 Tips and Tricks
Use freshly made bread crumbs. You'll get a crunchier, tastier texture from them than store-bought breadcrumbs.
You can keep your alternative of expensive truffle oil. Use truffle butter instead of unsalted butter.
You can also omit truffle oil if you don't like it.
If you like your mac and cheese hot, season it with garlic powder, onion powder, oregano, cayenne pepper, paprika, and nutmeg.
If you can't get Gigli pasta, use spiral pasta instead. Gigli pasta is remarkably similar to the Campanelle pasta used at Yard House for this recipe.
Feel free to use any other cheeses in place of the cheeses mentioned above that make this recipe exceptional. Maintain the same number of cups in total.
You can feel the creamy and delicious meal and get extra crunchiness by topping it with bacon!
FAQs
What company's macaroni is the best?
I think Barilla brand pasta is the best of all, and if you want the best flavor from pasta for your recipe, buy that. But If you don't have that, try De Cecco brand pasta.
What milk will be best for mac and cheese?
Whole milk is best for making mac and cheese because it makes the sauce have a smoother texture and taste more delicious.
Which cheese is best for mac and cheese?
It is up to the chef or the person making the dish, but Cheddar cheese and Monterey Jack are the best combinations for any mac and cheese recipe.
Which celebrity chef makes the best mac and cheese?
It's controversial, but I think Alton Brown's Baked Macaroni and Cheese are the best.
Conclusion
The Yard House Mac and Cheese Recipe is a perfect representation of American comfort food. Its delicious blend of creamy cheese sauce, bacon, mushrooms, and truffle oil makes it a truly gourmet dish.
Despite its complex taste, the recipe is relatively simple to make and can be easily prepared in the comfort of your own kitchen. This dish is not only popular in the United States but has also gained a large following in Canada, where it is considered to be a staple in the cuisine.
If you are a fan of mac and cheese and are looking for a new twist on the classic recipe, the Yard House Mac and Cheese is definitely worth a try. 
It's sure to become your new favorite dish, satisfying your taste buds with every bite.