Texas Roadhouse Mango Margarita Recipe brings the drink's authentic taste, a luscious and tropical flavour explosion that will transport you to a sun-kissed beach paradise with every sip. This delectable cocktail combines the sweet and juicy notes of ripe mangoes with a tangy kick of lime juice and the warm, smooth embrace of tequila, resulting in a refreshing and satisfying cocktail that is hard to resist.
The Mango Margarita is a fruity and zesty cocktail that strikes a perfect balance of sour and sweet flavors. It's a perfect choice for anyone who wants to savour a taste of summer all year round, no matter what the weather outside is like.
Whether unwinding after a long day or celebrating a special occasion, the Mango Margarita is an absolute must-try. Enjoy it with a delicious meal at home or sip it on its own—either way, this vibrant and flavorful drink will tantalize your taste buds and lift your spirits.
So, why are you waiting? Enjoy the tropical goodness of Texas Roadhouse's Mango Margarita by following these simple instructions!
Ingredients
1 and ½ oz of Jose Cuervo Silver Tequila
1 oz of Fresh lime juice
1 oz of Mango juice
1 oz of Cointreau
Ice cubes
For Garnish
Pineapple leaves
Orange slice wheels
Tools
Cocktail glass
Cocktail shaker
Jiggers
Cocktail strainer
Wooden hammer (for smashing the ice cubes)
Ice bag
Straw
How to Make Texas Roadhouse Mango Margarita
Step 1: Start with Tequila
First, we will pour 1 and ½ ounces of silver tequila into the shaker. We used Jose Cuervo Silver Tequila in this recipe because it is the same one Texas Roadhouse uses.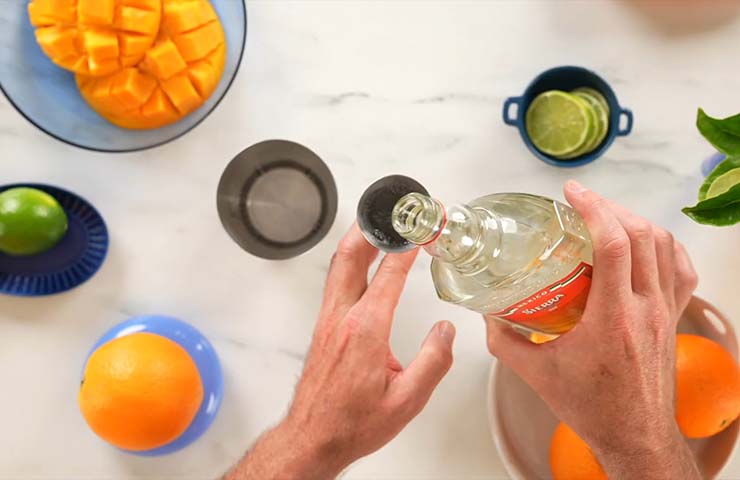 Step 2: Cointreau and Fresh lime juice
Next, we will add 1 oz of Cointreau and 1 oz of fresh lime juice. This margarita is enhanced by the use of fresh lime juice.
Step 3: Add mango juice
Now, as the last ingredient, we will add 1 oz of Mango juice to the shaker.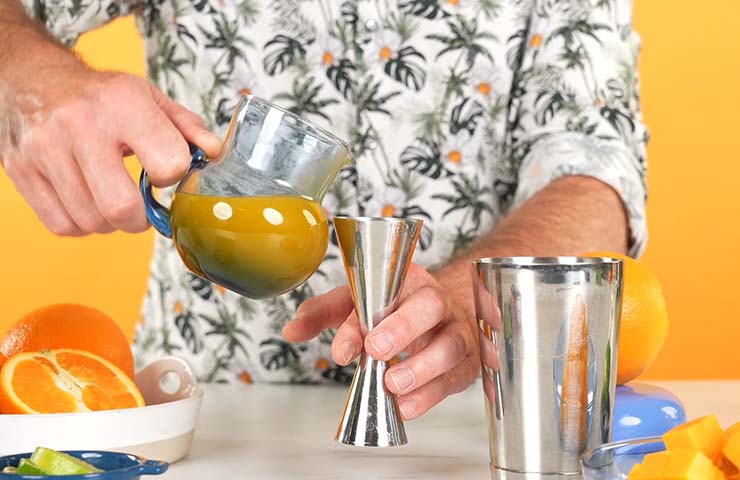 Step 4: Adding crushed ice
Now we will add crushed ice into the shaker, close it, and get ready to shake it.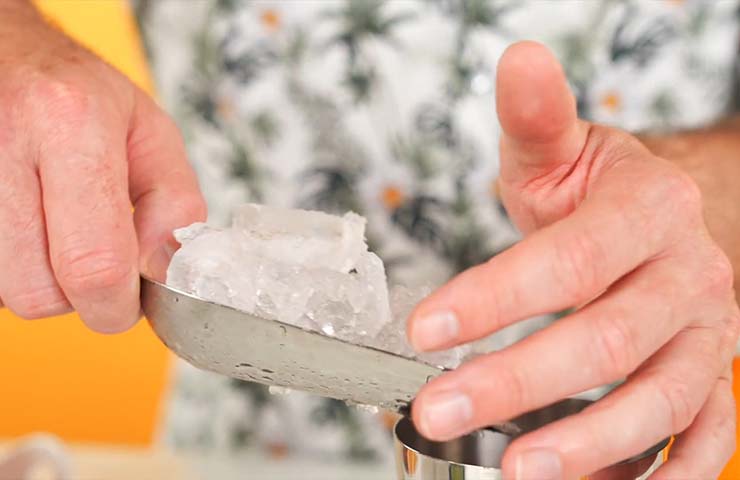 Step 5: Give a good shake
Now we will give it a good shake. To thoroughly combine the ingredients, you should do this for about 15 to 20 seconds.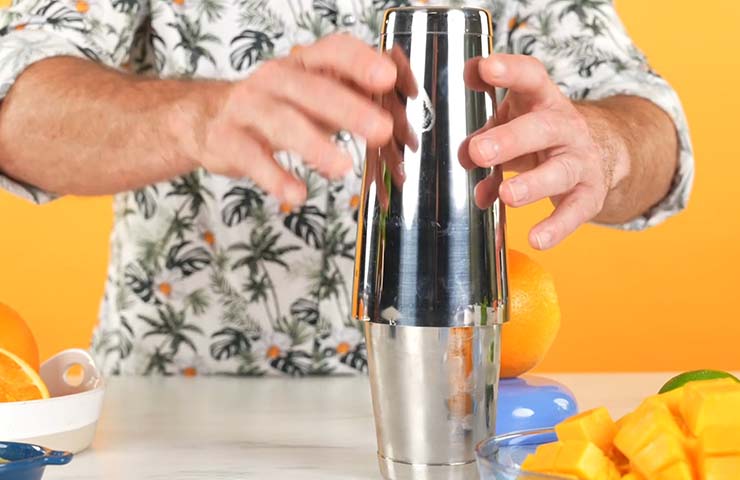 Step 6: Pour and garnish
Pour the cocktail into a glass and top with a garnish before serving and enjoying this amazing mango margarita.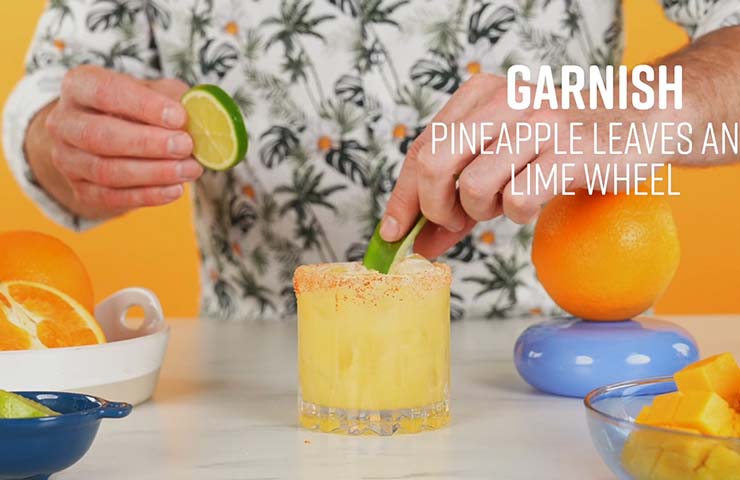 Tips And Tricks
In making our recipe, we have used the Jose Cuervo Silver Tequila, a type of silver tequila, but if you like, you can use any tequila you prefer.
If possible, avoid using bottled lime juice and instead make a margarita with fresh lime juice.
Remember to use the shaker because using the shaker gives an authentic vibe, and the ingredients mix well.
Also, use crushed ice to give the cocktail a better icey flavor.
FAQs
What is in the Texas Roadhouse mango margarita?
They make the mango margarita with simple ingredients: Jose Cuervo Silver Tequila, Fresh lime juice, Mango juice, Cointreau, and Ice cubes.
What other margaritas does Texas Roadhouse have?
Texas Roadhouse has a large selection of margaritas. Here are some of the flavors available: original (lime flavor), strawberry, raspberry, watermelon, hurricane, and sangria.
How much alcohol does Mango Margarita have?
The mango margarita uses tequila as the main ingredient, which typically has 40% ABV or alcohol content, so you will gain 40% overall.
How many calories are in a mango margarita?
If you consume around 8-9 ounces of glass, then you will gain around 240 calories.
What is the most popular flavor of margarita available in Texas Roadhouse?
There are numerous margarita flavors available at Texas Roadhouse, but the Hurricane margarita is the most popular among their large cocktail fans.
What tequila does Texas Roadhouse use?
Texas Roadhouse uses Jose Cuervo Gold tequila, but you can use any tequila brand.
Conclusion
Margaritas are everyone's favourite, and cocktail lovers are always looking for something new to try. If you love Mango and cocktails, this Texas Roadhouse Mango Margarita Recipe is a must-try for everyone.
You are not required to visit the Texas Roadhouse; you can enjoy this amazing drink in just a few minutes and with a small list of ingredients, so try it at home and enjoy.
Last Updated on February 28, 2023 by Eleanor
I love cooking, It makes me feel good knowing that whatever I make is something my family can eat, and it also gives me the chance to get creative with my cooking.
My goal is to help people learn how to cook by showing them how easy it is. If you're new at this, or if you just want some easy recipes in your life, check out my blog!