Want to enjoy some powerpack side dish and looking for a green bean to cook and enjoy with your family and friend on any occasion? The Texas Roadhouse Green Bean Recipe is a perfect side dish to taste and enjoy.
This delicious side dish couldn't be any easier to make! After crisping up some bacon, the green beans are cooked in the bacon fat with onion, garlic, spices, a little touch of seasoning, and chicken broth. And everything goes in one single skillet! These Texas Roadhouse green beans are savory, a little tangy, and a little sweet.
Why Should You Try This Copycat Recipe?
Numerous online recipes attempt to recreate the famous green beans served at Texas Roadhouse. Still, this version of our recipe comes the closest while remaining simple and easy to make so that even someone inexperienced in the kitchen or trying for the first time can cook this perfectly without fail.
Ingredients That You Will Need
Four slices of bacon
Two tablespoons of salted butter
14 oz cans of green beans
One small yellow onion, chopped
Three cloves of garlic, minced
1 cup chicken broth
¾ teaspoon of steak seasoning
Essential Tools
Skillet
Tongs
Wooden spoon
How to Make Texas Road House Green Bean
Step 1: Melting the butter
Firstly add two tablespoons of salted butter to the skillet and let it melt. That way, it will be better to cook the dish.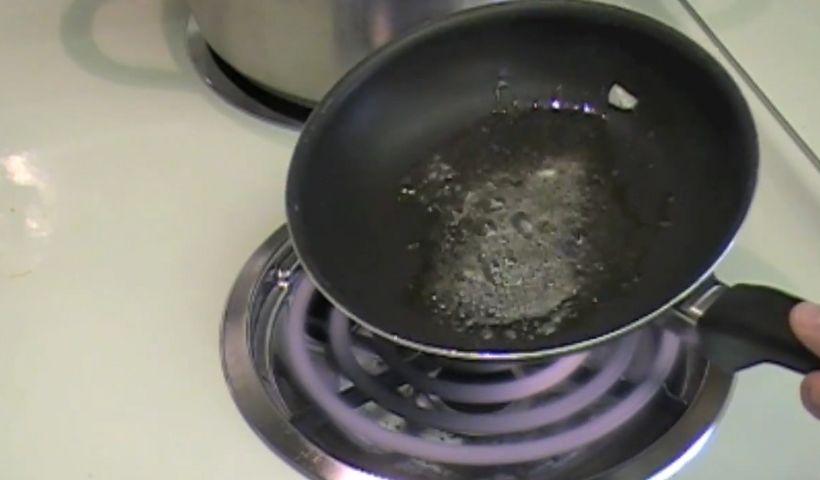 Step 2: Time to add the bacon and cook it
Now it's time to add the bacon to the skillet over medium heat until crisp. When it is perfectly cooked, let it drain on a paper towel. When the oil is soaked and the bacon is cooled down, crumble the bacon into small pieces.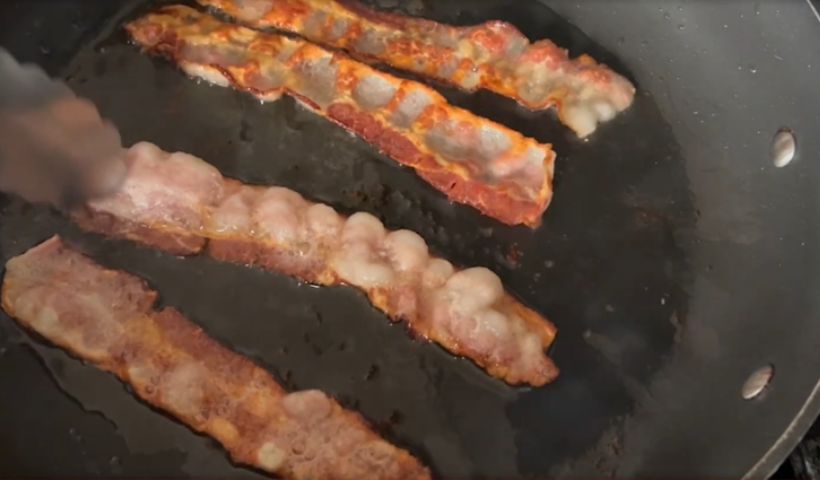 Step 3: Add and cook the onions
In the same skillet, cook the chopped onions and soften for about 4-5 minutes. Afterwards, add the garlic and cook for another 30 seconds.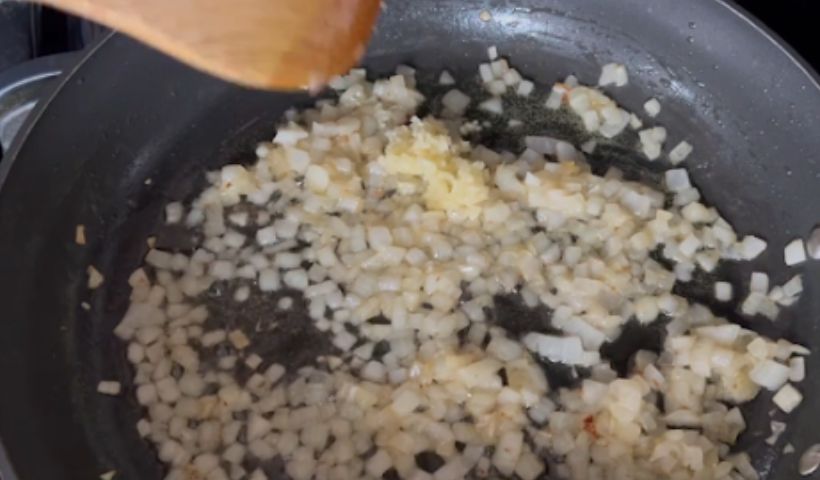 Step 4: Pouring the chicken broth and add the green beans
Carefully pour in the chicken broth, and bring to a simmer for about 10 minutes. Add the drained green beans and steak seasonings and stir.
Turn off the heat, and allow the green means to sit in the liquid for a few minutes to soak up the chicken broth.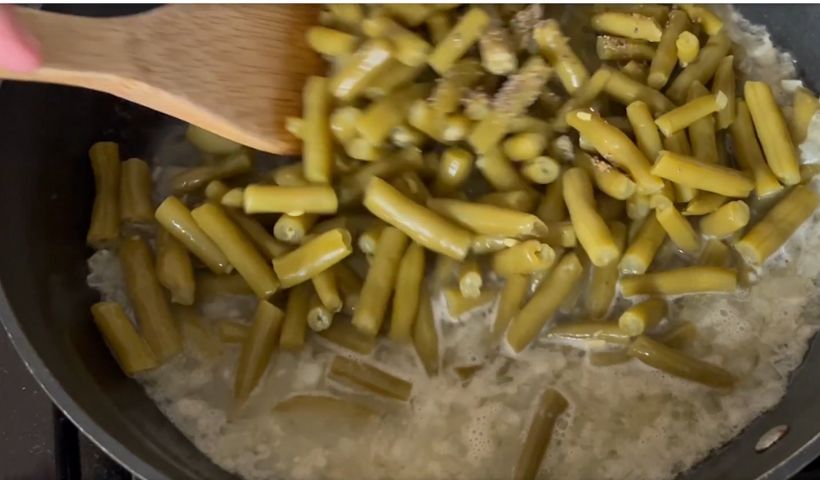 Step 5: Add the crumbled bacon and stir
Now it's time to add the crumbled bacon into the skillet and slowly stir, and you will have a yummy fragrance of this great Texas roadhouse green bean. And it's ready to be served on a plate/ platter, and you can enjoy this with all your family members.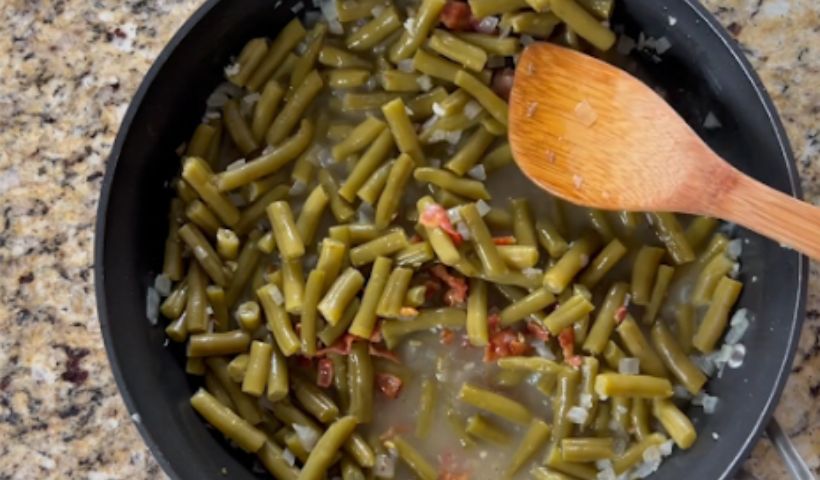 What to serve best with Texas Roadhouse Green beans?
Texas roadhouse green bean recipe is a side dish, so eating it with some main dish is best. So let us recommend a few words to try with our recipe, and here are some of the recommended dishes.
Steak bowl
Honey Wheat Dinner Rolls
BBQ Sticky Wings
Roasted potatoes
Tips And Tricks Part
Fresh Beans: We have used canned green beans in our recipe, but you can also use fresh green beans.
Vinegar: You can add vinegar to the recipe to add extra flavor and taste.
Reheat the dish: Place the green beans in a skillet and cook for 5 minutes or until thoroughly heated. If the beans are dry, mix in 3 tablespoons of water.
FAQs
Are texas roadhouse green beans keto-friendly?
Yes, of course, this recipe is keto-friendly; green beans are a prime example of keto-friendly diet ingredients, and green beans are the main ingredient in Texas Roadhouse Green Bean.
Should you boil green beans before sauteing them?
With this saute method, green beans will become perfectly tender and bright green, and they will be ready to eat in 10 minutes or less.
What are texas style green beans?
Canned green beans are the best way to describe Texas-style green beans, and Texans use canned green beans and their popular style in almost every recipe that includes green beans.
Conclusion
The Texas Roadhouse Green Beans recipe is a tasty and simple side dish. Fresh green beans are cooked in a flavorful garlic butter sauce. This dish goes well with almost any main course and can be served as a side dish at any meal.
If you are a citizen of taxes and you are a lover of green beans, we recommend you try this recipe because we think you won't be disappointed after cooking and trying it for yourself for the first time or being a regular eater. This dish is sure to please your family and friends.
Lindsay G. Cabral is a recipe blogger who specializes in vegan and gluten-free recipes. Lindsay has been blogging since 2012, and her recipes have been featured on popular websites such as Huffington Post, Mind Body Green, and The Kitchn. In addition to her blog, Lindsay is also the author of two cookbooks, Vegan Yum Yum and Vegan Yum Yum for All Occasions. When she's not in the kitchen, Lindsay enjoys spending time with her husband and two young daughters.