The Cajun Ninja Shrimp Fettuccine recipe has recently gained a lot of popularity, and for a good reason: it's incredibly simple to make, and the end result tastes just like what you'd get at a fancy restaurant.
Cajun Ninja Shrimp Fettuccine is one of the best foods to make you feel better about life. It's creamy, cheesy, full of carbs, and has a ton of flavor. This version is especially good because the shrimp adds a lot of flavors and some lean protein. If you avoid the mistakes below, you'll be able to cook this dish like a pro in no time.
This recipe is great for anyone who likes Cajun food or just wants to try something new. It only needs a few simple ingredients and easy-to-follow instructions. Learn how to make it at home so you can save money when you want it. So let us get started.
Ingredients
2 lbs Shrimp
1 Cap of Liquid Shrimp & Crab oil
1 Tablespoon Cajun or Creole Seasoning
1 Teaspoon Garlic Salt
1 Onion
3 Sticks of Celery
1 Bell Pepper
2 Sticks of Salted Butter
4 Cloves of Garlic
2 (12oz) Packs of Fettuccini Noodles
1 Teaspoon of Salt To season the water
1 (10 oz) Can Rotel
1 (10 oz) Can of Cream Chicken Soup
1 (14.5 oz) Chicken Broth
1 Quart of Half & Half
1 (16oz) Block Jalapeño Velveeta
Tools
2 Aluminum Pans or 9×13 dishes
1 large stockpot
1 large pot
Cutting board
Knife
Large mixing bowl
Measuring spoon
Wooden spoon
Heat stove
Oven
How to cook Cajun Ninja Shrimp Fettuccine
Step 1: Heat the pot and boil the water
Start out by heating two large pots on low heat. Make sure one pot is filled more than halfway full of water. Raise the heat on the pot of water, and bring it to a boil.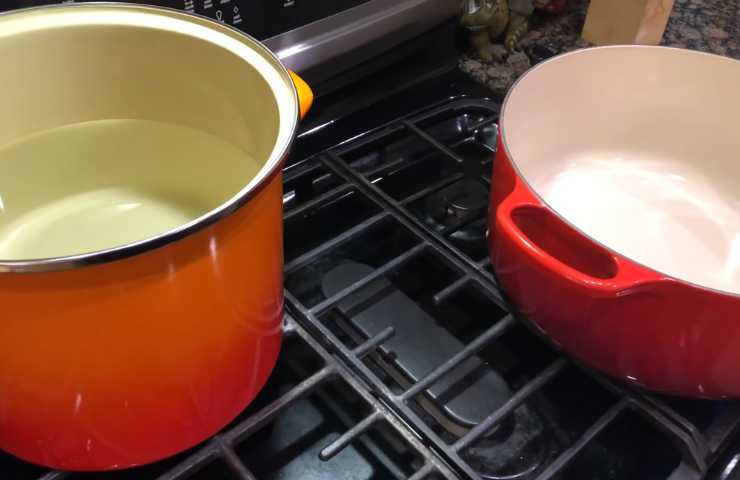 Step 2: Cook the pasta
Meanwhile, when the water begins to boil, add a teaspoon of salt and the pasta to the water. Boil for 10 minutes, then drain. Just leave it aside till needed.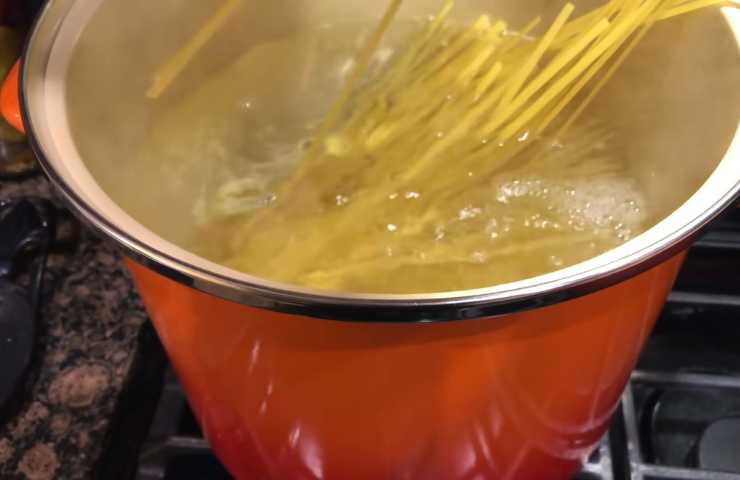 Step 3: Season the shrimps
In a mixing bowl, add two pounds of fresh shrimp that have been peeled and deveined, and then we'll season it by adding 1 Cap or 1 tsp of Liquid Shrimp & Crab oil.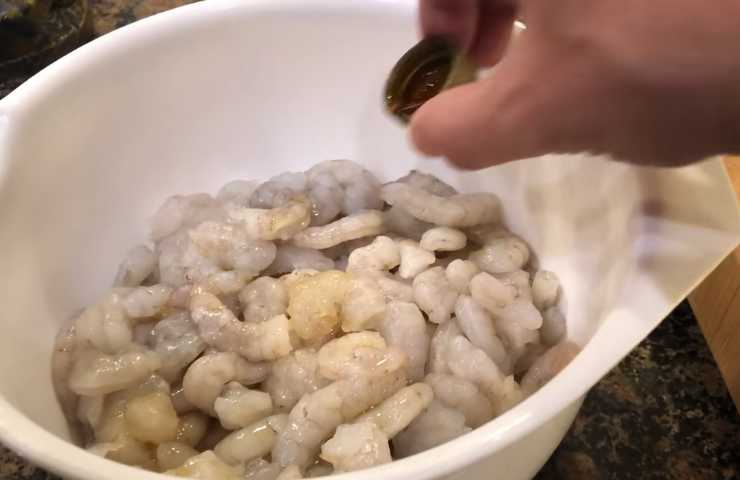 Step 4: Cajun or creole seasoning and garlic salt
Next, add 1 tablespoon of cajun or creole seasoning and 1 teaspoon of garlic salt and mix it with your hands. After that, move the bowl to your fridge.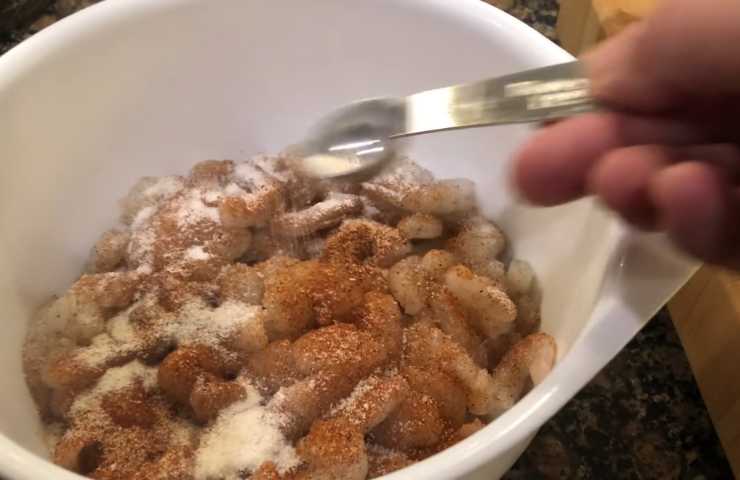 Step 5: Time to chop
On a cutting board, using a sharp knife, chop the onion, celery, and bell pepper. Also, finely chop 4 cloves of garlic and put them aside separately.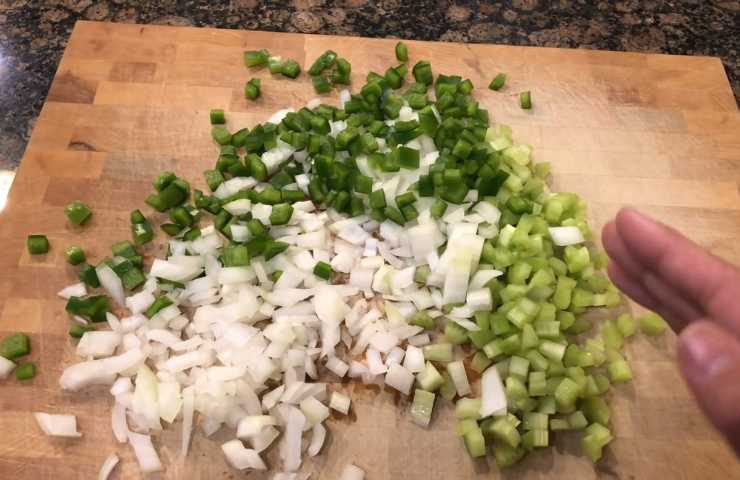 Step 6: Melt the butter
In a large pot, melt 1 and 1/2 sticks of salted butter. Add the onion, celery, and bell pepper when the butter has melted. Turn up the heat to medium and cook for 20 minutes. After that, add the garlic to the pot of vegetables.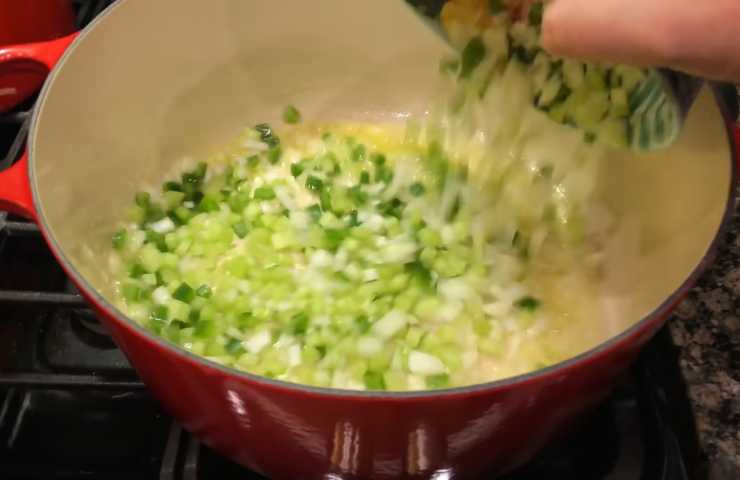 Step 7: Add Rotel tomatoes
After the vegetables have cooked for 20 minutes, add 10 oz can of Rotel tomatoes. Let cook for another 5 minutes.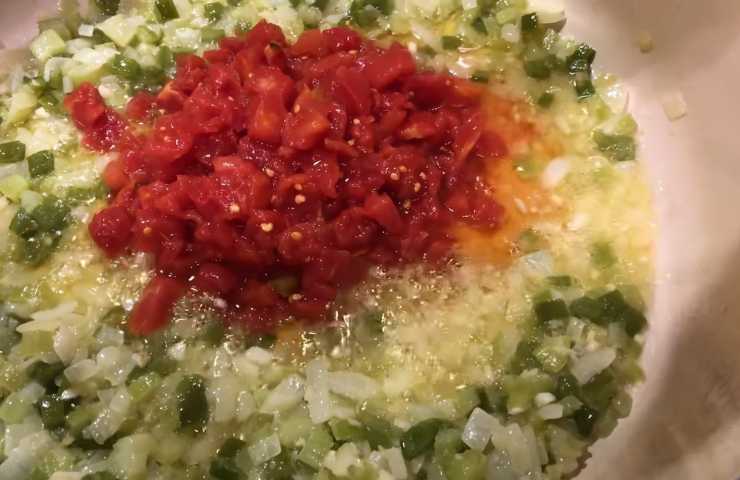 Step 8: Add chicken broth, chicken soup, and half & half
We're going to add a 14.5 ounce can of chicken broth, 10 oz can of cream of chicken soup and 1 quart of Half & Half and then stir nicely with the wooden spoon and mix everything nicely while cooking.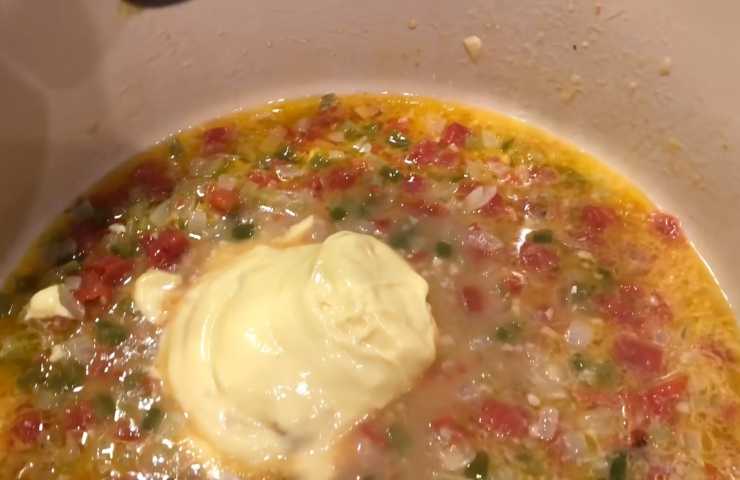 Step 9: Heat a sauté pan
Meanwhile, begin heating a sauté pan on low heat. At the same time, preheat the oven over 350°F. Also, we are going to cut the block of Velveeta into cubes, then add to the pot stirring often.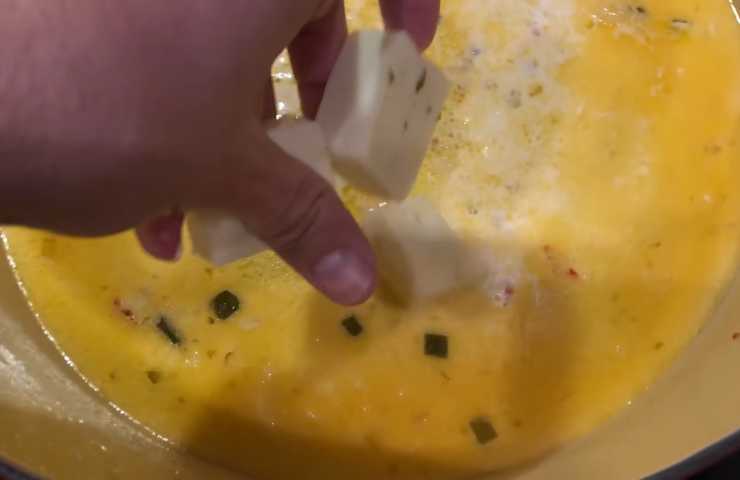 Step 10: Cook the shrimp
Now add the remaining half stick of butter to the sauté pan. When the butter is melted, add the shrimp and cook for three to four minutes.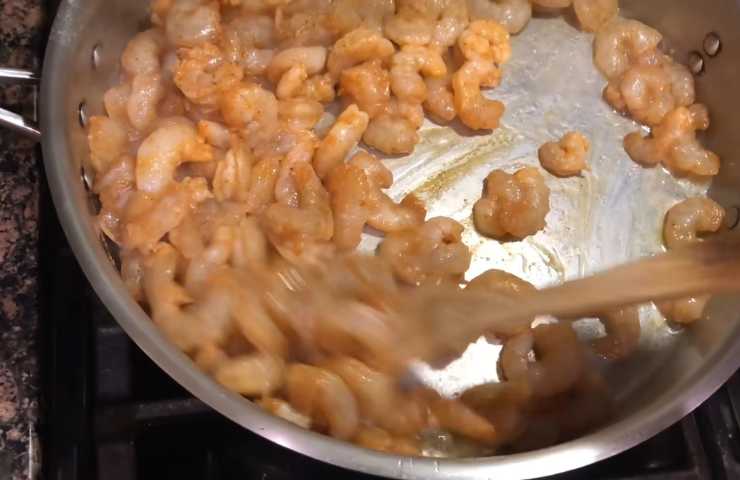 Step 11: Add everything in one pot and Stir
Put the pasta in the stockpot and stir it while you cook the shrimp in the saute pan next to the stockpot.
After the shrimp are done sautéing, add them to the large stockpot pan. Then give it a good stir, and while you're doing that, turn off the stove.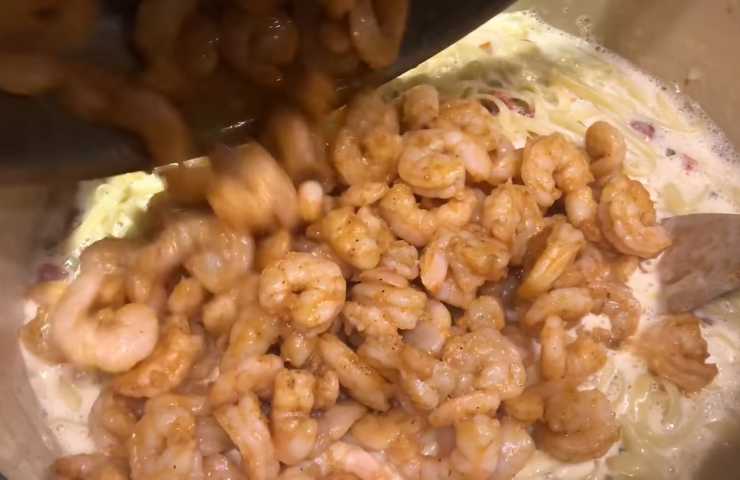 Step 12: Get the oven pans ready
I'm going to pour the same amount of food from this pot into each of these 9-by-13-inch aluminum pans for the oven.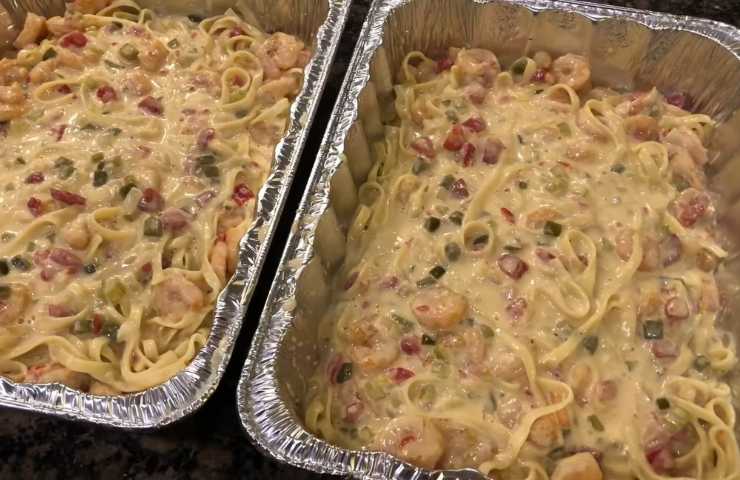 Step 13: Bake And let it chill
Next, bake in a preheated oven at 350 degrees Fahrenheit for 15 to 20 minutes. When it's done baking, Remove the foil with care, set it aside, and let it cool for 5 minutes.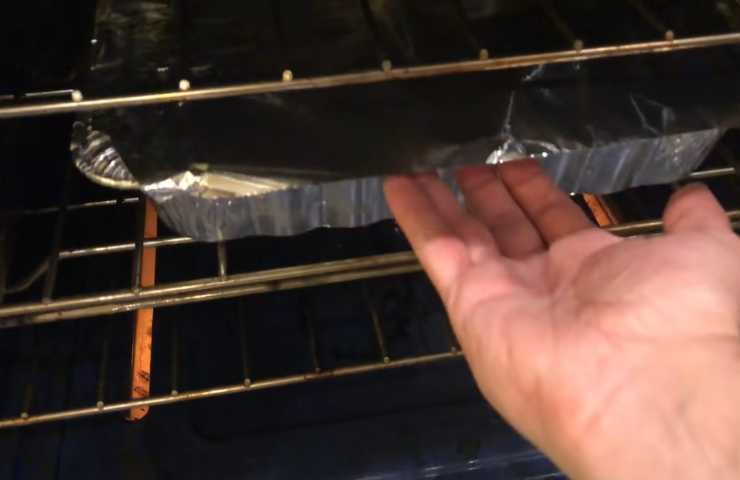 Step 14: Serve
Now pour the shrimp fettuccine on a plate and serve. If you like you can serve it with garlic bread, a side dish, or a salad and enjoy.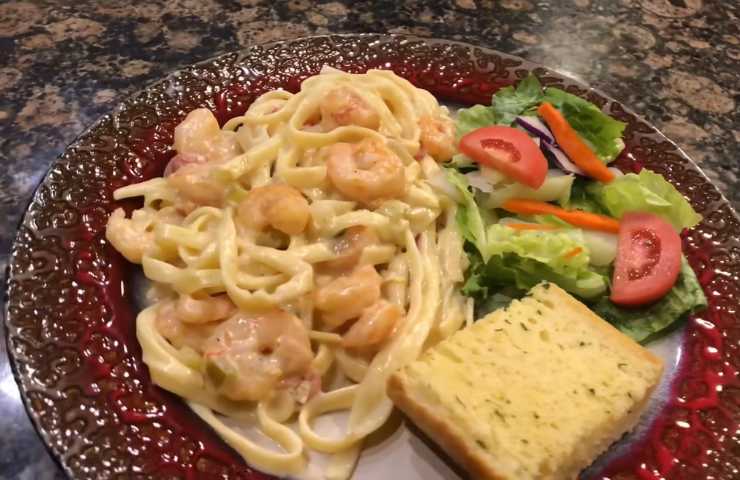 Tips and Tricks
We always recommend that you follow the exact ingredients and the instruction otherwise you will not get the right taste.
You can add more ingredients if you want to bring more variety in the taste, but we suggest you stick to the original recipe to have an authentic taste.
It is always recommended to preheat the oven before you start baking the dish. That way your dish will be properly baked.
FAQs
How do I thicken Shrimp Fettuccine sauce?
You can easily make it thicker. The sauce will get thicker on its own, just let it sit out for a couple of minutes at room temperature before serving.
How do I know when the shrimp is cooked?
Usually when the shrimp texture turns from gray to pink and opaque, consider it is done cooking. Once it done cooking, take it off the heat immediately to avoid overcooking.
Can I add vegetables to Shrimp Fettuccine?
Shrimp fettuccine pairs well with a variety of vegetables. Broccoli, green peas, kale, shallots, and spinach are just a few of the vegetables that pair well with this dish.
What can I serve with Cajun Ninja Shrimp Fettuccine?
Grilled asparagus, garlic bread, fresh vegetable salad, green beans, garlic roasted potatoes, grilled shrimp, and grilled chicken strips are just some of the dishes that can be serve with this main course.
How many calories are in Cajun Ninja Shrimp Fettuccine?
If you eat one serving of Cajun Ninja Shrimp Fettuccine, you will gain around 590 calories.
is this Cajun Ninja Shrimp Fettuccine healthy?
Yes, this Cajun Ninja Shrimp Fettuccine is perfect for any average person because it's both nutritious and tasty.
Conclusion
We are able to say that the Cajun Ninja Shrimp Fettuccine Recipe adds a flavor that is distinct from the regular traditional Fettuccine Alfredo, and it also adds a taste that will never leave you feeling disappointed.
At the same time, this dish is mouth-watering and also very delicious.