There's nothing quite like a big bowl of Cincinnati chili; it's one of those comfort foods that hits the spot. Well, let me tell ya, just the other day, my husband and I stopped into Gold Star for a bowl of their famous chili – and let me tell you, it was every bit as delicious as I remember! As soon as I took a taste, it brought me right back. That signature sweetness and those spices—oooh, it warmed me up real good. My hubby couldn't get enough either; he finished up quick! That meaty chili with a hint of chocolate is just so satisfying. Their secret family recipe has been passed down for generations and has achieved legendary status in the city.
While the exact ingredients are closely guarded, the distinctive flavors of chocolate, spices like cinnamon and allspice, and that signature sweetness set it apart from other chilis. The thin, sauce-like consistency allows it to be served over spaghetti or hot dogs for a true Cincinnati-style chili experience.
After much experimentation in my own kitchen, I've come close to recreating the Gold Star magic. This chili recipe produces a batch just like I remember from all those times my family ordered it for takeout or enjoyed a bowl after the big game. You'll get that unmistakable Gold Star taste with the right balance of ground beef, tomatoes, spices, and chocolate. 
Let's learn how to make Gold Star Cincinnati Chili Recipe!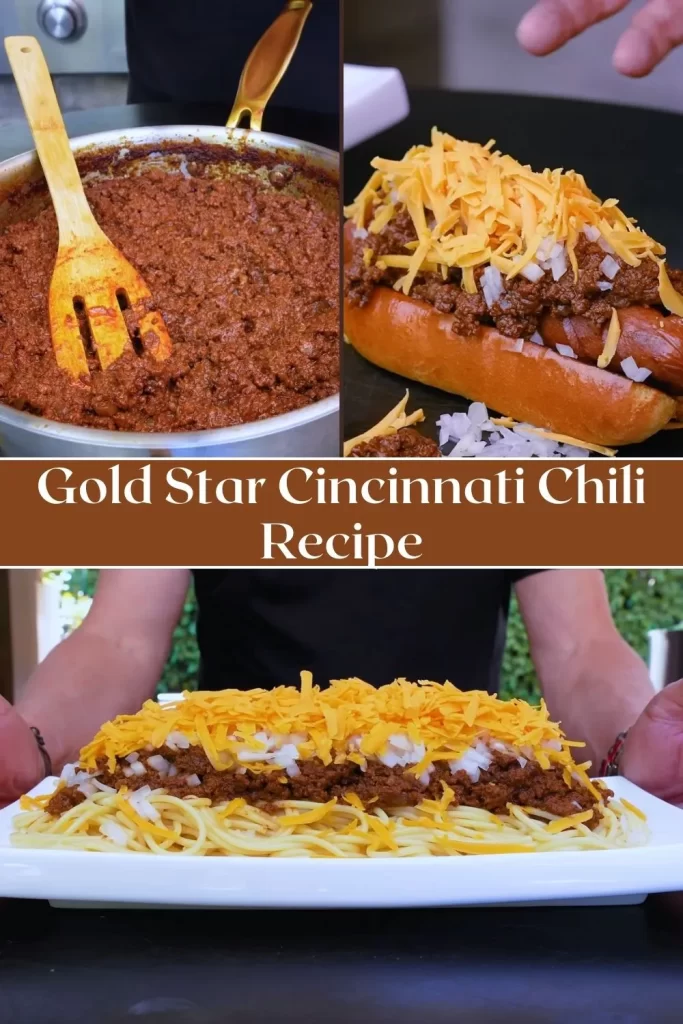 Ingredients
Oil
Diced onions
A clove of Garlic
2 tablespoon Chilli powder
1 tablespoon Oregano
2 teaspoon of cinnamon powder
1 teaspoon allspice powder
2 cup beef broth
An ounce of unsweetened dark chocolate
2 tablespoons of tomato paste
2 tablespoons of apple cider vinegar
1 ½ cups of tomato sauce
1 tablespoon brown sugar
1 tablespoon oyster sauce
2 pounds ground beef
Spaghetti
Cheddar cheese
Tools & Equipments
How to prepare Cincinnati Chili
Step 1: Saute diced onions
Heat the pan and put a little oil. Add diced onions and saute them for 5 minutes.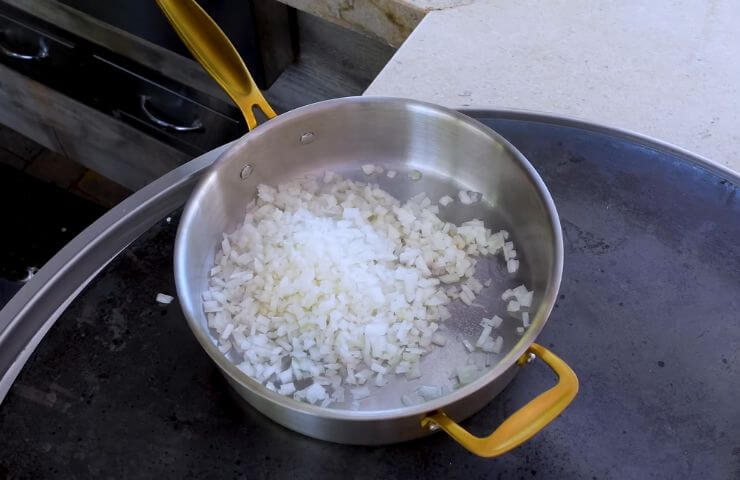 Step 2: Add the spices
When the onion becomes a little brown, add minced garlic, chili powder, oregano, cinnamon powder, all spice powder and stir for a while.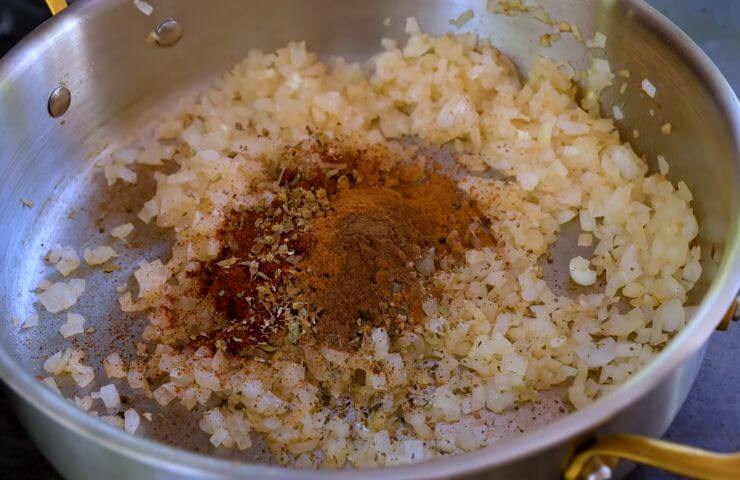 Step 3: Add beef broth and other ingredients
After toasting the spices, add beef broth, dark chocolate, tomato paste, apple cider vinegar, tomato sauce, brown sugar, and oyster sauce, and mix all the ingredients well for some minutes.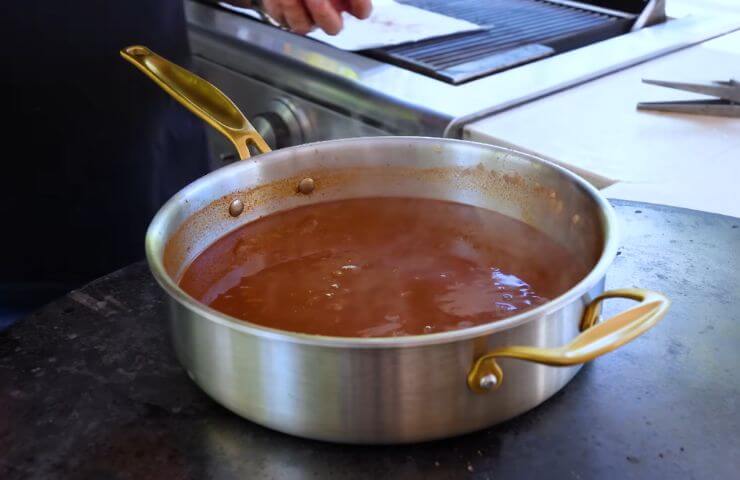 Step 4: Add ground beef
Now add ground beef to the pan and bring it to a boil.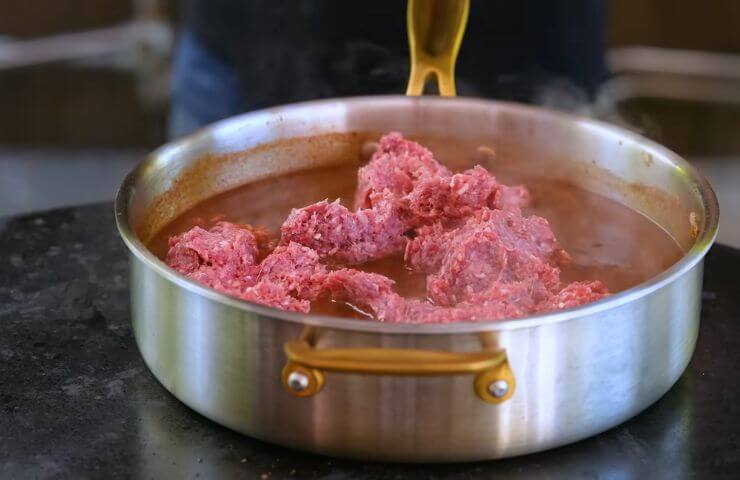 Step 5: Simmer the beef
For 35 minutes, simmer the beef uncovered.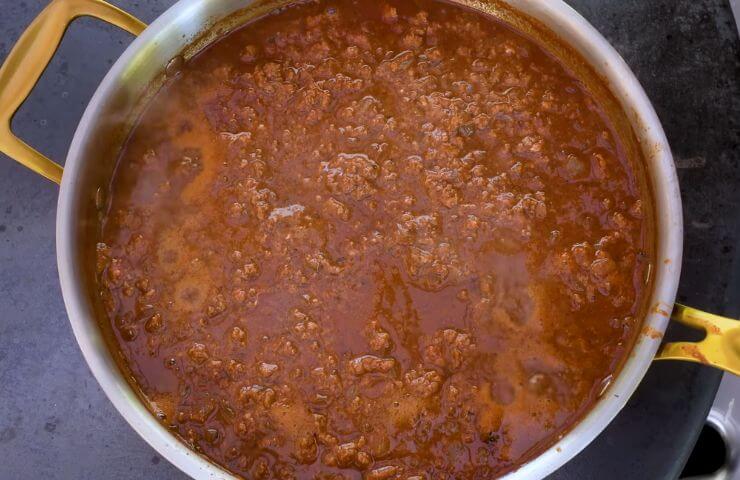 Step 6: Ready to serve
Put some spaghetti in a serving dish, then place the beef on top of it. Serve it with diced onions and cheddar cheese. We can also have it with a toasted bun, sausage and loads of chili.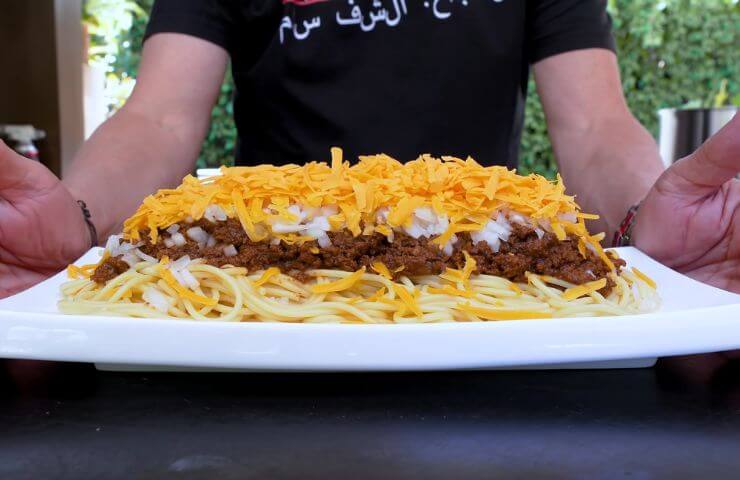 Recipe Note's
Cook the ground beef well until it is browned to eliminate any raw taste.
Add unsweetened dark chocolate for richness and depth of flavor. Use high-quality chocolate for the best results.
Tomato sauce and paste provide the right consistency. Play with amounts to get a thin, sauce-like texture.
Apple cider vinegar brightens up the chili. Add to taste.
Use beef broth as the cooking liquid for a fuller, more meaty taste. You can use chicken broth instead.
A touch of brown sugar balances acidity and enhances overall flavor.
Simmer uncovered for 30-45 minutes, allowing flavors to develop and meld.
Make extra to freeze for quick meals. Leftovers also taste great.
Adjust spices to make it mild or extra spicy based on preference.
Play with meats like turkey, veal, lamb, or veggie crumbles instead of beef.
Serving Suggestions for Cincinnati Chili
Cincinnati chili is a versatile and delicious dish that can be enjoyed in various ways. Here are some serving suggestions to help you savor this unique American classic:
Classic Three-Way:
Serve Cincinnati chili over a bed of cooked spaghetti. Top it generously with shredded cheddar cheese. Garnish with finely diced onions for added crunch and flavor. This classic combination is known as a "Three-Way" and is the most iconic way to enjoy Cincinnati chili.
Four-Way Options:
Try different "Four-Way" variations of Cincinnati chili to make it even better:
Bean: Add a layer of kidney beans on top of the spaghetti before adding chili, cheese, and onions.
Onion: Double up on the onions by using both diced raw onions and finely chopped green onions or scallions.
Garlic: Add minced garlic to the chili while it simmers for a garlicky twist.
Red Hot: Spice things up by drizzling hot sauce or chili flakes over the top.
Cincinnati Chili Dogs:
Cincinnati chili makes a fantastic topping for hot dogs. Place a grilled or boiled hot dog in a bun. Smother it with a generous portion of chili. Add shredded cheddar cheese and diced onions. Optionally, sprinkle with a pinch of oyster crackers for extra texture.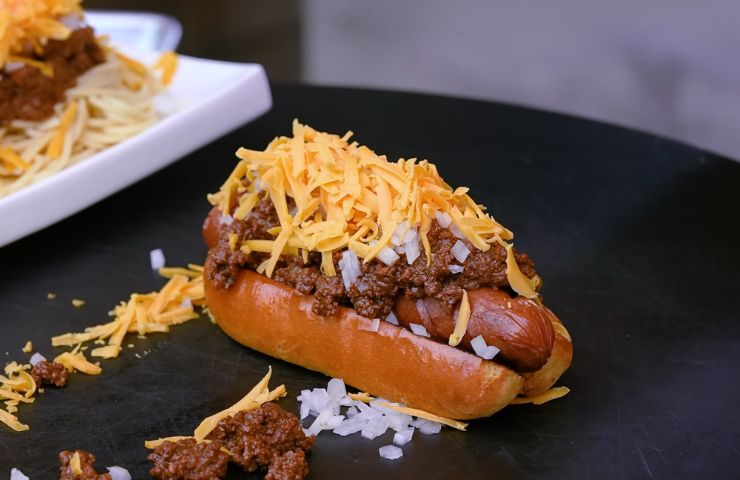 Chili Spaghetti Bake:
Turn Cincinnati chili into a casserole by mixing cooked spaghetti with the chili. Spread it in a baking dish, top with cheese, and bake until bubbly. This creates a hearty and comforting chili spaghetti bake.
Storage and Reheating Process
Here are some tips for storing and reheating Cincinnati chili:
Storage:
Refrigeration: Allow the Cincinnati chili to cool to room temperature before refrigerating it. Place it in an airtight container or a sealable plastic bag to prevent odors from affecting it.
Freezing: Cincinnati chili can also be frozen for longer-term storage. Again, let it cool completely before transferring it to an airtight container or freezer-safe bag. To avoid freezer burn, get rid of as much air as you can.
Portioning: Consider dividing the chili into smaller portions before storing it. This way, you can thaw and reheat only what you need, reducing waste.
Labeling: Always label the container with the date when the chili was prepared to help you keep track of its freshness.
Reheating:
From the Refrigerator: To reheat Cincinnati chili from the refrigerator, you can use the stovetop or the microwave:
Stovetop: While the chili is heating up, put it in a saucepan and stir it around a few times over low to medium heat.
Microwave: Put the chili in a container that can go in the microwave. Heat it for 30 seconds at a time, stirring each time, until it's hot.
From the Freezer: When reheating from the freezer, it's best to thaw the chili first. You can do this by transferring it to the refrigerator and letting it thaw overnight. Once thawed, you can use the same methods as reheating from the refrigerator.
Add Liquid: If the chili seems thicker after reheating, you can add a little beef broth, water, or tomato sauce to reach your desired consistency.
Taste and Adjust: Taste the reheated chili and adjust the seasoning as needed. You might want to add a pinch of salt or more spices to enhance the flavor.
FAQs
Does Gold Star put chocolate in their chili?
It is believed Gold Star uses a small amount of unsweetened chocolate in their recipe to add a subtle depth of flavor and richness. The chocolate complements the blend of spices.
What kind of cheese does Gold Star Chili use?
Gold Star uses finely shredded cheddar cheese as one of the standard toppings for their chili dishes. Typically a mild or medium cheddar.
Are Gold Star and Skyline Chili the same?
Gold Star and Skyline are two distinct Cincinnati chili restaurant chains with their own recipes and loyal followings. They are competitors within the Cincinnati-style chili tradition.
What's the difference between Gold Star and Skyline Chili?
The main differences between Gold Star and Skyline are that Gold Star's chili is a bit thinner and smoother, while Skyline's is thicker. Gold Star is also considered to be more savory and less sweet than Skyline.
Should I cook chili with the lid on or off?
It's generally recommended to cook chili uncovered, especially for the initial simmering stage. This allows moisture to reduce and concentrate flavors. Covering towards the end can help flavors meld.
Conclusion
Cincinnati chili stands in a class of its own with its rich, meaty flavor and unique blend of spices, chocolate, tomatoes and vinegar. This recipe captures the essence of Gold Star's legendary chili, balancing the savoriness of ground beef with an array of aromatics and just a touch of sweetness. This makes a thin chili sauce that can be put on top of hot dogs or spaghetti and topped with cheese and onions for a real Cincinnati-style meal that is full of warmth and flavor. Though Gold Star's exact proportions are secret, this homemade version comes remarkably close to embodying the distinctive chocolatey, cinnamon-kissed flavors that define this Queen City specialty.
For a true taste of Cincinnati chili tradition, look no further than this Gold Star Cincinnati Chili Recipe that delivers on the meaty, spicy, nuanced flavors locals have loved for generations.