People who love or know a little about Mexican cuisine have most certainly experienced or heard of King Taco's outstanding Carne Asada, and you also know that the quality of the meat is the key to a fantastic mouth-watering superb taco.
People are going insane trying to find the original recipe because the Carne Asada recipe is a nearly guarded secret of King Taco; if you want to bring the restaurant quality at home, don't worry today, we are bringing you by far the exact copycat King Taco Carne Asada Recipe that you can make with ease, and the end result will be a yummy carne asada.
What is King Taco Carne Asada?
King Taco is a fast food restaurant franchise based in Los Angeles, California, that serves Mexican-inspired cuisine such as soft tacos, burritos, soups, tamales, nachos, and rotisserie chicken. So far, they're most well-known for their Taco filling with Carne Asada.
Their Carne Asada recipe is a fan favorite and has been a staple on their menu since they first opened. It starts with premium quality beef, marinated with a secret blend of spices and seasonings to infuse the meat with bold and savory flavors.
Carne Asada is also available as a burrito or as a main course paired with rice and beans. It is a traditional Mexican cuisine that people all around the world appreciate.
Ingredients
2 lb Flap meat, beef
2 cups of Mojo Criollo, Spanish sauce
1 tbsp of vegetable oil
1 tsp of salt
4 limes
Oil for cooking
Tools
Cutting board
Knife
Measuring cup
Measuring spoon
Skillet
Tong
Serving bowl or plate
Carne Asada Dish Ingredient Details
Flap meat: Flap meat is a beef steak made from the bottom sirloin's muscle. It is often thin, fibrous, and chewy, and it's used in this dish to extract the most flavor and taste from it.
Mojo Criollo sauce: Mojo marinade is a Cuban citrusy, garlicky marinade with a tangy, somewhat sour flavor that is used to marinate.
Vegetable oil: Vegetable oils are commonly used in cooking, but we utilized them here to marinade the beef steak.
Salt: Here, we have used salt to bring the best flavor out of the beef meat while marinating it.
Lime: We used exactly four limes in this recipe, which helps a lot to perfectly marinate the beef steak and prepare Carne Asada.
Cooking oil: Of course, oil is required for cooking, and we utilized vegetable oil to cook the marinated beef meat pieces and create the same restaurant-quality Carne Asada.
How to cook King Taco Carne Asada
Step One: Cut the meat
First, chop the meat into little bite-sized square pieces and place them all in a plastic bag.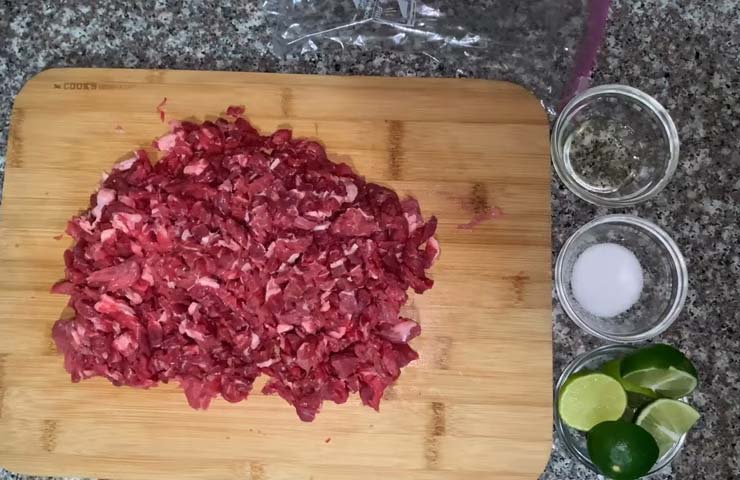 Step Two: Add sauce, oil, and lime juice
Next, pour 2 cups of Mojo Criollo sauce and squeeze 4 lime juice, 1 tsp of salt, and 1 tbsp of vegetable oil into the same plastic bag.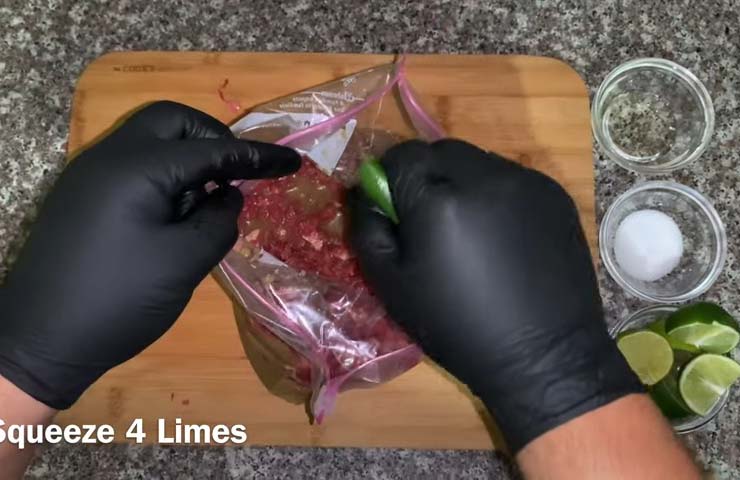 Step Three: Time to marinate
Now zip the plastic bag, shake it, mix all the ingredients nicely, and put the bag in the fridge to marinate overnight.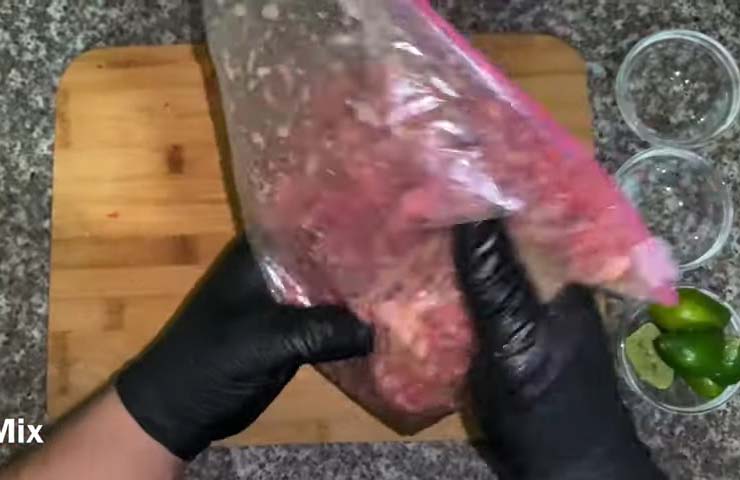 Step Four: Heat the skillet and cook vegetable
After marinating the meat overnight in the fridge, remove it and heat some vegetable oil in a skillet over medium heat before cooking the meat.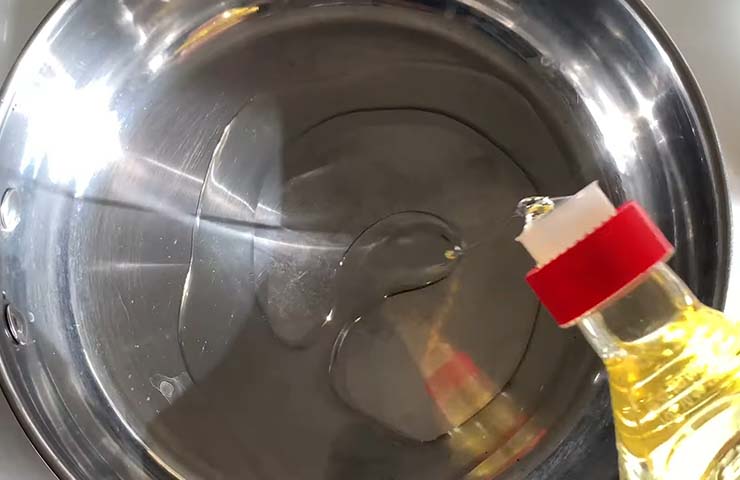 Step Five: Cook the meat well
It's time to put all of the marinated meat in the skillet and, using a tong, flip the meats to cook evenly for 12 minutes or more.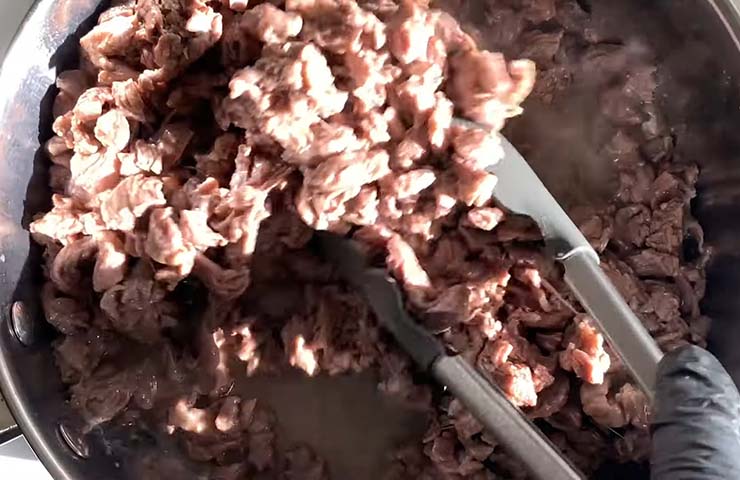 Step Six: Final touch and serve
When the meat is done cooking, steam or smoke will rise. Place the cooked meat in a bowl. And now it's time to serve and enjoy the delicious supper.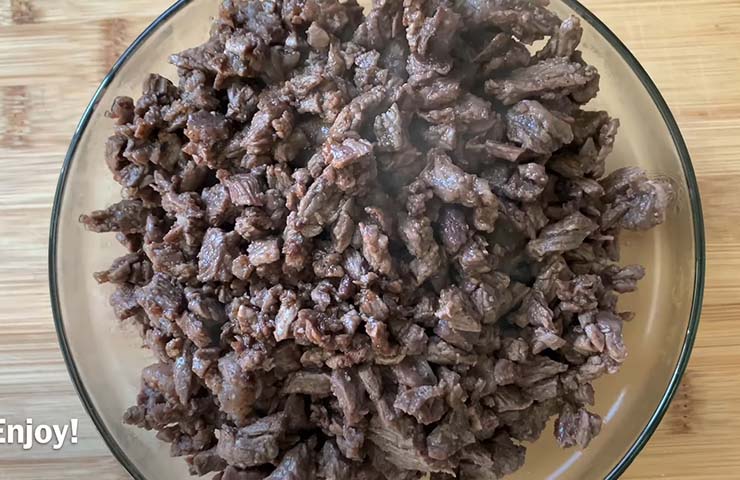 Tips and Tricks
Always remember to marinate the beef flesh for at least 6 hours before proceeding to the next step, although we recommend marinating the beef overnight for extra juiciness and flavor.
If you like, you can use olive oil instead of vegetable oil when cooking and marinating.
If you want, you can use another marinate sauce brand you prefer instead of Mojo Criollo sauce.
We recommend that you consume this dish while it is still hot to get the full flavor and taste that a carne asada can provide.
What goes great with King Taco Carne Asada?
Homemade Corn Tortilla Chips: A tortilla chip is a snack item prepared from corn tortillas that are sliced into triangles and then fried or baked. When you use carne asada as the filling, you will forget to eat any other meals after you try it once.
Taco Wraps: The simplest and finest method to enjoy carne asada is with taco wraps or just a taco with a carne asada filling, It's a simple yet delicious method that truly brings out the flavors of the meat.
Mexican rice: Mexican rice, also known as arroz rojo or arroz a la mexicana in Spanish, is a Mexican side dish made from onion, tomato, garlic, rice, and maybe other ingredients. This rice pairs well with King Taco's Carne Asada. We recommend that you try this at least once with Mexican rice because rice always boosts the flavor of meat dishes.
Esquites: It is a Mexican cuisine that is a type of salad that works very well with Carne Asada. So try this if you love salad and meat altogether.
Guacamole: Guacamole is another healthy avocado-based dip, spread, or salad popular in Mexico that goes well with carne asada. It is also used in most modern Mexican cuisine.
Store and Reheat Process
Store: To store the King Taco carne asada, place it in an airtight container and place it in the fridge. That way, keep it in the fridge for up to 4 days, but we recommend you use it within 4 days for the greatest flavor.
Reheat: It's possible to reheat the carne asada in a skillet over medium-high heat. Simply heat the pan with a small quantity of oil and cook the meat for a few minutes.
You may also microwave the dish for 30-40 seconds in the microwave.
FAQs
What cut of meat for carne asada tacos?
We recommend that you buy flap beef meat and cut it into little square pieces so that it will marinate well and also help you cook faster and generate a tasty carne asada for your taco filling.
How long should you marinate the meat or King Taco Carne Asada?
We recommend letting the meat marinate overnight or for 12 hours for a superb marinate, and if you are in a rush, allow at least 6 hours to marinate the raw meat in the spice mixture.
How much meat do you need for carne asada?
It depends on the occasion and how many people you will serve; for our recipe, we used 2 lb of beef meat, and it will feed 8 to 10 people at maximum; if you want to serve more people, double the amount of meat in the recipe proportions and also the ingredients.
How many calories are in King Taco Carne Asada?
It depends on how much you eat, but as per serving, you will gain around 187 calories, and with 1 lb of King Taco Carne Asada, you will gain around 430 calories.
Is King Taco only in California?
No, King Taco has grown into the Inland Empire, with locations in Ontario and Fontana, California.
Final Words
Any taco fan will not pass up the opportunity to try an incredible King Taco Carne Asada Recipe to duplicate at home with a little time to cook, so we recommend you try it.
You can replicate the taste and experience of King Taco's Carne Asada in your own home with a little effort and attention to detail.
Lindsay G. Cabral is a recipe blogger who specializes in vegan and gluten-free recipes. Lindsay has been blogging since 2012, and her recipes have been featured on popular websites such as Huffington Post, Mind Body Green, and The Kitchn. In addition to her blog, Lindsay is also the author of two cookbooks, Vegan Yum Yum and Vegan Yum Yum for All Occasions. When she's not in the kitchen, Lindsay enjoys spending time with her husband and two young daughters.