House of Prime Rib remains to have a special place in my heart; their prime rib is simply irresistible. However, you should know that the meat is served with a fantastic salad. I really enjoy the variety of tastes and textures in their salad and find it to be quite filling.
House of Prime Rib's signature salad is a refreshing blend of crispy croutons, tangy lettuce, and juicy grape tomatoes doused in the restaurant's signature creamy dressing.
You may be filled with joy the moment you recreate this amazing salad at home, which is the same as the restaurant quality. So we will help you to recreate this amazing House of Prime Rib Salad Recipe.
No need to fly to San Francisco just to enjoy this tasty salad; all you need are a few inexpensive ingredients and a few minutes of your time. Let's get right down to business and learn how to make the House of Prime Rib's famous salad.
Ingredients
For dressing
6 tbsp of apple cider vinegar
6 tbsp of water
4 tbsp of Worcestershire sauce
1 tbsp of dry sherry
4 tbsp of apple sauce
1 tbsp of seasoning salt
2 tsp of sugar
1 tsp of paprika
½ tsp of garlic powder
A pinch of parsley flakes
4 drops of Tabasco
1 cup of vegetable oil
Vegetables and dry items for the salad
8 oz of romaine lettuce
2 oz of iceberg lettuce
2 oz of spinach
4 oz of beets
4 oz of hard-boiled egg
Grape tomatoes, chopped
Some croutons, sourdough croutons
Tools
Measuring spoons
Mixing machine or blender or food processor
Jar or a bottle to serve or store
2 large spoon to toss the ingredients
1 large mixing bowl
Serving plate
How To Prepare House Of Prime Rib Salad
Step 1: Start with Vinegar, water, and Worcestershire sauce
Start by putting 6 tablespoons of apple cider vinegar, 6 tablespoons of water, and 4 tablespoons of Worcestershire sauce into a mixer.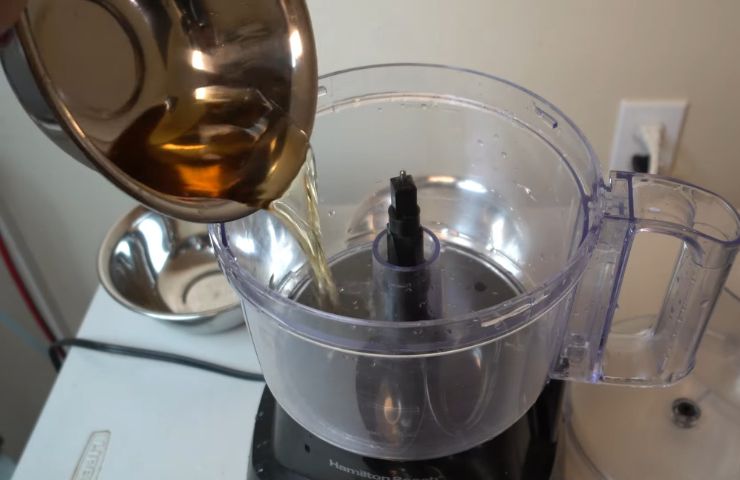 Step 2: Add dry sherry and apple sauce
Now, add 1 tablespoon of dry sherry and 4 tablespoons of apple sauce to the mixer. These ingredients make the dressing more distinct and provide a more accurate taste, like from the House of Prime Rib.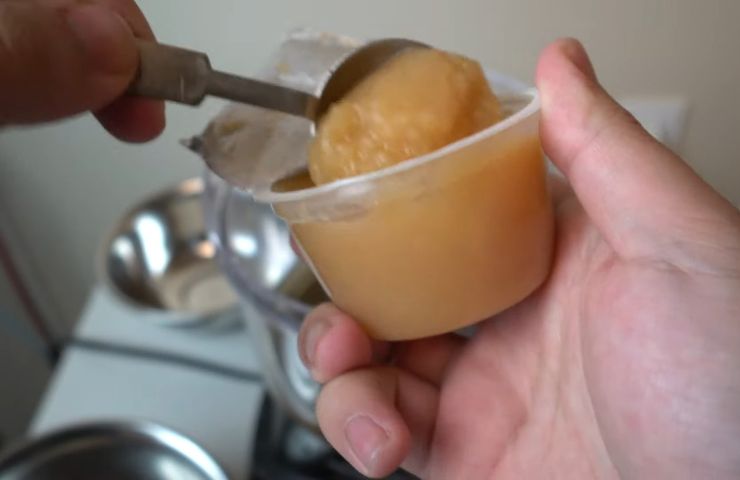 Step 3: Continue with salt, sugar, paprika, and garlic powder
Next, we will add 1 tbsp of seasoning salt, 2 tsp of sugar, 1 tsp of paprika, and ½ tsp of garlic powder into the mixer.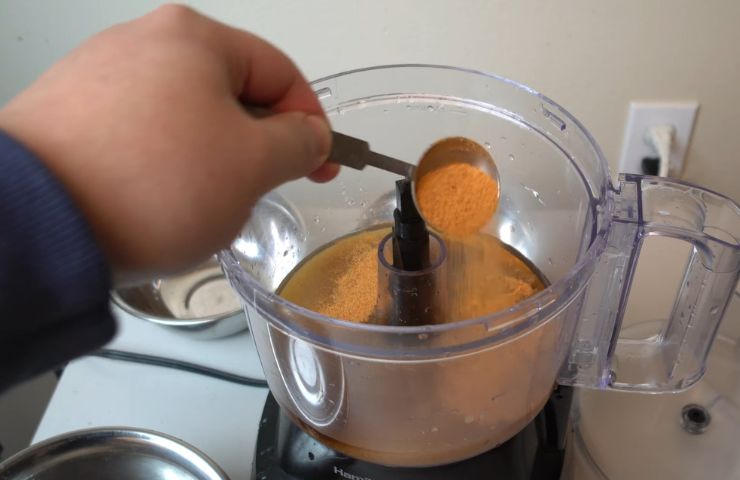 Step 4: Add parsley flakes, Tabasco, and oil
In this step, we'll add a pinch of parsley flakes, 4 drops of Tabasco, 1 cup of vegetable oil and start mixing with the mixing machine.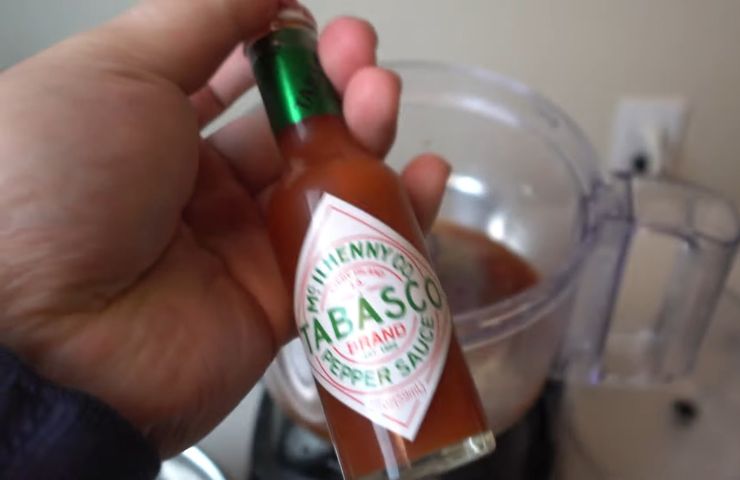 Step 5: Start the mixer
Let the mixer do its thing for two to three minutes. When you can see that the dressing is well mixed, pour it into a bottle or jar and set it aside.
Note: If possible, put this dressing in the fridge for a few hours.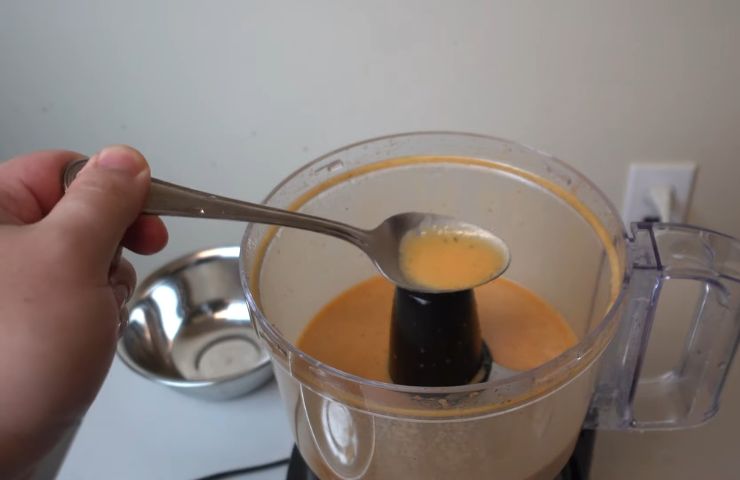 Step 6: Add the salad vegetables
Now, put all the vegetables in a large mixing bowl; 8 oz of romaine lettuce, 2 oz of iceberg lettuce, 2 oz of spinach, 4 oz of beets, 4 oz of hard-boiled egg, chopped grape tomatoes, some croutons.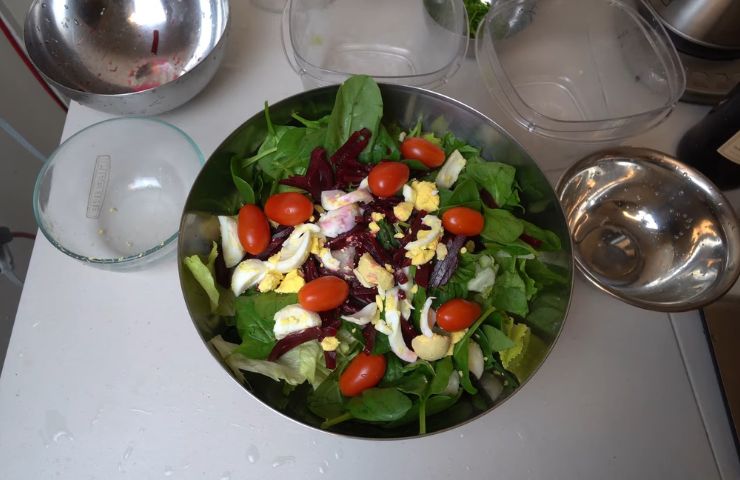 Step 7: Pour the dressing
Now after adding all the salad items and spin the bowl and start pouring the dressing all over the vegetables like the House of Prime Rib.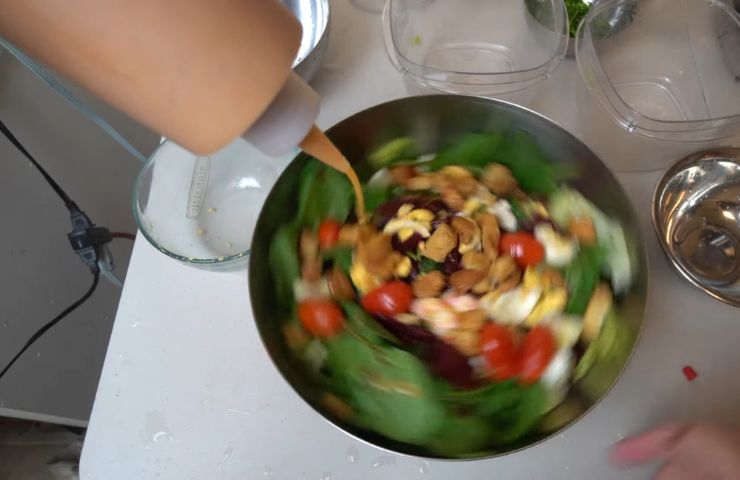 Step 8: Toss the salad
Toss the vegetables with two large spoons and let the dressing mix well with all of the ingredients to make a nice salad.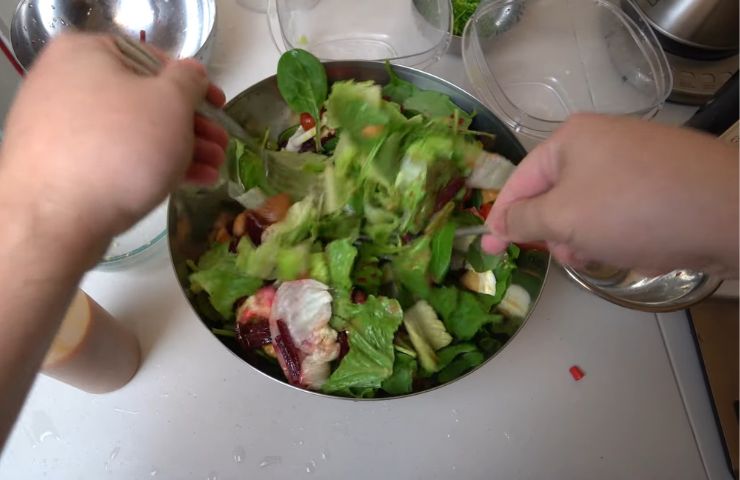 Step 9: Serve
After tossing and mixing all of the ingredients with the dressing, serve on a plate and enjoy.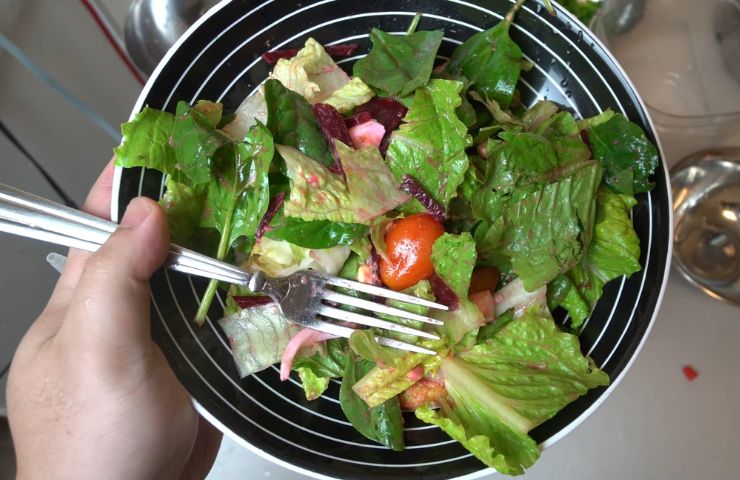 More Vegetables And Topping Options
There are more vegetables and toppings that you can try out with this salad recipe, and those are mentioned below:
Vegetables
Bell peppers: Bell peppers, scientific name Capsicum annuum, are the fruit of plants in the Grossum Group of the genus Capsicum. The plant's cultivars yield fruits in a rainbow of hues, from red to yellow to orange to green, and they not only add visual appeal to your salad but also improve its flavor.
Broccoli: Broccoli is a member of the cabbage family that can be consumed for its large flower head, stalk, and small, ancillary leaves. It's nutritious and a welcome addition to any salad. Feel free to throw some of this incredible vegetable into your salad if you're a broccoli lover.
Cucumbers: Cucumber is one of the most common ingredients in salads, and their many health benefits are well-known. Cucumbers are a delicious and refreshing addition to any salad, especially if you are concerned about your health or just want to try something new.
Tomatoes: Tomatoes are always known as a healthy vegetable. Consuming these red-colored tomatoes protects you from the sun's ultraviolet rays. It's also one of the key ingredients you should try in a salad, and all traditional salads include tomatoes, so give this vegetable a try in your salad.
Toppings
Seafood: If you enjoy seafood, you can add tuna, salmon, crab cakes, shrimp, and scallops as salad toppings, which will add extra flavor to your salad and can also be eaten as a main dish.
Meat: Who doesn't like meat? If you want a healthy meat dish, we recommend adding meat to this salad. You can try chicken, turkey, steak, Ham, or bacon if you want. And remember to make all of the meat items slices or chopped into bite-size.
Nuts and Seeds: If you're a seed and nut lover, here are some great options, including almonds, pecans, walnuts, peanuts, pine nuts, pepitas, sunflower seeds, and sesame seeds. You can eat them raw, candied, slivered, raw, or toasted.
Dried Fruit: There are many dried foods that you can try with this salad, but we recommend a few dried fruits that you will not be disappointed with cranberries, cherries, raisins, mango, and blueberries.
Shredded Hard Cheeses: If you like cheese and want to make this salad a good dish for lunch or dinner and gain some good calories while also filling your tummy, we recommend using Shredded Hard Cheeses such as Parmigiano, Grana Padano, Pecorino, Cheddar, and Gruyere.

Fresh Herbs: Fresh herbs are strong-smelling, flavorful plants that can be added to dishes to enhance their flavor. Herbs such as basil, cilantro, garlic, dill, rosemary, oregano, and thyme, among others, can be used as a topping in this salad to add flavor, but don't overdo it, or you'll ruin the taste.
Tips
We always recommend don't use too many vegetables or dressing then; you will not feel the exact taste of this salad recipe.
Always use exact measurements for the vegetables when making this salad, and if you add more items and toppings, use more dressing as a ratio to cover up the salad nicely when tossing and mixing it.
If you dislike vegetable oil, you can substitute olive or avocado oil if you prefer.
FAQ
Can you buy House of prime rib dressing?
No, you cannot purchase the dressing separately. They only use the dressing on their salad, and the recipe is kept a closely guarded secret, but you can make it at home by following our recipe.
Can you make salad last a week?
Yes, if you wash the salad vegetables and use fresh vegetables when making the salad, it can also be kept in the fridge for 5–7 days in an airtight container. But if you can, eat fresh food as soon as you can.
How many calories are in House of Prime Rib Salad?
It depends on how much you eat; for example, if we measure per cup of serving on a plate, you will gain approximately 70 calories. So this salad is so healthy and has fewer calories at the same time.
Final Thoughts
In conclusion, we can say that this salad is so healthy, and you are so fortunate to be able to make the House of Prime Rib Salad Recipe at home, as the recipe has been closely guarded until now. Do not hesitate to give this salad a try; I promise you won't be disappointed, and it will quickly become your favorite salad.