Kenny's Cooler is a refreshing cocktail drink perfect for those hot summer days or any day you're in the mood for a sweet, vibrant treat. The result is a perfectly balanced, sweet, and sour drink that will tantalize your taste buds.
Kenny's Cooler is a must-try treat for all cocktail lovers and if you're searching for a simple solution to bring its delicious flavour to your own home, search no further! Impress your family with a perfectly made Kenny's Cooler, Comfortable in your Kitchen.
The beauty of this Texas Roadhouse Kenny's Cooler recipe is that you can customize it to your liking. If you prefer a hard drink, add more rum or rum with a higher ABV. If you want to have lighter alcohol, then go with the less ABV liqueur.
Whether you're a fan of Texas Roadhouse or just looking for a new cocktail, this is the perfect drink. So go ahead and try it, and enjoy the tangy and vibrant flavors of Kenny's Cooler!
Ingredients
1 and 1/2 ounces of Chair Bay Coconut Rum
¾ ounces of Peach Schnapps
½ ounce of Blue Curacao
½ ounce Sweet and sour
6 ounces of Lemonade
6 full-size Ice cubes
Tools
Fishbowl glass
Cocktail shaker
Jiggers
Cocktail strainer
Wooden hammer (for smashing the ice cubes)
Ice bag
Straw
Garnish
Orange slice
Maraschino Cherry
Method of making Texas Roadhouse Kenny's Cooler Recipe
Step 1: Start with ice cubes
First, take a shaker, add two full-size ice cubes, and add ½ ounce of the blue curacao.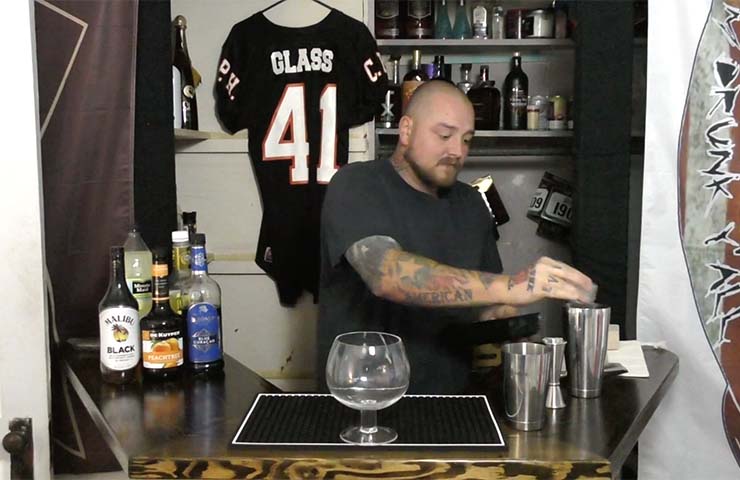 Step 2: Add rum and more ingredients
Now it's time to pour in ¾ ounces of peach schnapps, 1 and 1/2 ounces of Chair Bay coconut rum, ½ ounces of sweet and sour, and 6 ounces of lemonade into the cocktail shaker.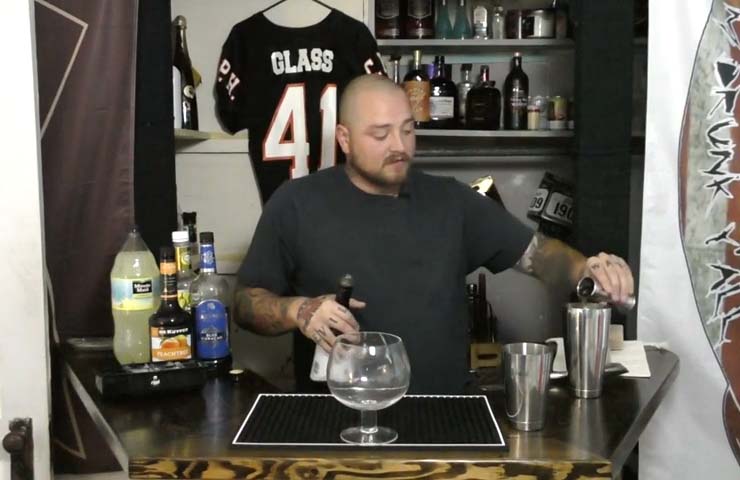 Step 3: Add more smashed ice
After that, we'll add four more ice cubes to the ice bag, securely tie it up, and proceed to smash it until the ice becomes powdery. Once we've achieved the desired level of crushing, we'll dump all of the crushed ice pieces into the Fishbowl glass.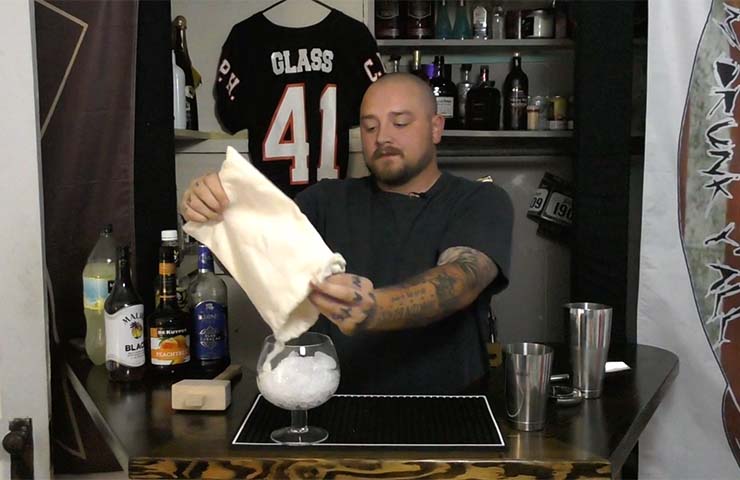 Step 4: Give a good shake
Now, give our ingredients in the shaker a good shake to ensure that everything is well combined, then strain the liquids into the Fishbowl glass.
Note: Always shake the cocktail shaker for about 20-30 seconds to thoroughly mix all ingredients.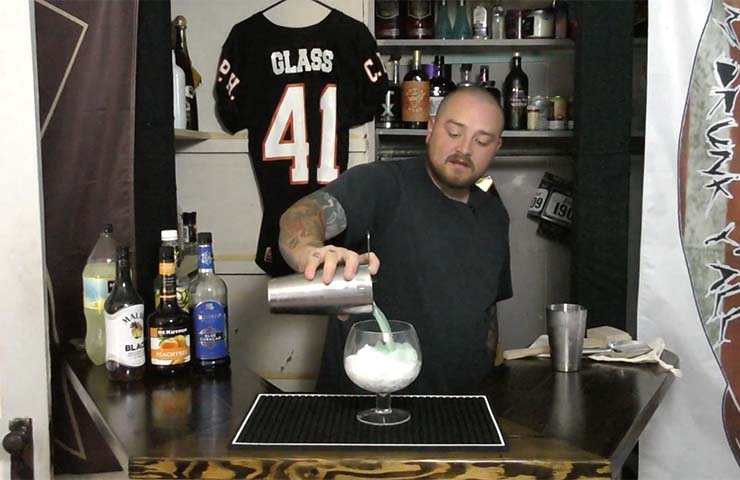 Step 5: Garnish and serve
Finish with a garnish of lemon slices and a maraschino cherry on top of your Texas Roadhouse Kenny's Cooler, and enjoy.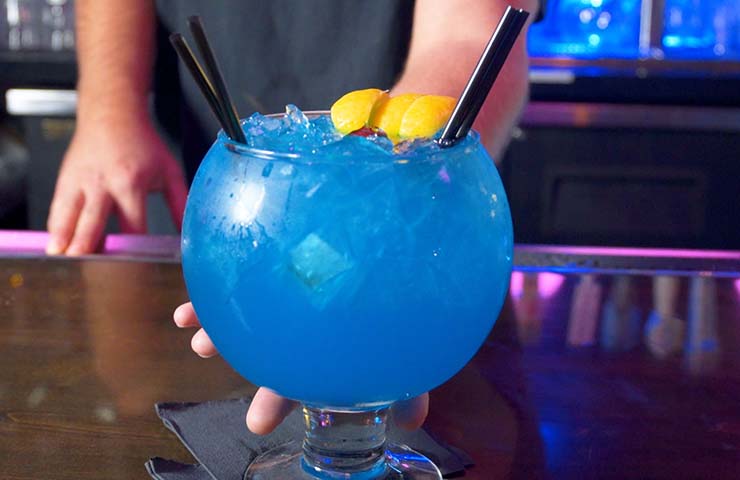 FAQ
What is Kenny's Cooler at Texas Roadhouse?
The Kenny's Cooler, inspired by Kenny Chesney's island lifestyle, is one type of best and most popular cocktails served at Texas Roadhouse. It is made with a refreshing mixture of Blue Chair Bay Coconut Rum, Dekuyper Peachtree Schnapps, lemonade, their signature sweet and sour, and Blue Curacao.
How much alcohol is in Kenny's Cooler at Texas Roadhouse?
Kenny's Cooler, served at Texas Roadhouse, contains only a few ingredients, but the main one is Blue Chair Bay Coconut Rum, which has 26% ABV (alcohol by volume).
What are the most popular cocktails at Texas Roadhouse?
There is a number of cocktails available at Texas Roadhouse, but the most popular cocktails are the Armadillo Punch, Kenny's Cooler, and Jamaican Cowboy.
How many calories are in Kenny Cooler From Texas Roadhouse?
It won't be easy to provide an exact answer, but if you follow the original recipe, you will gain 225- 250 calories per glass.
Tips and trick
Rum alternative:
I used Chair Bay coconut rum because we want to make this recipe authentic, but if you want to try different rum, go for malibu black rum because it has higher proof or is overproof. Still, you could use regular malibu or any of your favourite types of coconut rum.
Conclusion
Sail the taste of a classic with the Texas Roadhouse Kenny's Cooler, an exact replica of the beloved drink served at the renowned Texas Roadhouse restaurant chain.
Despite its simplicity, this light cocktail has a select few carefully chosen ingredients that combined produce a flavour experience unlike any other. It has gained a devoted following among drinkers who enjoy fruity concoctions. It has established itself as a go-to option for those looking for a satisfying and enjoyable drinking experience.
The Texas Roadhouse Kenny's Cooler promises to deliver a delicious and reviving experience, whether you want to sip it on a steamy summer day or over a leisurely evening with friends.
Last Updated on February 14, 2023 by Eleanor
Lindsay G. Cabral is a recipe blogger who specializes in vegan and gluten-free recipes. Lindsay has been blogging since 2012, and her recipes have been featured on popular websites such as Huffington Post, Mind Body Green, and The Kitchn. In addition to her blog, Lindsay is also the author of two cookbooks, Vegan Yum Yum and Vegan Yum Yum for All Occasions. When she's not in the kitchen, Lindsay enjoys spending time with her husband and two young daughters.