Herbalife Starburst tea combines fruity flavors with the classic Herbalife milkshake. Thus, you enjoy a nutritious and flavorful tea. It helps you fill your body with energy for the rest of the day. It also rejuvenates you with quick and refreshing energy after a long working day. So, people are crazy about this recipe.
Hence, people often ask, "What is the right Herbalife starburst tea recipe? Can I make it at home?"
It includes a starburst strawberry mix, a Herbalife beverage, and beauty collagen. We will guide you through their mixing and proportion to help you prepare this soothing and energetic tea.
So, let's jump into the recipe.
A Herbalife Starburst Tea Recipe
Herbalife Starburst Tea Recipe is a refreshing and delicious way to enjoy a cup of tea. This recipe uses a combination of herbal tea and fruit juices to create a unique and flavorful tea.
The herbal tea used in this recipe is rich in antioxidants and has a variety of health benefits. The fruit juices add a touch of sweetness and brightness to the tea. This recipe is easy to make and can be enjoyed any time of day.
Herbalife Pink Starburst Tea Recipe
Herbalife pink starburst tea is a delicious and refreshing drink that can help you feel energized and refreshed. And making this drink is so simple. You will need Herbalife collagen powder, wild berry beverage mix, watermelon and raspberry mix, and a few more ingredients.
Don't need to blend or cook anything; just add, give it a stir and drink; that's it. You can enjoy this tea as a shake or tea with snacks, as you want. But I don't think you will need a snack. A glass of Herbalife pink starburst tea can satisfy your little hunger. Let's explore the full recipe.
The recipe we shared above may seem like a little lengthy process to make a tea, but not one. Just try it once; its taste and benefits will ensure you forget the effort you must put in to make it. It is worth your effort.
| | |
| --- | --- |
| Servings | 1 |
| Prep time | 7 |
| Cooking time | 0 |
| Calories | 152 |
| Total time | 7 |
Ingredients
Warm water
Coldwater
Two scoops Collagen
Two scoops of wild berry beverage mix
One scoop of watermelon flavor
One scoop of raspberry favor
Three capsules of the aloe or just a tablespoon of cranberry aloe
One teaspoon pomegranate green tea with Herbalife
Two teaspoons pink starburst
Tools
One jug
Large spoon
Ong serving glass
Ice for serving
How to Make Pink Starbust Tea
Add Warm Water: Take a jug, add some warm water like ¼ part of the glass you will serve the tea. Add the beauty powder collagen. Take two scoops of collagen powder and add in the warm water.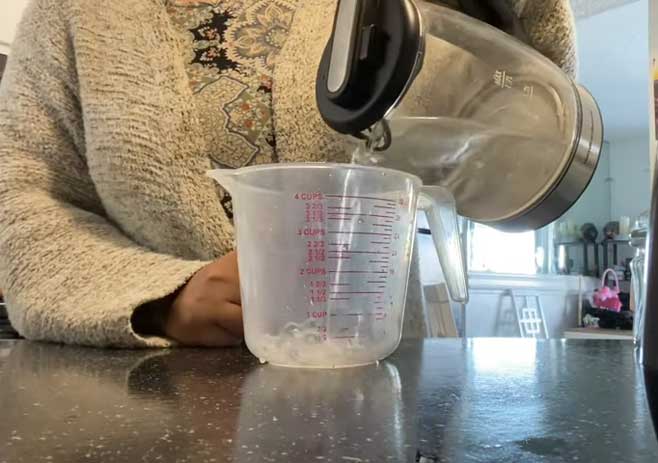 Add Herbalife Wild Berry Beverage: After adding collagen, now add two scoops of wild berry beverage mix. If you don't have this, you can add one scoop of watermelon flavor and one scoop of raspberry flavor.
These will change the taste slightly but won't affect so much, and the protein intake will be the same as the wild berry beverage mix.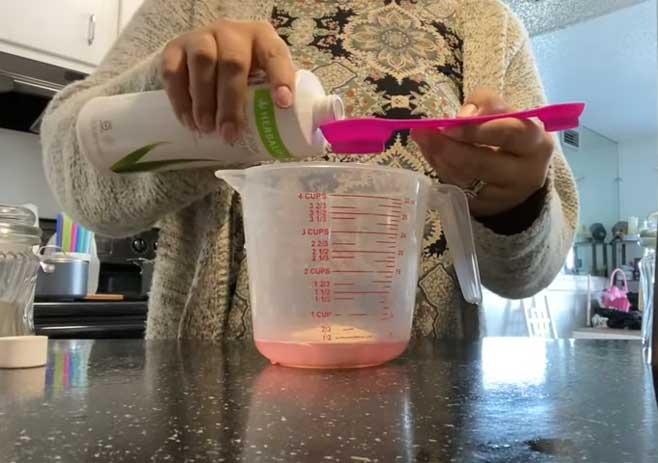 Add Herbalife Cranberry Aloe and Pomegranate Green Tea: If you have cranberry aloe capsules, add three capsules; if you don't have, add one scoop of Herbalife cranberry aloe.
Now grab the Herbalife pomegranate green tea and add one teaspoon of it to the jug. Adding all the ingredients is done, now all you have to do is mix all these ingredients properly. Ensure all the ingredients are breaking down and diluted property.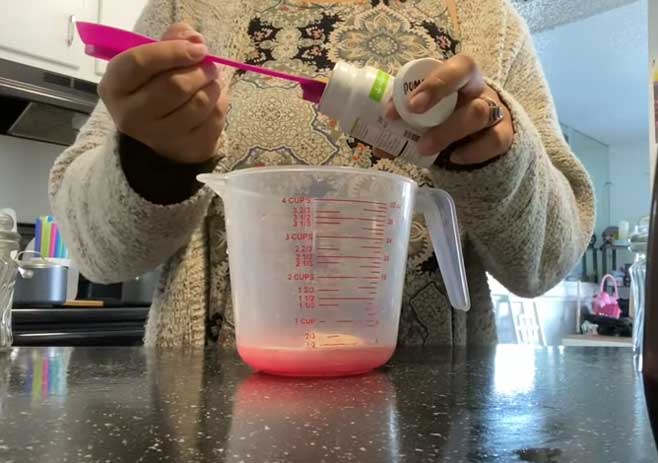 Add Cold Water: Add ¼ part of the serving glass cold water and give it another stir to mix properly.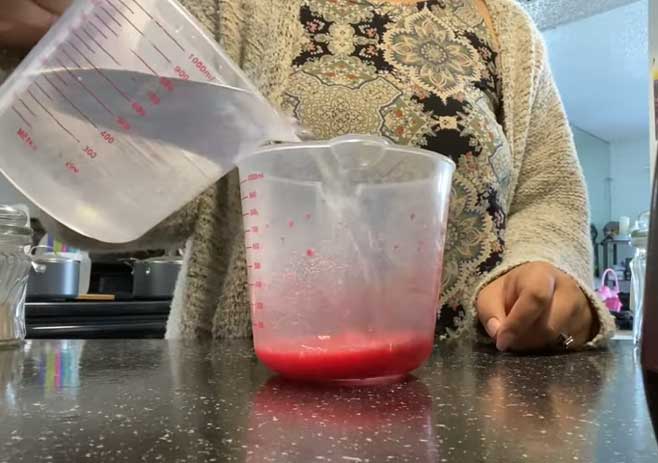 Make a Pink Starbust drink: Take your long-serving glass, and fill it with as much ice you want. Pour the mixed tea into the serving glass. Done? not yet.
Take another ¼ part of warm water, add two scoops of pink starburst in it and stir to dissolve everything. Add ¼ amount of cold water to it, give it another stir, and pour in the serving glass. That's it!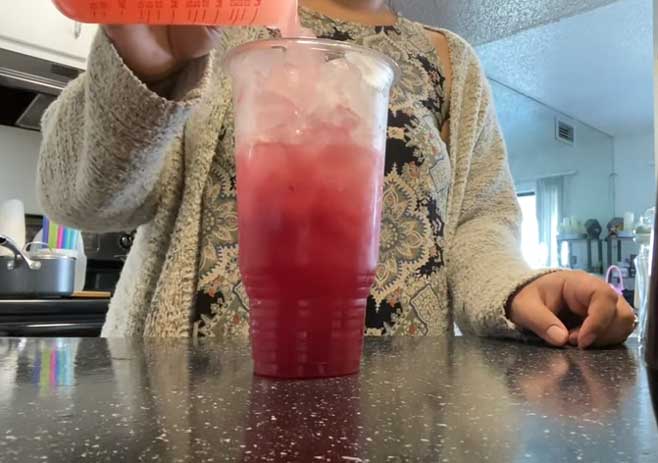 Why Should You Try Herbalife Pink Starbust Tea
Herbalife pink starburst tea is a great way to start your day. It is a special category of Herbalife low-calorie drink that is gluten-free, soy-free, dairy-free, sugar-free, and vegan friendly. It's a sweet and fruity beverage made with delicious Herbalife flavors. It has collagen, wild berry, watermelon, raspberry flavor, and much more to make the drink tastier.
Not only does this drink taste amazing, but it also has some helpful benefits for overall health.
This delicious and satisfying blend is rich in antioxidants which are essential for maintaining good health. Plus, it promotes general well-being, supports brain function, and boosts Memory & Learning. At a saying, this Herbalife drink helps to live you a more relaxed life by reducing your stress level and improving your overall health.
This healthy and delicious drink will increase your energy level and makes you more active to stay on track with your fitness goals by not letting your appetite to feel hungry all day long.
Tips and Tricks
Avoid using hot water; you just need lukewarm water that your hand can bear.
If you don't like the wild beverage mix flavor, use the alternative products or any other flavor you want.
Ensure all the ingredients and dilute before serving into the glass. Glass will have ice, so you can't give it another mix after pouring into the glass.
Nutrition Facts
1 servings per container
---
Amount Per ServingCalories190
% Daily Value *
---
* The % Daily Value tells you how much a nutrient in a serving of food contributes to a daily diet. 2,000 calories a day is used for general nutrition advice.
Final Word
This simple recipe for Herbalife starburst tea will help you get your antioxidants. It's so simple that even kids can make it. It's also perfect for when you're looking for a quick and easy drink to serve up while entertaining. This tea is so tasty and refreshing it will become your new family favorite!
Lindsay G. Cabral is a recipe blogger who specializes in vegan and gluten-free recipes. Lindsay has been blogging since 2012, and her recipes have been featured on popular websites such as Huffington Post, Mind Body Green, and The Kitchn. In addition to her blog, Lindsay is also the author of two cookbooks, Vegan Yum Yum and Vegan Yum Yum for All Occasions. When she's not in the kitchen, Lindsay enjoys spending time with her husband and two young daughters.